Simple. Seasonal. Southern. That is Table & Main in Roswell, Georgia. Surrounded by towering oaks, this restored cottage is home to one of the top 50 Best Restaurants in [amazon_textlink asin='1631211498′ text='Atlanta' template='ProductLink' store='theyums-20′ marketplace='US' link_id='516ad876-bd8b-11e7-aecf-87f1297ec902′].
Location: 1028 Canton Street, Roswell, [amazon_textlink asin='1101878061′ text='Georgia' template='ProductLink' store='theyums-20′ marketplace='US' link_id='67b7c52c-bd8b-11e7-8493-b9d165ee1467′]
Menu: The menu at Table and Main is a reflection of Ryan Pernice, who grew up in Roswell. As an introduction to Southern culture, Table & Main brought out a serving of [amazon_textlink asin='B0028D1JXY' text='cheese straws' template='ProductLink' store='theyums-20′ marketplace='US' link_id='8a2bcf16-bd8b-11e7-a3dd-477b2dd2f0e1′]. For Southern hosts and hostesses, this is a staple. But Table & Main has elevated the lowly cheese straw by adding a bit of spice, giving each bite a bit of heat and a whole lot of tastiness. Ryan and his staff are serving up Southern specialties with their own unique spin.
Menu highlights include Meatloaf Meatballs, served with a brown sugar ketchup glaze that will have your taste buds dancing at the sweet and tangy flavors of this old-fashioned Southern favorite. The Preservation Plate pays homage to Roswell's historical roots. The offerings of the Preservation Plate are ever-changing, but it has a choice selection of house-cured meats and delectable cheeses.
Fried Chicken is one of the signature dishes offered by Table & Main. Growing up in the South, I know fried chicken, and I have never eaten chicken this tender and succulent in my life. Table & Main's fried chicken is better than my grandmother's. With the chicken, you have a choice of sides, all Southern-inspired. I chose the cucumber salad with tomato and red onion. The cucumbers were crisp and thickly sliced, with a nice amount of tomato and onion. A splash or two of vinegar completes the dish and gives it a good tangy flavor that complements the chicken.
The desserts were incredible! Their pastry chef, Kelley, creates the most delicious, but simple, flavorful and oh, so yummy, desserts that will make you think you've just died and gone to heaven. The Brown Butter Cake is very delicate and sweet with a complimentary lemon buttermilk ice cream that is out of this world. The Blondie takes brownies to a new level with the bourbon marshmallow, that will leave you wanting to sip a finger of bourbon to finish your meal.
Every dish that Table & Main serves is sourced with the freshest meats, poultry, and seafood available. Seasonal fruits and vegetables are sourced as locally as possible. That is one of the standouts of Table & Main.
The servers were attentive and unobtrusive. An extensive wine list and cocktail menu make it appealing to everyone. Table & Main is a James Beard Award-winning restaurant, and from the moment you taste the scrumptious, well-prepared meals, you will know why.
Ryan Pernice opened Table & Main in 2011, and his passion was to present simple, seasonal, and southern cuisine in a new way. He wanted to be "a connection to our friends and neighbors; and to create a place where they would feel at home." In six short years, he has achieved just that.
Ryan left Roswell to attend Cornell University's School of Hotel Administration, graduating with highest honors in 2007. In 2009 Ryan worked with restaurateur Danny Meyer to open Maialino, a Roman trattoria in New York City. He has brought all of his experience to Roswell, and Table & Main and his new restaurant, Osteria Mattone are the outcomes. He is always on the hunt, exploring the dining scene in and around Atlanta for new inspiration for both Table & Main and Osteria Mattone.
Price Range: Appetizers range from $9 to $15. Main courses are $15 to $26. Side dishes range from $5 to $6. Desserts are $6 to $8. Wines by the glass range from $11 to 15.
Table & Main is family friendly, and serves up something for everyone – even the youngest will find a dish to delight their taste buds.
Add Table & Main to your favorite Pinterest Board: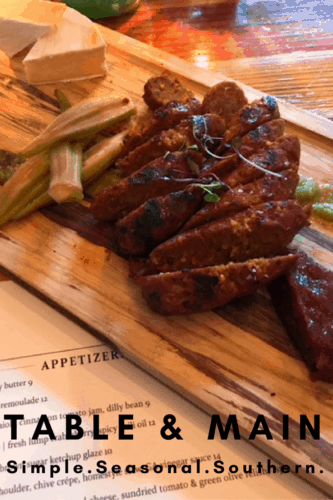 Disclosure: This post contains affiliate links. Clicking through for additional information or to make a purchase may result in a small commission being paid. By doing so, you help support this site and its authors, and we thank you.

Latest posts by Betsi Hill
(see all)