In Dutch, the words De Pont mean "The Ferry." So of course, a café/restaurant just a few steps from the ferry landing on Amsterdam's trendy north side must be called, Cafe De Pont. If you go, you'll find that getting yourself to Central Station and onto that ferry will take you to a delightful stop for a coffee or a beer, a lunch of delicious small bites, or a dinner of specials fresh off the grill.
Location: Buiksloterweg 3-5, [amazon_textlink asin='1631216074′ text='Amsterdam' template='ProductLink' store='theyums-20′ marketplace='US' link_id='b882829d-2ba1-11e8-a6a9-0b0ccdf10ce9′] North. Walk straight through the central train station and out to the water side. Turn slightly left to the Buiksloterweg Ferry (free). The trip is only a few minutes. On the other side, walk off the ferry to the café just steps in front of you.
Menu: The emphasis is on Dutch food with a twist, prepared from mostly organic ingredients and items sourced from local farms and providers. There are lots of vegetarian options. Small plates are offered, great for trying a variety of tastes and sharing with friends. Items change with the season, sometimes weekly. A favorite traditional Dutch dish is an uitsmijter, which consists of three fried eggs atop good bread and butter, topped with slices of cheese and/or ham or bacon. This is the breakfast your Dutch grandma might well offer before a busy day. Toasted sandwiches, soups, and sausages make a fine lunch. The lighter "Drinks Menu" includes a range of bar snacks and more small plates. In the evening, there is a dinner menu. In summer, most dinner dishes are cooked outside on the open grill.
Thoughts: The range of menu items makes Café De Pont a favorite stop-off for commuting Amsterdammers, either before heading into the center city or on the way home. It works just as well for a simple cappuccino or organic juice, a draft beer with bitterballen (a popular croquette-like Dutch bar snack), or a full meal. The place is at its best in summer, when you can sit on the big terrace, protected by high glass walls from any wind coming off the water. Boxes of geraniums, yellow and purple pansies, and other flowers and strings of colored lights make the terrace even more inviting. The wooden picnic tables under enormous, bright orange umbrellas make for a pleasant spot to watch the stream of commuters pouring off the ferry every few minutes and walking—or more likely bicycling—right past you. Inside, the room is large but feels cozy. Wood plank floors, wooden tables painted a dark teal and aged for a vintage feel, wooden chairs—it all feels very homey.
Since I was staying in Amsterdam North and rode the free ferry almost daily, I stopped into Café De Pont a few times, both alone and with friends, to try different menu items. On my first visit, I had the open-faced sandwich on dark brown bread with year-old cheese topped with chopped celery and two slabs of some really divine mustard quince jelly. It was a combination I would never have thought of, but it worked wonderfully. On the next trip, I shared a plate of tiny North Sea shrimps served with an herb salad and avocado cream and another plate with a fennel sausage hot dog topped with bacon, sauerkraut, fried onion and apple cider mustard. This wasn't your average ballpark hot dog. It was yummy! A friend ordered the farm chicken confit with black pepper oil served with watercress and mustard mayo. He also loved it. On a future trip to Amsterdam, I plan to try the Eggs Benedict topped with veal pastrami.
Dinner offers a three-course set menu that changes daily, but you can also order a la carte from a very inventive menu. I fell in love with the starter of duck breast tartare with duck tongue tempura, parsnip, duck cracklings and lavender duck dressing. Duck, duck and more duck, and unlike anything I've ever eaten. My friend chose a starter of mud-flat oysters with pandan pearl barley, chips of spiral wrack (seaweed), sorrel, and lime cream. I think you can see what I mean by "inventive" dishes. For the main course, we shared the chicory tarte tatin with scallop, herb salad, pork crackling and a hazelnut and butter noisette. I found it delicious, with an unexpected depth of flavor.
Service was friendly but a bit slow. This is not the place to stop for a quick meal if you're on your way to a screening at The Eye Film Museum, just steps away. However, it can be a great spot for a drink before or after the show. Also, just a few steps away is the Adam Tower. It's worth making the trip to the top observation deck for the view back towards Amsterdam Central Station and the rest of the city.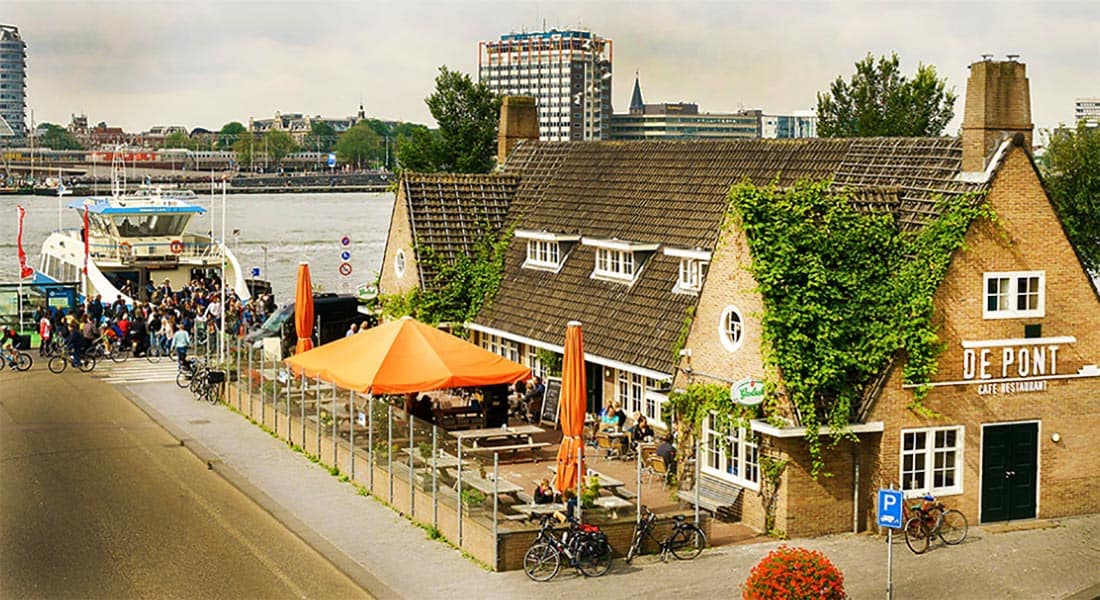 Important Note: Café De Pont does not accept cash for payment. This is a "cards only" place. Credit or debit both work.
Price Range: Café De Pont is not cheap, but then few things in Amsterdam are. The prices are fair for this city. An uitsmijter costs €7.50; add €1 to top it with cheese and ham or bacon. A simple lunch of soup and a sandwich can be had for €10-11. My fennel sausage hot dog was €8.75. The most expensive thing on the lunch menu is "Catch of the Day" at €17.50. Desserts cost from €3.50. A beer and an order of six bitterballen will run you about €11. At dinner, the three-course daily menu is €31.50. Dinner starters are €6-9.50; main dishes run €20-21.
Pin it For Later: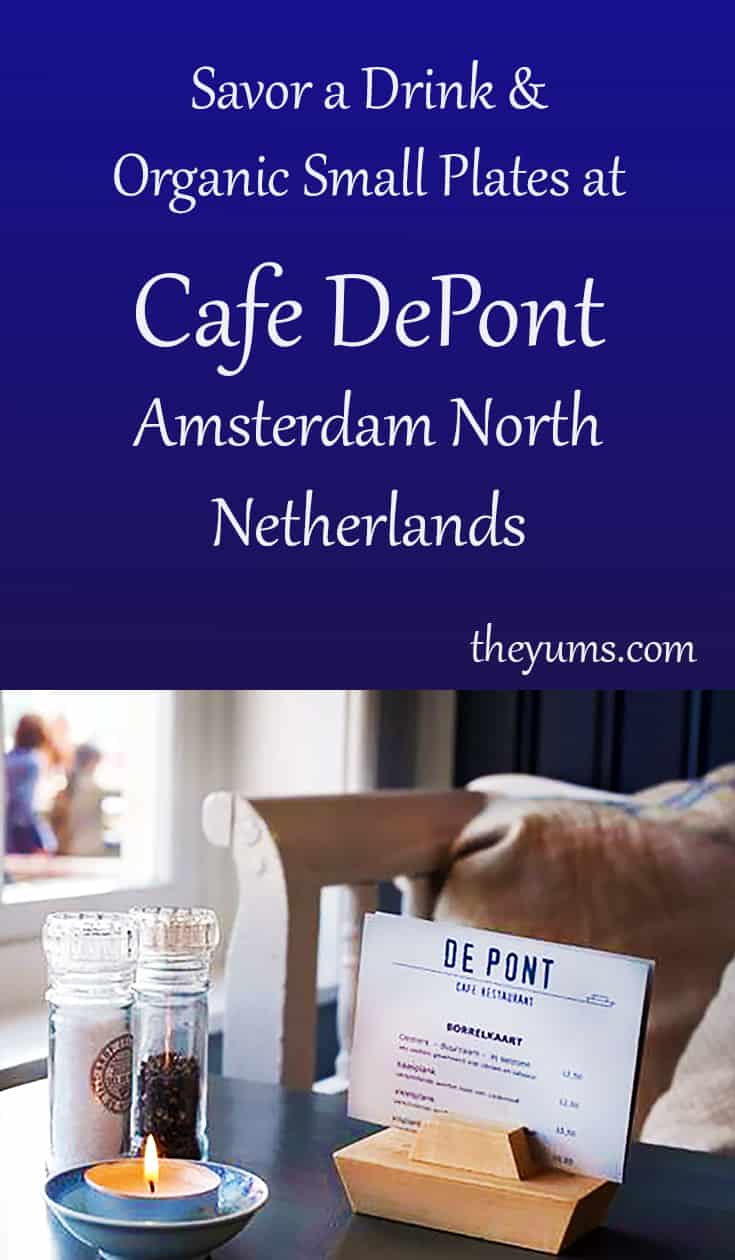 Latest posts by Donna Meyer
(see all)