Smith offers a fine dining experience in a comfortable rustic atmosphere. The restaurant's name, Smith, is a nod to blacksmiths, with an abundance of black metal in the industrial exposed ceiling, around the bar, in the dining chairs, and light fixtures.
Location: Smith located inside the Inn at the Forks at 75 Forks Market Road, Winnipeg, Manitoba, Canada.
Menu: Smith's menu focuses on the product diversity from Canada's land and water. Among the seasonal products obtained from local suppliers, you'll find Canadian prime beef from Alberta, Manitoba rabbit, and Manitoba Arctic char. The chef's locally procured pork results in house-made bacon.
Some dishes project the fusion flair, such as the Parisian gnocchi with charred corn, zucchini, pesto, harissa, and cilantro. It fuses Parisian with Italian gnocchi and North African harissa.
Vegetarian and gluten-free options are available.
Thoughts: The restaurant's interior sits at the intersection of hipster and hunter. The hunter comes out in the modern white antler chandlers and the banquets upholstered in cream-colored wool Hudson Bay Company blankets sporting the signature black, yellow, red, and green stripes. Modern-wood horizontal-planked walls surrounding the bar and modern fixtures contribute to the hipster feel. The artisanal food and craft cocktails add this vibe.
Saturday nights offer a variety of live entertainment from folk to jazz. Other evenings the Fork's river walk is a perfect place for an after-dinner stroll.
Some of my favorite dishes are:
The small cheese board served with three types of chef's choice cheese. Our board included Oka, Cambozola, and a Guinness cheddar. Oka is a semi-soft, spreadable cheese manufactured initially by Trappist monks in Oka, Quebec, Canada. Cambozola is a cow's milk blue cheese often referred to as blue brie. Finally, the aged Port Cheddar was a beautiful soft yellow marbled with a light ruby color. A crisp house-made cranberry almond cracker and a buttered crunchy crostini accompanied the cheese. The fruit component included strawberry halves, a thinly sliced Granny Smith apple quarter, and Saskatoon berries, which look similar to blueberries and have a sweet almond flavor. The ramekin of honey and candied pecans provided a hint of sweetness.
The mac and cheese made from a creamy mixture of old cheddar and blue cheese, elbow macaroni, crispy bacon, and topped with crispy breadcrumbs. Served as a side dish, there's a hint of spice to make it interesting.
The pan-fried bearcat pickerel served as a work of art. Two pieces of golden pickerel are arranged perpendicular to each other, in a bed of lemon butter sauce, topped with briny capers, and dill. Lemon quarters garnish the dish.
The filet mignon is seven-ounce beef tenderloin, served with au jus, and accompanied with a horseradish sauce. Order sides separately from the entrée.
It's advisable to make reservations.
Price Range: Exchange rates vary. These prices are in Canadian dollars with the exchange rate of $1.25 CD to $1 US. Snacks range from $6 for the brown butter, sea salt, and dill popcorn or the Smith pickled vegetable to $10 for lemon and garlic chickpea hummus with harissa and pita or the cauliflower fritters, lime yogurt, and Smith hot sauce. Small plates start at $12 for the pounded cheese or the ricotta toast and go up to $16 for the Manitoba rabbit ravioli or the ricotta toast. Entrées begin at $24 for Parisian gnocchi and go up to $42 for filet mignon. Sides range from $9 for chive-mashed potatoes to $11 for grilled vegetables. Desserts range from $7 for fresh seasonal berries and house-made sorbet to $9 for sticky toffee and date pudding. Dinner for two runs about $100 including tax and gratuity.
For Pinterest: Pin this to your favorite fusion restaurant board.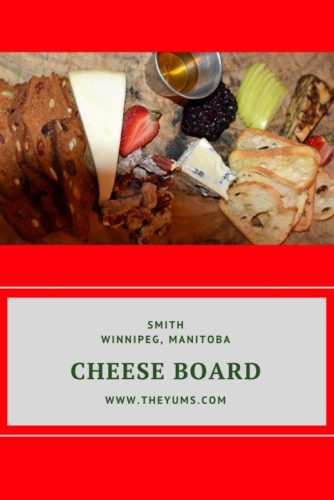 Latest posts by Amy Piper
(see all)