If you don't expect to find great gourmet, farm-to-table food in a tiny town of fewer than 2000 people, you haven't been to Amity, Oregon. Or to The Blue Goat. Because what you get here is inspired Northwest cuisine in a casual, comfortable setting. And really, when a place is created by an artists and a chef with their own farm and a passion for freshness, and they live in the heart of Oregon's Willamette Valley wine country, surrounded by an almost obscene bounty of fresh fruits and veggies, artisan dairy products, grass-fed meats, and even honey producers, what you get is sustainable, creative, kitchen art on your plate.
Location: 506 S Trade St., Amity, Oregon
Menu: It's difficult to give too many menu specifics for The Blue Goat, because the list is completely seasonal and locally sourced, changing frequently—sometimes daily—depending on what was picked in the garden that day. So, think small plates of fresh goodness, beautifully presented. Fresh pasta with creative sauces. Salads, goat empanadas, and lots of fish dishes. And pizza. Really good flatbread pizza.
Thoughts: The Blue Goat, created by Cassie and Dave Van Domelen, is a true farm-to-table experience with a locavore philosophy. Every ingredient possible comes from a producer in the immediate neighborhood. Many of the veggies, the farm-fresh eggs and some of the grass-fed, grass-finished meat, including goat, comes from their own Blue Goat Farm. The owners do some seasonal wild foraging as well, so the star of the menu one night might be based on what they found growing in the wild that day. The honey and the grains and the hazelnuts are locally produced. Even the wine list—and it's a good one—features 100% local wines, from the immediate area around Amity.
The space is casual and instantly welcoming. Furnishings are hand-crafted from huge slabs of wood and repurposed vintage school furniture. Exposed brick walls blend with a deep wine-colored concrete floor and happy dotted upholstery on the booth backs. The walls are decorated with local art, including several goat paintings by Dave Van Domelen. The whole room is anchored by an enormous cob oven in the center, which also sets the tone for much of the menu. Wood-fire cooking is a keynote here. An open kitchen gives you the chance to watch the cooks in action. Seeing them carefully plate an order is like watching an artist at the easel.
On my latest visit, our party of three tried a variety of dishes. We began with a trio of different hand-crafted cocktails:
• Wild Rose Lemon Drop – Made with Absolut Citron, lemon, rose syrup and house-made wild rose bitters, this was delicate, sweet but with a nice lemony tartness underneath. Quite refreshing.
• Tart Cherry Margarita – With tequila, house-made cherry shrub, and lime. Both sweet and tart, with a distinctive cherry flavor that did not overwhelm the tequila. Festive.
• Verde Gimlet – Made from Hendrick's gin, Reyes Ancho Verde, lime, simple syrup, and cucumber. A nice surprise, this had an herby cucumber freshness, with just a hint of kick from the ancho verde.
As for the food, nothing we ordered disappointed, but there were a couple of standouts. We shared a cheese board to start, which included Briar Rose Chévre, Mt. Townsend Red Alder, Camembert, Rogue Bleu, castelvetrano olives, pickled onions, blackberry mostarda, house terrine and grilled bread. Between the three of us, we finished off every bite of it.
We followed that with gazpacho like none I have ever tasted. It was perfectly refreshing on a very hot evening. Peeled red and yellow cherry tomatoes perched on a disk of semi-jelled cucumber/basil puree. Over this, tomato water was poured and spotted with basil oil. It was as pretty to look at as it was delicious to eat. The other small plate we tried was Chilled Rabbit Porchetta, a meat roll of rabbit, padron peppers, and blackberry confit served with aioli. It was a success, but not as blow-me-away impressive as other things we tried.
Pork tacos were served on some of the best tortillas I've had—soft, a little thick, almost fluffy and with the perfect char. They are made from scratch and cooked over sweet briar in that big wood-fired oven. The pork chunks were tender and flavorful, topped with slaw and a small mountain of whipped, house-made ricotta.
Finally, the Oregon Ling Cod came with a pile of Dungeness crab on top, served on a bed of grilled squash and sauce American. It was perfectly pan-seared and balanced.
For dessert, we shared a bread pudding that was dense and not soppy or soggy. It was covered in a wild blackberry compote that burst with the taste of summer. Finally, we eagerly scooped up the panna cotta, with a perfect silken-smooth texture and a delicate flavor. It was topped with that same compote.
On a previous visit, I also tried the pizza. This is not your typical home-delivered round-pan pizza. Far from it. These are thin-crusted flatbread pizzas, wood-fired in the cobb oven, and topped with a seasonal rotation of creative combinations like a chicken with thin grilled red onions, bacon and a light tangy sauce, or house-made fresh mozzarella with a balsamic reduction, or a locally sourced mushroom mix with béchamel sauce. The crust is thin and crisp, the whole wonderfully satisfying.
Service at The Blue Goat was very friendly, with helpful suggestions about the menu and the drinks. It was fast enough to be efficient without being in any way rushed. And this being the Willamette Valley, the heart of the heart of Oregon wine country, of course, you can order any of several wonderful uber-local wines, by the glass, the carafe or the bottle.
The Blue Goat can get busy, especially on weekends and in harvest season. Reservations are strongly encouraged and can be made by phone or on their website.
Amity is a tiny town but has some intriguing things to do. Just around the corner is the Coelho winery and tasting room. A mile or so up a small road is the Brigittine Abbey, where the monks make some of the best chocolate truffles you'll ever taste. And Amity is only about seven miles from McMinnville, the seat of Yamhill County. "Mac," as the locals call it, is full of boutique hotels and B&Bs, wine tasting rooms, quirky and trendy shopping and the impressive Evergreen Aviation and Space Museum, which houses the famous Spruce Goose. And, of course, there are dozens of wineries and tasting rooms dotted all over the valley. It's a wonderful spot for a vacation or just a weekend getaway.
Price range: About what you can expect for a farm-to-table place in wine country. Specialty cocktails are $8-10. A tasting flight of local craft beers is $7. Small plates run from $5 up to $20 for that elaborate cheese board, with most at around $10-14. Mains run from $14 for the tacos up to $26 for the Ling Cod or a Pan-Seared Steelhead. Desserts were $8. Wines by the glass are mostly $8-9. Bottles can run from $39 all the way up to $90.
Pin It for Later: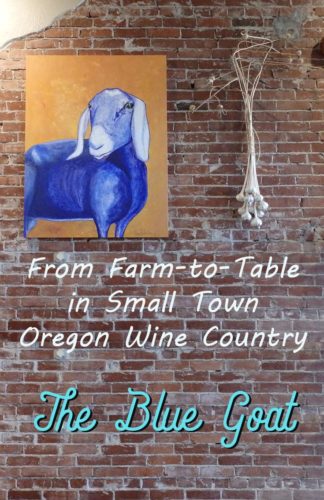 Latest posts by Donna Meyer
(see all)