If you should find yourself in Ajijic, Mexico, on a Sunday morning, make your way down the cobblestone streets to Real de Chapala for brunch with a capital B. Both locals and tourists flock here for what is described as "the best brunch in town." While the food can't be beaten, neither can the view – [amazon_textlink asin='0967524830′ text='Lake Chapala' template='ProductLink' store='theyums-20′ marketplace='US' link_id='e8d9bddb-b44f-11e8-95c8-7b30798b9a89′] – Mexico's largest freshwater lake. The lush mountains and beloved lake make a majestic setting as the backdrop for a scrumptious brunch.
Location: Paseo del Prado 20, Ajijic, [amazon_textlink asin='1465457119′ text='Mexico' template='ProductLink' store='theyums-20′ marketplace='US' link_id='01779ec3-b450-11e8-98f2-f3dd89b47866′]
Why not stay at the hotel? You can find great prices here:
Menu: Where to start? The offerings are impressive. You'll find platters of luscious fresh fruit – melon, pineapple, mango, and more, along with a large selection of freshly squeezed juices.
Cereals, yogurts, bread, delicious pastries? Check. Steaming rice, potatoes, beans, tortillas? Check. There is an inviting egg station where the young chef is eager to prepare eggs any way you'd like them.
Patrons stand in line for the spicy Menudo beautifully garnished with chopped onion and served with homemade tortillas. Ham, sausage, bacon, burritos, you name it and you'll probably find it.
Weight-watchers will appreciate the variety of tasty salads available. Desserts are plentiful and decadent.
Thoughts: The hotel has two outdoor terraces (poolside) with ample seating as well as an indoor space, all have a view of the lake. Whenever we have the choice, dining outside is what we opt for. On this visit, we sat by the spherical fountains, the gentle bubbling of water immediately erased any suggestion of stress.
Our waiter quickly brought cups of coffee saying, "Help yourself to the buffet when you are ready." After downing our first cup we made our way to the buffet. Each station was beautifully arranged and definitely aroused the taste buds.
I ordered a bacon, cheese, and mushroom omelet and while it was being prepared, I made my way around the food stations. I took a little of everything, even the traditional Menudo which I was not prepared to enjoy. The Menudo (soup made with beef tripe and a red chili base) was flavorful and I quickly forgot I was eating tripe. My delicious omelet was filled to capacity, the plate was artfully garnished with parsley and chives.
My husband ordered huevos rancheros and he chatted with the chef as he prepared the dish. He also made his way around the stations to try a taste of everything. After cleaning several plates, we agreed the food was ambrosial. One appreciates the idea of a siesta after such a large meal.
The waitstaff is friendly and attentive, always ready to refill your coffee cup or answer questions that pop up.
The property is well maintained, the tropical vegetation is lush, the colors vibrant. After brunch, treat yourself to a stroll around the grounds to work off some of the calories you've consumed.
Price Range: Sunday brunch is approximately $14 USD, a bargain in any currency.
Pin for later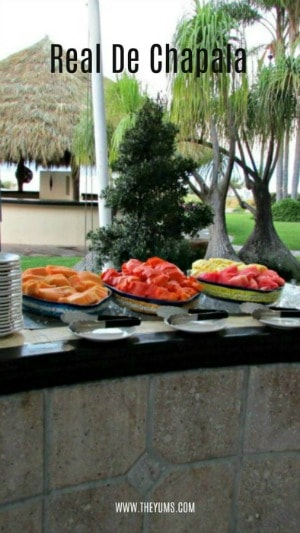 Latest posts by Barb Harmon
(see all)