Take one highly trained Moroccan chef. Add one lovely Englishwoman with years of managing casual dining and hotel restaurants. Sprinkle with love and marriage. The result? Tandem Carrboro in Carrboro, North Carolina, snugged up right next to the university town of Chapel Hill. Chef Younes Sabouh and his wife and partner Emma Dunbar Sabouh opened Tandem in 2016, and it quickly became recognized as one of the best restaurants in Carrboro/Chapel Hill. Casual elegance, well-trained servers, and a world-trained and inventive chef combine to create a fine dining experience in this pretty southern town.
Location: 200 N Greensboro St #1a, Carrboro, NC, in the Carr Mill Mall
Menu: The menu at Tandem Carrboro is what I'd call world cuisine with an emphasis on local products. Dishes change with the seasons, with some constants such as the 72-hour short ribs, Moroccan lamb shank, and merguez-stuffed calamari. Lunch features appetizers, soups, and sandwiches—the grilled three-cheese is a perennial favorite—plus a few innovative entrees. At dinner, choices from the long list of appetizers can serve as tapas instead of an entrée. Many dishes are accented with Moroccan flavorings. Daily specials depend on what's fresh and in season. Regular weekly specials include an authentic Moroccan tajine on Thursdays and shrimp and grits on Fridays.
Thoughts: What sets Tandem Carrboro apart from most other restaurants in the Chapel Hill/Carrboro area is the worldly accents and sheer inventiveness that comes out of Chef Sabouh's kitchen. He can't be pigeon-holed. He learned to cook in Morocco from his mother using traditional Moroccan techniques. He went on to train in classic cooking techniques in several regions of France. Then he was hired as personal chef for the Hermés family–yes, the famous fashion icon–and traveled the world with them, learning new dishes and techniques along the way. All those influences have combined to create his unique style of mixing fresh ingredients with classic techniques and Moroccan touches.
An example is his chickpea fritters, soft and deeply flavored, served with wilted leaves of brussels sprouts, slivered Peruvian peppers and a yogurt dipping sauce tinted with garam masala. Or take the salmon, always one of the stars of the show here. Perfectly cooked, then laid over a bed of black forbidden rice, it is served with cauliflower, masala curry, coconut, citrus and a pumpkin seed relish. One of the waiters mentioned that the sauce had 25 different spices involved. It's not your average poached salmon. Another example of the chef's innovation is the bone marrow appetizer, served with a fried oyster, parmesan, arugula and a delicate but punchy horseradish foam. One of the specials I really enjoyed was a strawberry gazpacho. It included smoked cherry tomatoes and mint leaves. The blend of sweet, smoky and fresh flavors was perfect on a warm day.
Plating at Tandem Carrboro is artistic and beautiful, served on custom-made stoneware specially chosen to compliment the food. It presents a picture that delights your eye before it explodes in your mouth. The fork-tender Angus beef short ribs are served in a deep enameled Le Creuset pot, with smoked potato puree, broccolini, celeriac, wild mushrooms, horseradish crumble and a bone marrow sauce. Lots going on in that pot! The slow-cooked lamb shank comes on a bed a freekeh (a durum wheat grain similar in texture to barley) and baby turnips. If there's room for dessert, the chocolate pudding cake, served with coffee ice cream, cocoa crumble and malted meringue is pretty spectacular.
The wine list at Tandem is well curated, with about 50 choices, domestic and foreign. More than 20 are offered by the glass. A dozen rotating brews are on tap, and the bar offers some inventive craft cocktails as well. Bottles are half price on Tuesdays. One special note: Every month, the restaurant chooses a different local program or charity to support. They then devise a special "give-back cocktail" and donate $5 of the price for each cocktail sold to that program. Other benefit events are often held for the month's give-back choice.
The space is in a former cotton mill, large and designed as an eclectic combination of elegant and casual, with a New York loft feel. Exposed brick walls, lots of rustic wood, and twinkle lights strung across the ceiling, high red leather banquettes at the back. It's completely non-intimidating while being nice enough for a date night. During comfortable weather, you can sit in a lovely small courtyard, which is also dog friendly. A parking lot right in front eliminates problems.
Price Range: Prices are in range for the quality of the food and the "event" level of the meal. At lunch, appetizers range from $7 for crab-stuffed deviled eggs to $12 for mussels cooked in a wine-garlic-butter broth or a cheese board. Salads are $9 up to $12 for poached shrimp. Soup or salad with half a grilled cheese sandwich—with three cheeses—is $11. Sandwiches are $11 up to $13 for a burger served on brioche with bacon onion jam, smoked tomato, and herb fries. Lunch entrees cost $12-16. At dinner, appetizers range from $8.50-15. Salads are $9-10. Entrees range from $21 for a vegetarian open-faced ravioli to $24 for the lamb shank or salmon, "market price" for the catch of the day, and top out at $33 for a 14oz. Angus rib-eye with smoked potato puree, vegetable and bone marrow dip.
Pin It: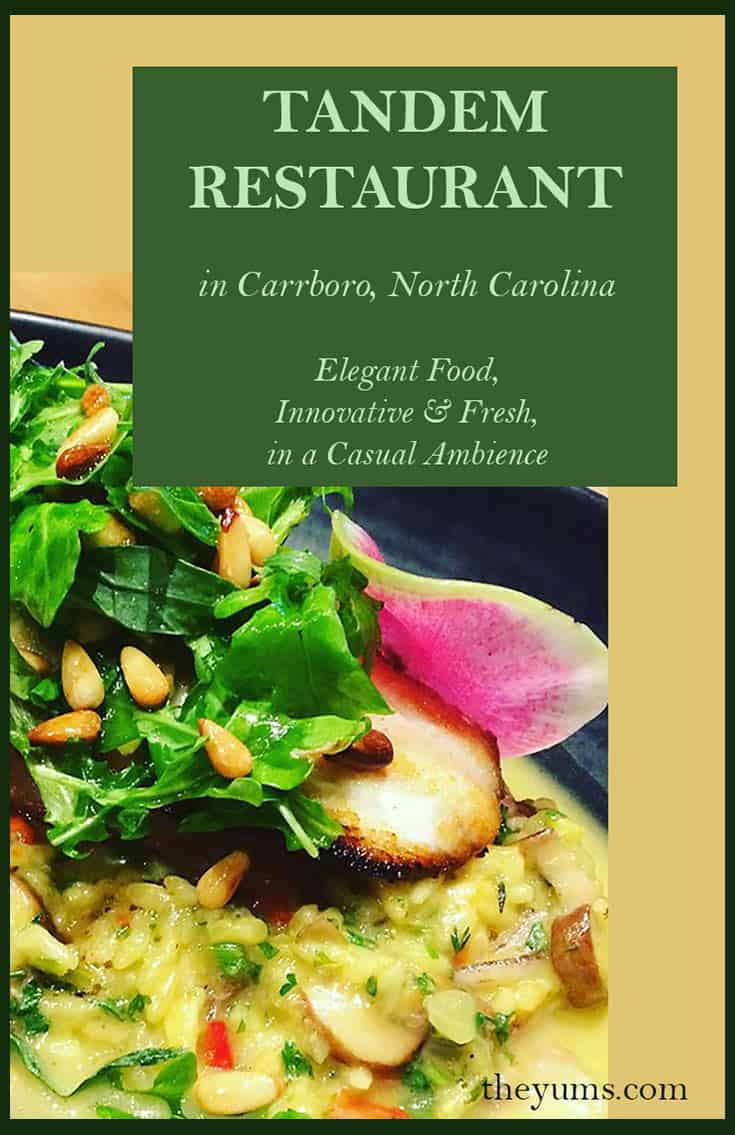 Latest posts by Donna Meyer
(see all)