With a population of less than 6000, Locust Grove, Georgia is getting plenty of attention because of The French Market and Tavern in its historic downtown right by the railroad tracks. French Market is a one-stop location for eating, drinking, and shopping.
Location: 3840 Highway 42, Locust Grove, Georgia
Menu: The French Market and Tavern is open for lunch and dinner Tuesdays through Saturdays and for brunch on Sundays. Although the name suggests [amazon_textlink asin='B000JR7FI4′ text='French cuisine' template='ProductLink' store='theyums-20′ marketplace='US' link_id='0a85631e-4318-11e8-9008-bd60f9169f15′], the menu has a decidedly Cajun flair with items such as Gumbo Ya Ya, Crawfish Etouffee, Creole Shrimp and Grits, New Orleans-style PoBoys and NOLA Boudin Balls. From there, the offerings are a mix of southern favorites with a gourmet twist.
The lunch menu reveals a full range of soups, salads, sandwiches, and burgers. On the list of starters is a new item called Zucchini and Cornbread Fritters. They are similar to hushpuppies with plenty of veggie and cheesy goodness. French Market offers a Cobb Salad with kale or a Salmon Salad with edamame and other good-for-you ingredients for health-conscious diners and main dishes such as a farm-to-table grain bowl and chicken salad made with a smoked chicken breast, locally-grown pecans, cranberries, and celery.  But, for something truly filling and decadent, you might try The Fat Mac – a burger topped with mac and cheese, bacon, lettuce, and tomato on a freshly-baked bun. A regular side choice of jalapeno coleslaw has a zippy kick to it, and premium sides of smoked bacon with jalapeno collards or red beans and rice are extra special.
Dinner options include a Bistro Filet, 5-Alarm Pasta, Stuffed Catfish Roulades, Blackened Redfish and an Apple Bourbon Chutney Pork Tenderloin, along with Fried Chicken, Seafood Platters, and other tasty possibilities.
Sunday brunch is truly something to anticipate with choices such as Stuffed French Toast, Sweet and Savory Crepes, Crab Cake Benedict and Peach-glazed Chicken and Waffles.
Indulgent desserts, kid-friendly options, specialty coffee drinks and a full bar menu round out the wide array of tempting items for diners at French Market.
Thoughts: The French Market and Tavern is a lovely place for lunch or dinner, but it is also a great event venue. Weddings, receptions, rehearsal dinners and bridesmaids luncheons are easily accommodated in the Main Event Room or the Courtyard Garden. Birthday parties, family gatherings or business-oriented events can also be held in the main rooms as well as on the Back Porch. On the Calendar of Events are such occasions as a "Yoga and Brunch with Craft Beer" and a full Saturday afternoon Beer Festival. When the weather permits, the outdoor courtyard along with tables lining the sidewalk are beautiful places to watch the world go by, in the form of downtown shoppers and the trains passing just across the street. Plenty of parking is available in the lot beside the gazebo in the center of town.
The interior reflects the historic nature of the building. Built in the early 1900's, Gardner Hardware Store once lured shoppers who walked on the pine floors. Those floors have now been re-purposed into walls, ceilings, and tables.Painted brick walls, wooden beams, a sliding barn door, track lighting, lampshade sconces and farmhouse-style paintings create a cozy, casual atmosphere while white, black and steel colors provide the backdrop.
Off-site catering from The French Market can be as simple as sandwich trays and chips all the way to full entrees with signature sides and desserts. Decor items for sale near the front entrance are described as both shabby chic and Joanna Gaines-like (the designer/decorator on Home and Garden Television's hit show "Fixer Upper"). Plus, desserts-to-go are a sure temptation as you head out the door. You might be able to resist a written description on a menu, but it's much less likely that you can resist seeing the desserts on display.
It is easy to understand why travelers along I-75 South between [amazon_textlink asin='1547070803′ text='Atlanta' template='ProductLink' store='theyums-20′ marketplace='US' link_id='5fa22cef-4318-11e8-9197-a5bb78d05f90′] and Macon are willing to make a short detour to visit The French Market and Tavern in Locust Grove, Georgia.
Price range: Lunch items range from $5.00 for a cup of soup to $16.00 for a full plate of shrimp and grits. Dinner entrees are $19.00 to $24.00, but burgers are also offered at dinnertime for $13-$14.00. Desserts are $5.95-$7.95 each, and choices on the Kids' Menu are $6.00 to $8.00.
For Pinterest: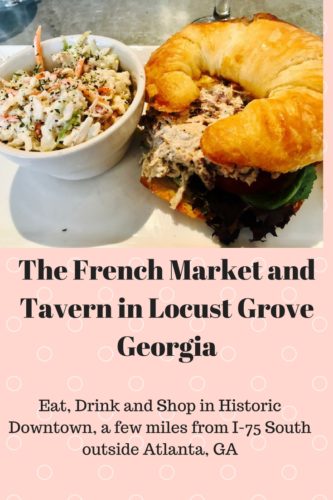 Latest posts by Connie Pearson
(see all)