Cosmos Restaurant is a combination of sci-fi and out of this world wood-fired pizza pie. Cosmos make their gourmet pizza in a wood-fired pizza oven that results in a thin and crispy crust. The charred and slightly smoky edges are brushed with olive oil when it comes out of the oven. The olive oil keeps the sides moist and flavorful.
Location: Cosmos located at 611 East Grand River Avenue in Lansing, [amazon_textlink asin='1631214047′ text='Michigan' template='ProductLink' store='theyums-20′ marketplace='US' link_id='cd9f15f9-441f-11e8-98a4-5748d1bb51ba'] (Old Town neighborhood).
Menu: The pizza shop menu has a sharp focus on appetizers, salads, and pizza. There is a menu of about seven appetizers, five salads, and about 15 pizzas. They don't try to do everything; they keep focused on those items and do them exceedingly well. There isn't a choice to build your pizza combination. They do offer a plain cheese and standard pepperoni, for those less adventurous diners.
All of the dough, sauce, and mozzarella are house-made. Cosmos even makes the duck sausage and ricotta in-house.
[amazon_link asins='1631214047,1600858287′ template='ProductGrid' store='theyums-20′ marketplace='US' link_id='33d1584a-4420-11e8-b9c5-b18e69a8ad38′]
Thoughts: The restaurant has a charming old-school science-fiction comic book décor circa the 1960s. Science fiction comic murals cover two walls. Each laminate-topped table depicts images of early sci-fi comic book covers. The 1960s era starburst light fixtures add to the space décor.
Some of my favorite dishes are:
The stuffed corn fritters have a cream cheese stuffing, served sitting in a jalapeno aioli topped with tomato jam. They are crispy on the outside and creamy on the inside. Three golf ball size fritters come in each order.
The Bosc Pear Pizza has crispy-diced pancetta, shredded mozzarella, and Faribault blue cheese. The pizza center has a pile of arugula dressed in a maple vinaigrette.
The Spaceball, meatball, pizza. The meatballs are house-made, cooked and then chopped before topping the pizza. Red sauce, fresh mozzarella, ricotta, sweet onion, and pepperoncini accompany the meatballs.
The "Trust Us" isn't for those with trust issues. When you order the "Trust Us," they don't tell you what you are ordering. Trust the chef to make you something incredible. You can tell your server if you have food allergies or other dietary restrictions and the server will advise you if you should make another choice. This pizza changes daily so you will always be surprised. I was brave enough to order the "Trust Us," and I wasn't disappointed. The wood-fired oven cooked the chorizo, red onion, mozzarella cheese, and roasted tomatoes. Then before serving, they topped the pizza with shredded lettuce and jalapeno aioli. It reminded me of a taco.
DDD Duck Sausage Pizza started as a "Trust Us" pizza and was so popular after it appeared on Food Network's Diners, Drive-Ins, and Dives the chef had to add it as a standard menu item. It starts with a garlic cream sauce as a base. Then mozzarella, wild mushrooms, ramps, roasted tomatoes and Taleggio cheese top it off. The wild mushrooms and ramps are reminiscent of Spring.
There's plenty of free parking available.
Price Range: Appetizers range from $6 for duck fat fries to $14 for the charcuterie board with a rotating selection of meats, fruit, cheese, and crostini. Salads range from $10 for a Caesar salad to $13 for entrée grilled steak salad. Wood-fired pizzas range $11 for an heirloom tomato pizza to $18 for the DDD Duck Sausage pizza or the hanger steak pizza. The desserts, various flavors of donut holes, are $4. Dinner for two runs about $35 including tax and gratuity. Cosmos offers a lunch deal that includes a discounted appetizer with the purchase of a pizza and a Sunday family deal. They also provide a reduced rate for a carryout dinner.
For Pinterest: Pin this to your favorite pizza-style restaurant board.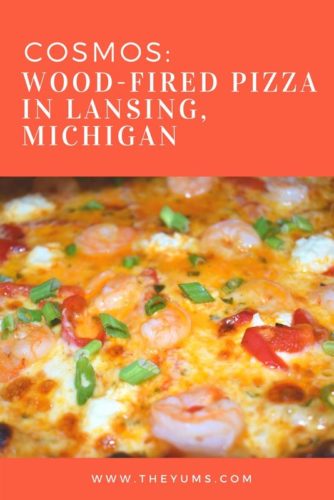 Latest posts by Amy Piper
(see all)