The Knickerbocker: New Holland Brewing is a restaurant, brewery, and distillery all combined into one 40,000 square foot venue. A lot is going on here, appealing to all five senses: live music, games in the open-air courtyard, brewery, and distillery tours, shopping in the on-site store, and farm-to-fork food cooked in a wood-fired oven.
Location: The Knickerbocker: New Holland Brewing located at 417 Bridge Street NW in Grand Rapids, [amazon_textlink asin='1402739079′ text='Michigan' template='ProductLink' store='theyums-20′ marketplace='US' link_id='58450cde-8135-11e8-9622-99e8e46d8b8b'].
Menu: The farm-fresh menu sources from local farms and producers. The Knickerbocker celebrates these partnerships by listing over a dozen farms and producers with their locations on the menu. The restaurant features these ingredients in nose-to-tail butchery and scratch-made food cooked over an open fire.
Several [amazon_textlink asin='1589809610′ text='Polish dishes' template='ProductLink' store='theyums-20′ marketplace='US' link_id='8400454a-8135-11e8-91e6-4fea99251a8a'] grace the menu celebrating this Grand Rapid West-side neighborhood's Polish population. You'll find Golumpki, and sausage with kraut on the list. The Golumpki are cabbage rolls filled with a mixture of beef, pork, and rice topped with a sweet and smoky tomato sauce. They also make the kielbasa sausage in-house and serve it with house-made sauerkraut.
In addition to the nod to its Polish neighborhood, there are Michigan specialties including whitefish dip, fried whitefish, and a Michigan cheese board. The smoked whitefish dip is warm, topped with breadcrumbs and served with matzo crackers. The fried whitefish comes with a Creole remoulade, malt vinegar, and hand-cut fries. The Michigan cheese board features some of Michigan's best cheeses, bread, pickles, honey, and chutney.
While the restaurant has an on-site butchery station, there is still an abundance of meatless and vegan options marked on the menu.
Thoughts: The restaurant's interior offers barrel-crafted décor. First, a larger than life dragon, made from the barrels' recycled metal bands, greets visitors as they enter. The restaurant also features lighting with shades elegantly formed from the oak barrels' wood and metal trim. The second-floor metal railing incorporates strips of the barrels' metal bands worked into decorative trim.
The venue has a beautiful open-air courtyard with a stage for live music. Friday evenings in the summer feature Michigan singers and beyond. Tables are also available in the courtyard for those who enjoy dining al fresco.
I'd be remiss if I didn't mention the Dragon's Milk, a bourbon barrel-aged stout. The Knickerbocker: New Holland Brewing also offers a limited-edition reserve version of this beer. While I was there the Dragon's Milk Reserve was a chocolate cherry. My server estimated it would only be around a couple of months and then another reserved version will take its place. Over the years, they've offered over 20 versions of the Dragon's Milk Reserve. The positive side is there is always something new, but it's sad when your favorite will be gone from the menu all too soon.
Some of my favorite sandwiches are:
The NHBC Cuban sandwich, with roasted Michigan pork shoulder, ham, Swiss cheese, dill pickles, and mustard served on a Telera Bun. The bun is similar to a French roll; slightly sweet and a hint of sourdough flavor.  This bread is similar to that Mexican tortas are built on.
The Nashville hot chicken sandwich, which won third place in a local Grand Rapids sandwich contest called the "Grandwich." It's easy to see why, with the house-made Grandma Knickerbocker's bread and butter pickles topping the sandwich. The Nashville is the only sandwich featuring these pickles. I had to ask for an additional side of these pickles; they were that good.
The gourmet grilled cheese sandwich with tomato fondue. The sandwich made from sourdough bread with a cheese crust, melted Havarti cheese, and Gouda. A thick house-made tomato soup, referred to as tomato fondue on the menu, accompanies the sandwich, perfect for dipping. The server mentioned this is a lunchtime favorite of all American comfort food.
Price Range: Appetizers range from $8 for the house-made sausage of the day or sausage and kraut to $12 for loaded tots or the Michigan cheese board. Entrée size salads range from $9 for a Caesar salad to $13 for a skirt steak salad. Sandwiches run from $10 for a pulled pork BBQ sandwich to $14 for a French dip. Wood-fired pizzas are $11 for tomato and sausage or vegan supreme to $14 for the carnivore. Desserts range from $7.50 for a cookie plate to $9 for the Dragon's milk beer float. Lunch for two runs about $30 including tax and gratuity.
Disclosure: The author was a guest of Experience Grand Rapids.
For Pinterest: Pin this to your favorite brewpub board.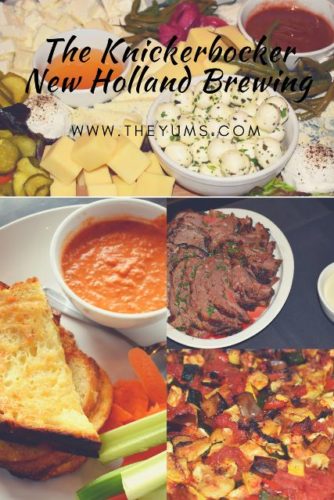 Latest posts by Amy Piper
(see all)