When you feel like getting on a plane or a boat to cross the Atlantic for a truly authentic and delicious British pub meal…but you don't have the time or opportunity…you can head to the The Whale and Ale in San Pedro, California instead. Owned by a genuine Englishman, this is the real deal, pub grub at its finest. It's a bit unexpected in this port town—San Pedro is where the vast Los Angeles Harbor is located, beginning mere yards/meters from the pub. But once you step through the doors into the cozy English ambiance of Victorian oak paneled walls, polished brass fittings, and a marble hearth, and you peruse the menu full of things like fish and chips, bangers and mash, and shepherd's pie, you'll think you've fallen through a space warp and bounced back up on English shores. Add in the personal and friendly greetings of Andrew Silber, the British owner, and the mirage is complete.
Location: Find The Whale and Ale at 327 W 7th St. in old downtown San Pedro, [amazon_textlink asin='1465441131′ text='California' template='ProductLink' store='theyums-20′ marketplace='US' link_id='8b7ae3b8-c650-11e8-bd29-036484140d90′]
Menu: The menu features traditional British pub meals, including steak and kidney pie, English beef barley soup, beef Wellington and curries, plus other appetizers, mains and desserts. A full bar and wine list accompanies several beers and ales on tap.
Thoughts: If you've never been in a real British pub, The Whale and Ale will give you a good sense of what you've been missing. Lots of wood paneling, stained glass windows, dark flowered wallpaper on the stairwell make the room feel cozy and embracing. Upstairs, a mezzanine provides more seating where you can look down into the restaurant below. The carved oak, brass-trimmed open bar, adorned with hanging beer mugs, is a good place to down a pint of bitter. The majestic whale carved in oak overhead keeps the nautical theme of the nearby harbor going. Even the outside—a brick facade with big multi-paned windows outlined in dark green wood paneling and the name picked out in gold across the top—looks like it's straight out of the High Street of some London borough.
Start your meal by choosing from a nice range of appetizers. The calamari, one of the most popular things on the menu, comes in a hefty portion of tender rings fried just right, good for sharing. Also top drawer is the crab cakes, made with big lumps of blue crab meat and drizzled with homemade Thai mayo. To be even more British, opt for the baked English sausage rolls or a traditional Ploughman's plate—a grilled banger and salad served with Branston pickle, Irish soda bread, and English cheddar. Other small plates like Tandoori lamb chops or sauteed mushrooms and salads round out the starters.
Choosing a main was hard, what with such varied options as steak and oyster pie, Pacific sand dabs, glazed duckling, and beef Wellington. I was heartily tempted by the fish and chips since The Whale and Ale's version has been voted among the very best in Los Angeles more than once. A good-sized piece of excellent cod, battered and fried, comes layered onto a big pile of "chips," what we in the U.S. call steak fries. It all comes accompanied by house-made tartar sauce, but I like my fish and chips the English way—drenched in tangy malt vinegar. I finally settled on the shrimp curry, but not before asking about the degree of spiciness. I prefer food that doesn't hurt. After being assured it could be made to taste, I asked for it "not at all" spicy and ended up with the perfect dish. The depth and richness of flavor in the curry sauce was a revelation…a deep rose-colored sauce cooked down to just the right thickness, chock full of sliced onions and tomato. As much as I also enjoyed the very fine shrimp on top, I could have made a meal just out of that sauce spooned over the rice. It was that good.
My companion ordered the shepherd's pie and was wholly satisfied with her choice. The hefty portion comes in a crock, topped with a big, creamy swirl of smoothly mashed potatoes, lightly browned on top. The filling is made with a mixture of ground filet mignon and ground roasted leg of lamb with onion and other vegetables, creating a rich gravy with deep flavor. A bowl of fresh peas sits on the side, ready for mixing into the filling or potatoes or eating alone, as you wish.
For drinks, you can choose from The Whale and Ale's 13 draft brews, ranging from a local San Pedro pilsner to an imported Scottish ale with a wide range between them. The Old Speckled Hen is a popular bitter ale from Suffolk, England. The wine list is fairly small but with a good variety of mostly [amazon_textlink asin='1607743000′ text='California wines' template='ProductLink' store='theyums-20′ marketplace='US' link_id='d75ba1ca-c650-11e8-b964-677ea88c251a'] plus a few from France and Italy.
And let's not forget dessert. As soon as I saw sticky toffee pudding on the menu, I knew I had to find room for it. A dense, gooey, cake made with dates and covered with toffee sauce, it was as good as any I've had—and that's saying something. My companion ordered the raisin bread pudding. What did she think? Well, once the plate was empty, she leaned toward me and said quietly, "If no one was watching, I'd lick this plate."
Service at The Whale and Ale is both very friendly and efficient. You feel well cared for but not overwhelmed by hovering. The British owner, Andrew Silber—who has owned the pub with his wife since 1995—is constantly making the rounds, stopping by each table personally to check that everything is up to snuff. Most Friday and Saturday nights, live music accompanies your dinner and/or drinks. There is street parking, metered before 6pm, free after that, as well as free parking behind the restaurant, just off the alley.
Price Range: Prices are comparable to the quality of the food in a fine dining place and portions are hefty. Appetizers begin at $8 for a small salad or soup and go up to $18 for the Ploughman's Plate, with most falling in the $12-14 range. Entree-sized salads with a protein are $18-25. Mains begin at $18 for fish and chips, a Whale and Ale burger or a beef dip sandwich, both served with English chips. Other seafood dishes run $21-39. Bangers and mash cost $20, shepherd's pie $21, with other mains up to $40 for roast rack of New Zealand lamb or beef wellington and $45 for a 20-oz roast prime rib dinner. There are some main dish vegetarian options from $18-24. At lunch, several of the typically British pub dishes are offered as $10 lunch specials.
Pin It For Later: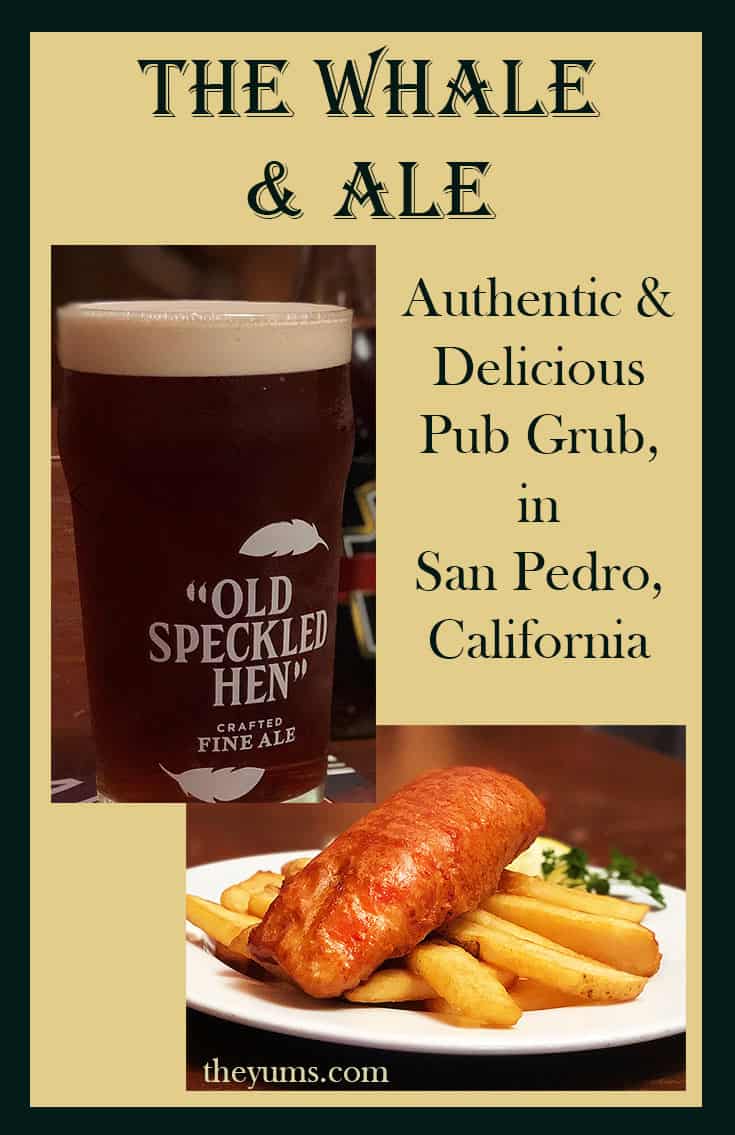 Disclosure: I was given a complimentary meal at the Whale and Ale for myself and my guest. But the fact is that I loved my meal and the opinions here are my true feelings, not affected by being hosted.
Latest posts by Donna Meyer
(see all)