After a VERY long week, I was looking for something to sink my teeth into. And when I say sink, I actually mean; Bite down and feel the juices squirt from the morsels in my mouth. It's at that exact moment the flavor kicks in. So tasty that each flavor bursts like fireworks. Yes. That type of sink.
And in Paris, there is one ultimate fusion place that can make that so. Double Dragon.
Location: Found in the 11th arrondissement at the well-known areas of Bastille and Oberkampf you'll come across an all-white exterior. Large windows seeing right through to the kitchen on the left side… views of the diners on the right. Signage? Gold letters etching out Double Dragon on the window, located at 52 rue Saint-Maur, Paris, France.
Menu: The concept is sharing plates similar to tapas, the menu is simple. Ranging from various Asian treats, the appetizers have several to choose from. Such as the delicate White Tuna or Oreilles de Cochon (thinly sliced pig ears) or fried ravioli with pork and mushroom. For the vegetarian, Tofu Farci au Compte. This tofu was flying out of the kitchen like hot cakes.
The plates or mains to partake in had options like the Longanisa Croquante (crisp) as well as chicken, or veal cheeks. Tom Yam Foie Gras Bouillon (soup), cold noodles with shrimp, or an assortment of fish crus (raw) to share on one plate. A few side options that caught my eye? The eggplant or barbecued corn with spicy peppers and peanuts! (Look to your left.)
3 desserts: Kassava cake, ice cream, and leche flan.
Various tea's, coffee's, wine and beer. Sakes, cider, etc. They have San Miguel beer! Often not found in Europe or North America.
Thoughts: Arrived 7:30 pm – opening time. There was already a lineup to this little hideaway. But we didn't have to wait too long, and the inside was already pumping. You can feel the energy in the air, wafting into the street.
A cool and contemporary vibe, with sights of the staff in blue aprons. You cannot miss the small open kitchen as soon as you walk in. Black screen prints with a bright red glow hang above the open kitchen. Dominoes are used as the tile backsplash under the bar. Looking at the tiles gave me a cozy reminder of many a night hearing the sound of dominoes shuffling… and mahjong games lasting all night. Seated on the simple table and chairs, I could see coat racks adorning scooter helmets. Like ornaments on a Christmas tree. Reminding me that we are in France.
A few of the items ordered were burst in your mouth – outrageously tasty. Different… yet VERY comforting. Two dishes that stood out from our selections? The Oreilles de Cochon with a surprise mixed in. If you love Filipino food, then you'll know the taste of Bagoong. A condiment of sorts with a powerful punch.
The grand winner of the evening? The barbecue corn with spicy peppers and peanuts! I've had many a barbecue corn. This was such a delight. You MUST order it. As I mentioned earlier, the tofu was coming out of the kitchen in droves. Too stuffed to try it, this can only mean I'll have to go back.
This is not your standard Asian cuisine. There's a raised element to the sweet and spicy dishes that make you drool for more. Sisters Katia and Tatiana Levha, owners of the trendy joint, know exactly what they're doing. Incorporating their ties to French, Filipino, Thai, and Hong Kong is a masterpiece.
Price Range: Starters go from 9-15€, plates 11-23€, desserts 6.50€ each.
Tip: Open Sundays (which isn't common for most Parisian restaurants). Closed Mondays and Tuesdays. Great for Solo eaters. They have a seated counter, front view of the kitchen to watch the chefs at work. It's like eating at the chef's table. This restaurant takes no reservations. Go early or prepare to wait.
PIN This to your "Must Visit in Paris" Pinterest Board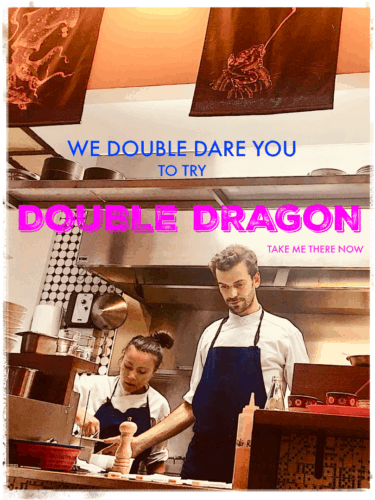 Latest posts by Michelle Baun
(see all)