You know a café is good when the locals are willing to line up at the door and wait for a table. When it's breakfast time in McMinnville, Oregon, the heart of the Oregon Wine Country, the place they wait is The WildWood Café. And it's been that way for the last twenty-plus years.
Location: 319 NE Baker Street, Downtown McMinnville
Menu: Traditional breakfast dishes with a twist, served till closing and including lots of homemade touches. Also, lunch choices of soups and salads, specialty sandwiches and burgers. Not open for dinner.
Thoughts: I have family in McMinnville, Oregon, so I visit regularly. And I always demand at least one visit to The WildWood Café for breakfast or lunch. With its fun and funky retro décor, its friendly servers—many of whom have been there forever—and its huge plates of wonderful breakfast fare, it's a place I'm never willing to miss. I've sampled a good portion of the menu over the years and never had a bad meal.
In 2011, when I heard that The WildWood had been sold, I was devastated. It was sure to change, I thought. But the new owners, Ed and Susan Frazier, didn't want to change a thing. "Why would you fuss with something that's working?" asks Ed. The décor, the menu, and even many of the servers stayed exactly the same. And they also kept the recipes for their heavenly house-made bread and marionberry jam—made from a local strain of extra-delicious blackberries developed in Oregon.
The WildWood Café is known to locals for "the best breakfast in McMinnville," and one of the main reasons is this: The French Toast. Let's repeat that for those in the back. Get the French Toast! Thick slabs of their home-made bread are coated with house-made granola before going onto the griddle. Crunchy on the outside and soft on the inside, this the perfect way to start your day. Douse it with the warm pure maple syrup that comes with it, or pour on that marionberry jam sitting in a squeeze bottle on the table. Order it with bacon or sausage for an enormous serving of satisfaction.
But okay, so maybe the best French toast in the valley is not your thing. There are wonderful "scrambles" and omelettes as well. Or you might want to begin your day with Country Fried Steak, an enormous slab of tenderized cube steak, seasoned and lightly breaded, never dry and perfectly tender. It comes out slathered in white gravy and edged with a pair of eggs and spuds plus an inch-think slice of toast, dripping butter.
Their "spuds" are a delight: the potatoes are baked then sliced before frying 'em up. They accompany most of the breakfast dishes or can be ordered as a side dish. When I don't feel like eating meat or French toast for breakfast, my go-to choice is usually "City Spuds," an enormous plate of spuds topped with cheese, onions, garlic, tomatoes and mushrooms, with fresh sliced avocado on top of that. Incredible! Other specialties include "The Motherlode," a plateful of biscuits and house-made gravy, two sausage links, two strips of bacon, two eggs, with spuds and toast from their home-made bread. You clearly won't go home hungry.
There are some innovative and delicious omelette combinations, many of them named after the servers. I like "Olive's Omelette," filled with cream cheese, bacon, green pepper, tomatoes, and olives. For vegetarians, another good option is "Wine Country," filled with feta, onion, provolone, tomato, mushrooms, green pepper and garlic. Or "Mattie's Way" gives you onions and cheese inside and house-made salsa and sour cream on top.
You can also get pancakes, and they are good ones. Huge and perfectly cooked, slightly crisp on the outside, soft and cake-like on the inside.
Whatever dish you order, be sure to have some of that heavenly toast and squeeze on the marionberry jam. Then buy a jar of it to take home with you. You'll want to, I promise.
Breakfast is served until closing, but if it's lunchtime, you can also opt for a bowl of slow-cooked house-made soup, a very fresh salad featuring local produce, a fancy sandwich or a burger. A favorite sandwich of mine is the "Spruce Goose," named for the massive airplane on display at the nearby Evergreen Air and Space Museum (which is definitely worth a visit while you're in town). The sandwich version features home-roasted beef, mushrooms, onions, melted Jack cheese, on grilled sourdough and comes with a cup of au jus for dipping.
Vegetarians will enjoy "Niki's Veggie Melt," made like a classic "melt" with fresh mushrooms, onions, garlic, green peppers, olives and tomatoes, plus melted cheddar on grilled whole wheat bread. For the hungriest among you, consider "Jed's Jumbo Burger," a grilled all-beef patty with ham, egg, cheese, lettuce, tomato, pickle and onion.
Beyond the great food, and plenty of it, part of the fun of eating at The WildWood Café is the décor. Every bit of the wall space is covered with retro advertising signs, posters, and vintage metal advertising art. The tables are 1950's formica kitchen sets, edged with chrome and set with matching dinette chairs. Booths along the walls are wood upholstered with maroon vinyl. The very good coffee comes in a motley collection of vintage mugs. Also on the table, you'll find a great selection of hot sauces if you like spicing things up a bit.
And be sure to look up. Dozens of retro eggbeaters and potato mashers hang from the ceiling. Put together, it makes you feel like smiling and very much at home.
Do understand that The WildWood Café is very popular, especially on Saturday mornings and on Sunday after church. Get there when they open or be prepared to wait. There is a sign-up waiting list at the door. Or come after the breakfast rush for a lunchtime meal.
Price Range: Given the size of the portions, the prices at The WildWood Café are reasonable. Breakfast specialties run $8-10.75, with the Country Fried Steak and the Motherlode at the top end. The famous French toast is $8-9, depending on whether you want one slice or two. Omelettes are $8.50-10. Eggbeaters can be substituted for one dollar more. One huge hotcake is $5; a short stack is $7. Biscuits and gravy are $5.50-7.
At lunch, the specialty sandwiches and burgers run $8.50-10 and come with hand-cut fries or a salad or a cup of soup. Soup alone is $3-4.50. Meal salads are $8-9.50. A cup of free-trade, organic, freshly ground coffee is two bucks with free refills. There is a kids' menu with several combinations, all of them costing $4.50.
Pin it for Later: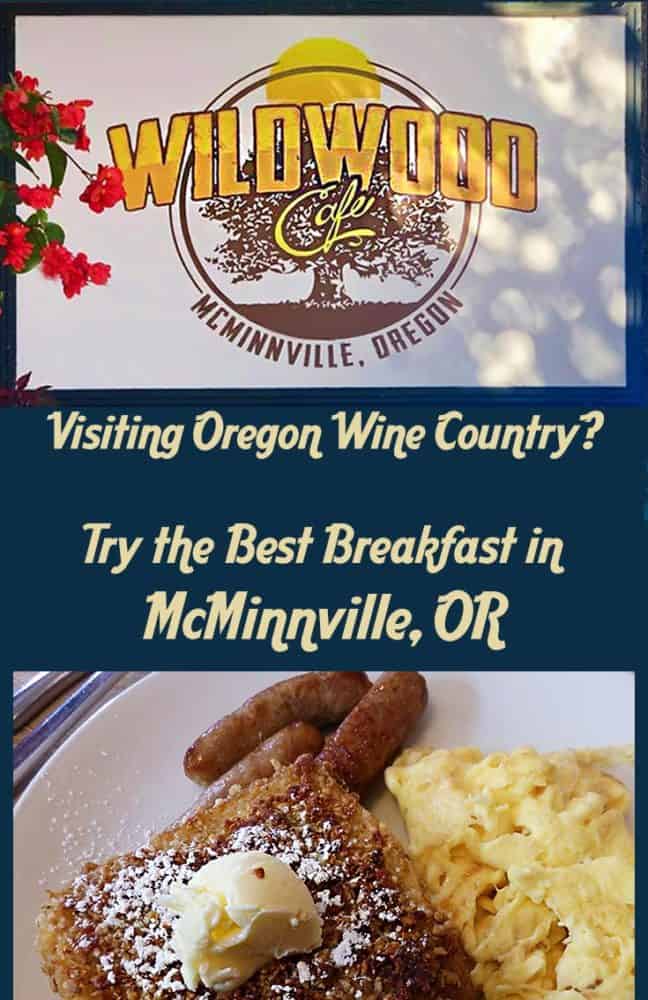 Latest posts by Donna Meyer
(see all)