Curated breakfast sandwiches and house-made Chili Jam at pop-up restaurant Eggslice make a sensational way to start your day. It's been said that the Chili Jam saved a marriage. Find out why below.
Location: Eggslice is a morning pop-up restaurant located inside Shuck Oyster Bar at The Mix at SoCo, 3313 Hyland, #A1, in Costa Mesa, California.
Menu: Five breakfast sandwiches make up the simple morning menu at Eggslice.
An unpretentious Egg and Cheese, a Smoked Salmon and Egg, a delightfully crisp and crunchy Chicken Katsu and Chili Jam mayo, as well as bacon or sausage sandwiches (every sandwich holds a fried egg with a runny yolk) round out the selections.
All sandwiches are served on freshly baked, buttered, and toasted brioche. The sandwiches are curated with a depression in the bread designed to cradle all the ingredients, including the Chili Jam, so it doesn't slip, and it stays anchored.
Thoughts:  The goal at Eggslice is to keep the menu simple, but do it very well. I hadn't heard of curating food before, using cage-free eggs and vegetables from a working hydroponics farm, they put together flavor combinations and textures that are complex.
Teaching how to curate a sandwich is a "thing." Techniques are taught to make a depression in the bun in order to keep the egg and other ingredients in place. Magically, the sandwich stays together until the very last bite.
My selection and the most popular, Chicken Katsu, made from organic chicken breasts that have been pounded flat, coated with panko breadcrumbs, and fried lightly, was not greasy or heavy. The oozing runny egg combined with abundant Chili Jam and melting cheese was a tasty contrast to the crusty slices of breaded chicken.
There are 13 locally-sourced ingredients in the Chili Jam. It contains no fillers, preservatives, or colors. It takes five hours to cook and has a most unique flavor.
The extra ingredients not used in the Chili Jam (nothing goes to waste) goes into the Thai table sauce, otherwise known as siracha. It has a sweet flavor on the back of the palate. It is VERY, VERY hot! Add it with caution.
A pop-up restaurant is practical. The brilliant concept originated in Australia and Britain where a restaurant and a pop-up (think camping, coolers, with set up and knock down at the beginning and end of a shift) share the restaurant space. Sharing is the perfect marriage of professional kitchen and food preparation facilities with cost-effective use of the restaurant when it is typically closed.
Eggslice owner, Bill McMullan, brought his concept to Southern California two years ago. He successfully built his sandwich pop-up restaurant business in Australia located in 26 farmer's markets a year and regularly served 600 sandwiches in four hours. This man knows how to make a sandwich!
Eggslice began in Orange County by serving customers only on Wednesday and Saturday mornings. Based on demand, they are now open Wednesday through Sunday mornings and they frequently have customers lined up out the door.
The meal is very casual and can be eaten on the run. You won't want to, however, because you will savor every morsel of your sandwich. This is definitely not a fast food drive-through experience nor taste.
Parking is very close, and the restaurant is easily handicapped accessible.
Price Range: The very modest prices are as simple as the menu. The sandwiches are $6.00 and $7.50. The beverages (cold only) range from $1.00 to $5.00. Sides can be added for a mere $0.40 (a slice of cheese) to $2.95 (smoked salmon). The Chili Jam, in two sizes to take home is $2.95 and $7.95. The siracha sampler is $1.
NOTE: The Chili Jam saved a marriage because that was the only thing the couple could agree on!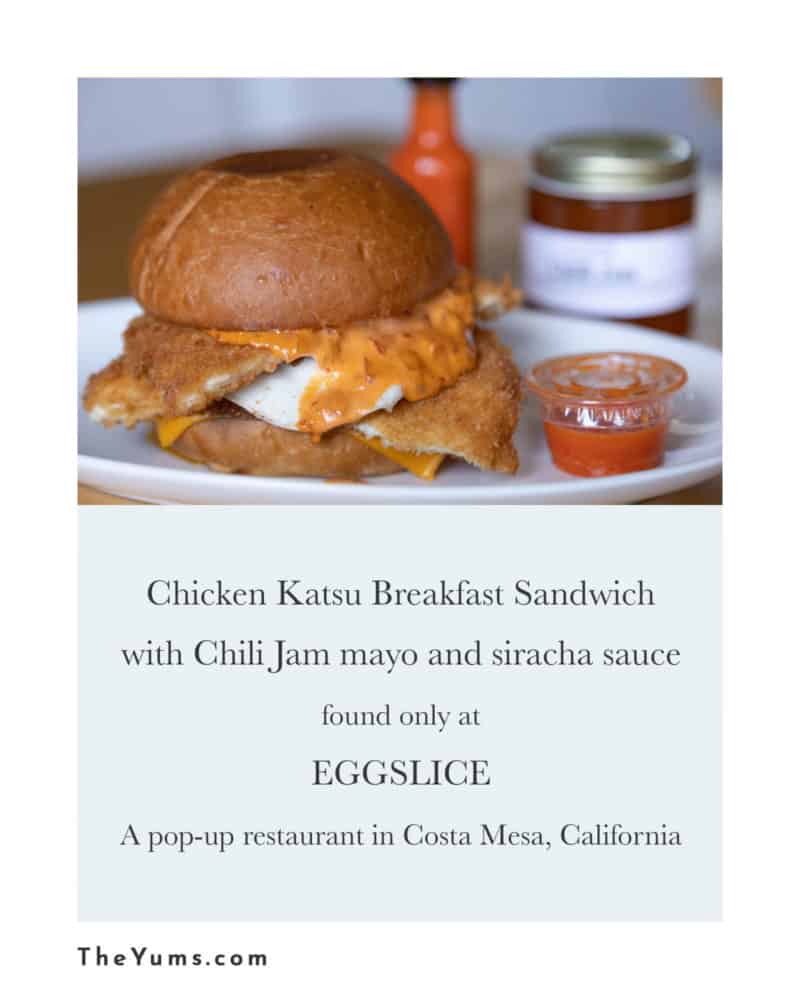 Disclosure:  Eggslice treated me to the Chicken Katsu breakfast sandwich. I simply HAD to bring home a jar of Chili Jam and a small bottle of hot sauce which I purchased.
Latest posts by Julie Diebolt Price
(see all)