Situated on a busy pedestrian square, the terrace of Toro Tapas offers a spectacular view. The statue-lined paths of the Plaza de Oriente are straight ahead; adjacent is the Opera House. Look past the plaza; your reward is a sweeping view of the enormous east facade of the Royal Palace of Madrid. If location is everything, Toro Tapas has it in spades. And the food is marvelous too!
Location: Calle Carlos III, [amazon_textlink asin='146544064X' text='Madrid' template='ProductLink' store='theyums-20′ marketplace='US' link_id='b7e737fb-d4b6-11e8-b79a-a1a45a62a5d2′], Spain.
Menu: The menu offers seasonal soups, salads, steaks, and a  [amazon_textlink asin='1681881039′ text='variety of Paellas' template='ProductLink' store='theyums-20′ marketplace='US' link_id='2e6b55ac-d4b7-11e8-9bf5-6f03ba87d568′].  If you're looking for a great deal, try the Menu del Dia; available as a two or three-course meal.
Thoughts: We were discussing where to have lunch when a local priest overheard and responded; "Try Toro Tapas. The staff is friendly, the food is freshly prepared, the atmosphere is casual, and the terrace is a treat. I eat lunch there every day." Pointing us in the right direction,  we set off in the hope of a good meal. Since that first visit, we've returned numerous times; the food and service are consistently exceptional.
We try to dine outside whenever possible, so we chose a terrace table with a view of royal Madrid. There's a ten percent surcharge for the terrace, but it's worth every euro.
Placing a menu in our hands, the waiter took our drink order. Returning quickly, he reviewed the Menu del Dia. We chose the three-course Menu del Dia with bread and beverage included. Being Spain (the land of "big food"), if I could make it through the entire meal, it would be a miracle.
I opted for Butternut squash cream soup with croutons for my starter, while my husband had a simple Caprese salad. My soup was well-seasoned with a touch of nutmeg and cloves; the croutons added a nice crunch. The smell was divine; I could have eaten another bowl.
Made from the ripest tomatoes, fresh mozzarella, black olives, and drizzled with olive oil, my husband's salad was tasty. When the waiter came to clear our plates, my husband told him, "That's the best Caprese salad I've ever eaten." The waiter beamed.
My entree was sole poached in white wine, topped with fresh vegetables, then placed on a bed of potato gratin. Leg of lamb served with fried potatoes, and mild chilis piqued my husband's interest.
The sole was heaven on a plate; light, and flaky, it was perfectly poached. The sauteed vegetables and potato gratin complemented the delicate fish. I had a bite of the lamb with chilis. I would never pair the two, but it worked. I made a mental note to order it next time.
For dessert, rice pudding for me, chocolate cake for my husband. The rice pudding was the best I've eaten, and I've had more than my share of rice pudding. Rich, creamy, with a touch of nutmeg, and cloves, and not too sweet; I ate the entire dish. The chocolate cake was dark, decadent, slathered with whip cream, and homemade.
Our meal with drinks (a beer and a glass of wine) came to €38.
Allow thirty minutes for the preparation of a Paella.
Price Range: The two-course Menu del Dia is €12, three-course is €15-17. Paella ranges from €12-14, while a mixed salad with Paella and a beverage is €16. Salads average €9. Beers are €3, a glass of wine or Sangria is €4.
Pin For Later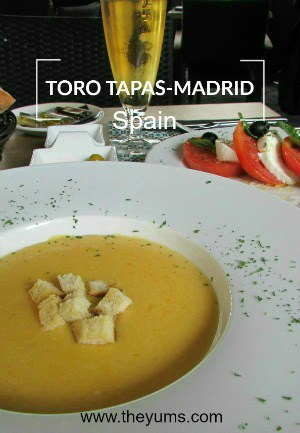 Latest posts by Barb Harmon
(see all)