Rare comes the time when the image of cool cream enters your mind. Laid like a blanket over vegetables and vast balls of chickpeas, cradled between a soft pillowy pita. Delectable, mouth-watering thoughts as soon as you hear this restaurant's name. It happens, my friend, once you've experienced wrapping your mouth around the famous falafel sandwich at L'As du Fallafel, in Paris.
Location: Inside the Jewish quarter of Le Marais, on a cobblestone street you'll find a small restaurant, L'As du Fallafel. Double-check the address. You'll want to be at 34 Rue des Rosiers (don't get confused as the take-out window is just a few doors down) in the 4th arrondissement.
Menu: A resurrection to the taste buds, various starters are aplenty. Highlighting just a few; luscious grilled peppers, eggplant with special salad, and who can say no to the humous sharing plate? Next are the sandwiches which are NOT dainty in size. They're voluptuous gorgeous beasts, glistening back with all their saucy glory. Some of the sandwich choices are the Lamb Shawarma, Chicken Schnitzel, Grilled Meatballs, Kefta or Chicken Steak, and of course… their Falafel Sandwich. Mains or Plats are similar to the sandwich choices – but come with accompaniments. They also have a complete vegetarian plate, a plate of shawarma (lamb and turkey), and a sauteed curry plate with chicken to name a few.
Thoughts: Filled with numerous Middle Eastern (kosher) delights, the very affordable menu is a relief to the eyes (and to the wallet) when in Paris. As mentioned, there are two locations on the same street. For an even cheaper meal hit the takeout window. For those who prefer to chow down seated at a table (for a few dollars more), be ready to line up. The line may look intimidating but it moves fast. L'As du Fallafel is run like a well-oiled machine and worth the wait. Plus someone goes down the line taking your number of seats. Personally, I think the wait adds to the excitement. Within minutes you'll be seated in the fast-paced, lively small restaurant with extremely friendly staff. The dated decoration bothers no one, nor do the paper plates. As people are in and out – laser-focused to eat and eat well.
This no-frills, very affordable eatery is quick on service and provides large portions. But that's not the main reason people go to L'As du Fallafel. They go for the famous Falafel Special Sandwich. Filled with roasted eggplant, aubergine, smooth tahini… tasty tomatoes, coleslaw, cucumber, and if you're up for it – chili sauce. All snuggled together in a warm soft pita, giving you the 'come hither' look as it moves closer to your mouth.
L'As du Fallafel is the perfect stop after a day of shopping in the Marais, and a favorite of locals and visitors alike.
Prices: Starters are 4-16€, Sandwiches go from 8-11€, Mains/Plats run 13-20€, Sides are 5-7€. They have a child menu (sausage with fries) for 13€.
Tip: Hitting the to-go window makes your meal cheaper. Once you've got your grub, find a cozy spot just around the corner. Or better yet? Walk a minute or two to the Jardin des Rosiers – Joseph Migneret for a picnic.
Save to your favorite Pinterest boards for your next trip to Paris.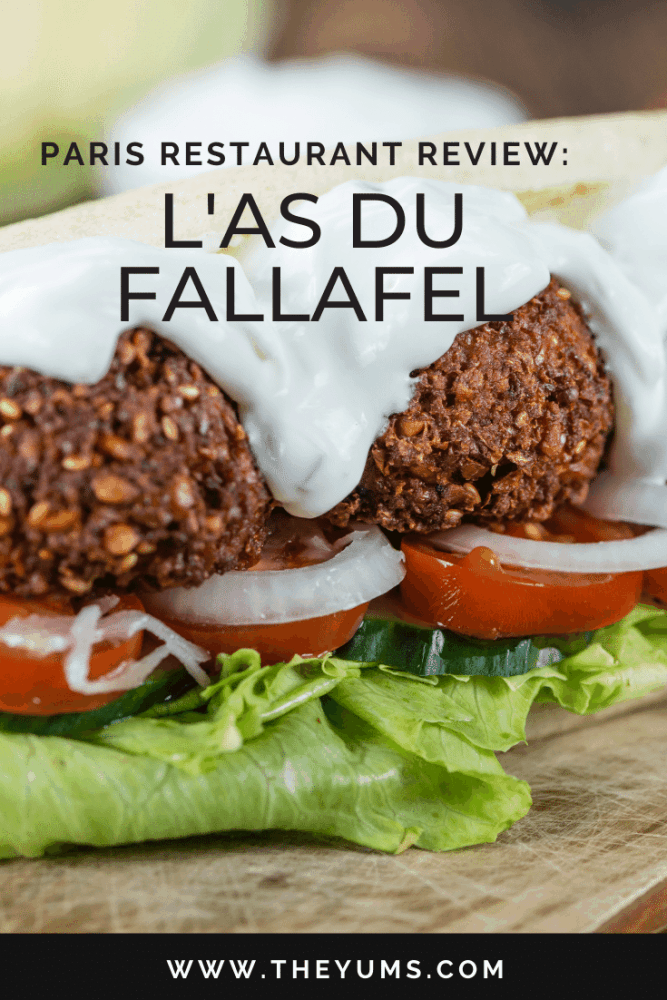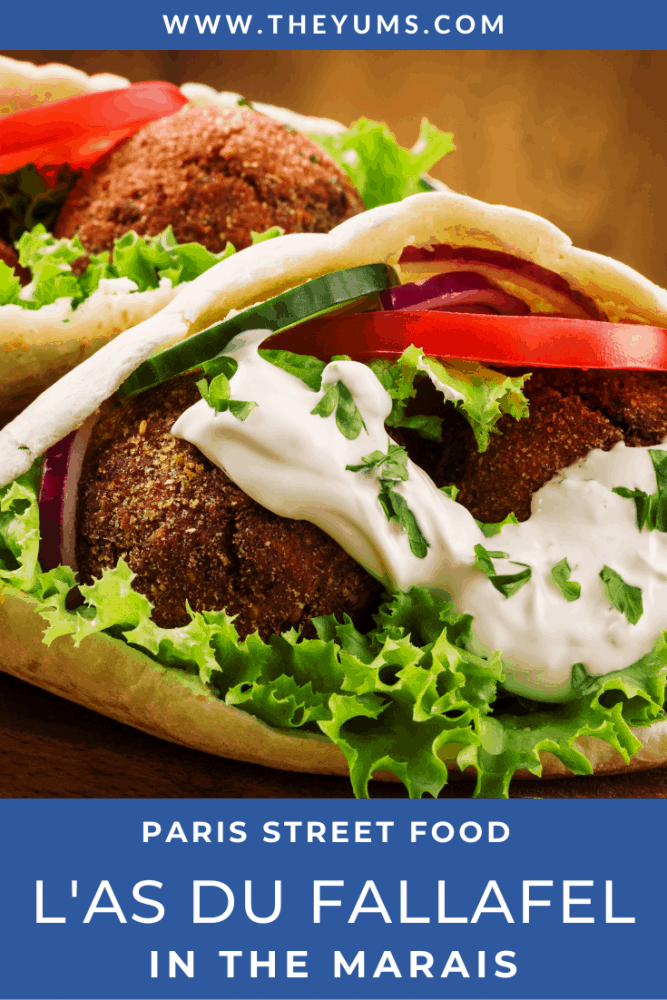 Latest posts by Michelle Baun
(see all)