When you get hungry in a beach town, sometimes you just want a good old-fashioned beach dive, a place where gritty sand crunches under your feet, where the beer is cold, the vibe is uber-casual, and the fish is really, really fresh. If you're on the Outer Banks of North Carolina, the place you want is Tortuga's Lie, in the town of Nag's Head. It's even been featured on Guy Fieri's Drive-Ins, Diners & Dives.
Location: 3014 S Virginia Dare Trail, at MP 11 on the Beach Drive, Nags Head, North Carolina
Menu: Tortuga's Lie features beach fare with a Caribbean accent. Think blackened fish tacos, jerk pork chops and coconut-crusted chicken. The lunch menu outlines a mix of chowders and salads, burgers and sandwiches, burritos, wraps and tacos as well as steamers—shrimp, snow crab legs, veggies, or clams. At dinner, add in some pork chops, a couple of steak options or one of the pasta choices. And dessert. Always dessert. Their home-made pies are legendary up and down the Banks. Some vegetarian options are available as well.
Thoughts: The island vibe starts before you even get inside the door at Tortuga's Lie with a building painted the aqua of a peaceful Caribbean sea. The place has been here since 1989 and is clearly popular with locals and tourists alike. In season, you'll almost certainly have to wait a bit. Sit on the slatted wood benches on the porch or head around back to watch the beach volleyball game that always seems to be in progress on their two professional courts. They'll text you when your table is ready. Once you make it inside, ask to be seated on the enclosed patio rather than at the bar if you hope to have a conversation. With lots of happy locals as well as drinking tourists, the bar can get noisy.
If you want to start with a drink, I suggest you opt for the Shark Attack, a tall glass of lemonade, pink grenadine, and vodka. It comes with a plastic shark leaping from the glass, its mouth full of a "bloody" red cherry. You get to take the shark home as a souvenir.
While you're waiting for your food, check out the dozens of license plates from all over the country tacked up on the aqua blue wooden ceiling beams. Scattered across the walls are whimsical and colorful paintings of regular folks on the beach.
I visited Tortuga's Lie with a group so I got to taste many items on the menu. A solid favorite starter was the Cayman Conch Fritters. They were full of conch and just lightly fried and as good as any I've had in the Caribbean. A companion tried the Hatteras Style Chowder—a clear broth loaded with lots of clammy goodness—and pronounced it delightful. The lump crab dip with chips was also a huge hit.
With the mains, we found ourselves passing plates around the table a lot. It was hard to pick a favorite. One of the most famous house dishes is the Coco Loco Chicken, a tender breast rolled in coconut and cracked black pepper, lightly fried and served with a curry lime dipping sauce. Personally, I adored the Skewered Shrimp Barbados. Large shrimp were glazed with Thai chili sauce and skewered with fresh pineapple, sweet pepper, and red onion, layered onto beans and rice and sprinkled with chopped peanuts. It was perfectly wonderful.
The soft fish tacos are one of the stars of the show at Tortuga's Lie. Everyone needs to taste them and most everyone seems to love them. The chunks of fish are flaky and perfectly cooked, the house-made Baja sauce divine. Layer in some shredded cabbage for crunch and jack cheese for more flavor, and you've got a hit. Jalapeños and sour cream come on the side. They are served with well-seasoned black beans and rice.
There are always several daily specials available, depending on what the catch of the day was and what the cook feels like making. Your always friendly server will happily explain what they are.
For it's sandy island vibe, its so-fresh and flavorful food, and the friendliness of the servers and customers alike, Tortuga's Lie is a Best Bet for any meal on the Outer Banks of North Carolina. Old OBX style at its best.
Price Range: At lunch, soups and salads run from $5-10 and up to $13 if you opt for the Greek salad with shrimp added. Sandwiches go from $6-10, burgers with island fries for $9-10.50. Conch fritters are $11. Coco Loco Chicken was $9.50. St. Martin Shrimp, cooked with onion, garlic and tomatoes and served over pasta, was $12.50. At dinner, all these same dishes will be priced several dollars higher and portions larger. Dinner entrees range from $19 for some chicken options and top out at $23 for a 12-oz Island Steak, all served with starch and vegetable of the day. And those dreamy house-made pies—key lime, coconut cream, chocolate chip pecan or the heavenly chocolate peanut butter pie—all go for $5 a slice, served with real whipped cream.
Pin It For Later: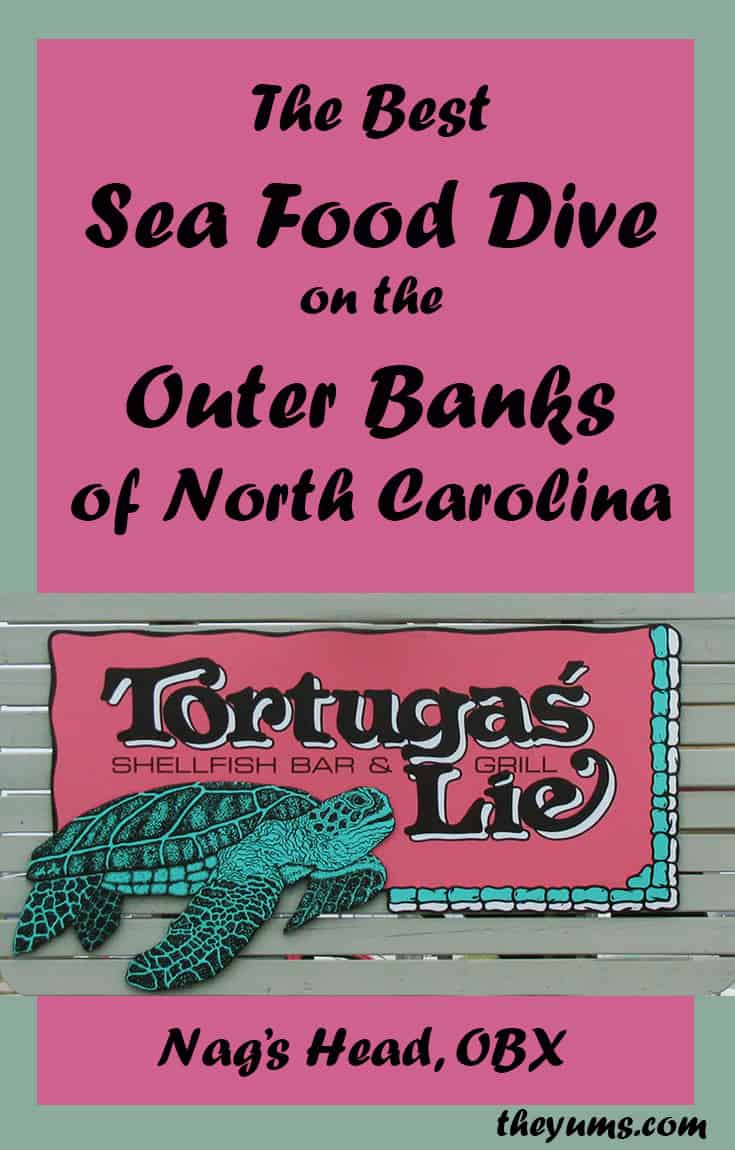 Pin it for Later:
Our meal was hosted by the Outer Banks Visitor Bureau and I thank them for it. The opinions on the food, service and ambience are my own.
Latest posts by Donna Meyer
(see all)