The Danes are very serious about their ice cream. They are also pretty jealous of their great waffles. When Vaffelbageren combines the two—creamy rich ice cream scooped onto a fresh-from-the-iron hot waffle and topped with whipped cream—you get a bit of heaven. And it all comes with the great view and perfect people watching of Nyhavn, one of the prettiest tourist sights in [amazon_textlink asin='1786574578′ text='Copenhagen' template='ProductLink' store='theyums-20′ marketplace='US' link_id='4c8267c7-5217-11e8-b2d2-2f16ac5a5d4d'].
Location: Nyhavn 49, Copenhagen, Denmark about halfway up the quay on the left, on a corner.
Menu: Ice cream! And Waffles! And waffle cones for the ice cream. There are usually at least a dozen flavors of scooped ice cream plus what they call "soft ice." It's like American soft serve ice cream, but richer and far creamier. There are also some cakes and cookies but come for the waffles and ice cream. Hot drinks are also on the menu, a nice touch if you come anytime but summer. This is Scandinavia, after all, and it can be chilly.
Thoughts: Vaffelbageren is famous in Copenhagen as one of the few waffle bakeries left in the city. It's been located here in Nyhavn since 1953. The recipe for its delicious waffle cones, made hot and fresh throughout the day, has been a closely kept secret since 1920. As I was walking along the street in this oh-so-colorful old harbor area, my nose was caressed by the divine smell. The sugary-warm scent of waffle cones just cooked and being hand-rolled wafted out the door and pulled me right in. My feet had no choice. You'll recognize the place by the giant, multi-colored and scoop-filled waffle cone standing vigil beside the door. And the smell pulling you in too.
You step down a few steps from the pavement into the tiny shop. Vaffelbageren is popular with locals and tourists alike, so there is often a line, but it moves quickly. I promise your bit of patience will be rewarded. Inside, the place can be a bit confusing. There don't seem to be any lines and there's no way to know who's next. Just inch your way up to the counter where some smiling employee seems to be serving up goodies as fast as he/she can scoop and place your order. The menu is in Danish and English so it's easily understood. Besides that, it seems that everyone in Denmark speaks English, so if you need help choosing, just ask. They will also offer samples of the various flavors.
To pay your bill, you don't hand over cash to a server. There is an automated payment system where you feed your kroner into a machine. If you don't understand how it works, just ask any of the local patrons. They will happily explain. They also accept credit cards. Free WiFi is available.
The corner building where Vaffelbageren is located was built as a warehouse for a shipper in 1744. Originally three stories tall, it had a fourth floor added in 1886. Like many of the colorful buildings in Nyhavn, it's listed as a historic monument.
There are several long wooden tables inside for winter time, but if possible, I recommend sitting outside. Even if it's a bit chilly, there are heaters over the benches, and the area offers up wonderful people watching. If the sun is shining its warmth down on you, sit on the edge of the quay to watch the boats go by. During the summer, when the days are so long and the sunset late, Vaffelbageren is a wonderful spot to top off a late dinner and watch the sunset.
You'll find some standard flavors of ice cream here, like chocolate, vanilla and pistachio, and a few you might find unusual. Here's a sample:
• Walnut
• Lakrids (Licorice—yes, really, and very popular!)
• Banana Chocolate Chip (one of their most popular)
• Coffee Chocolate Chip
• Daim (a Swedish chocolate and toffee bar, similar to a Heath bar)
• Straciatella (vanilla with shaved chocolate)
• Dulce de Leche
• Raspberry Sorbet
There is only a small price difference between one scoop or two (or three) so you might as well go for it. And the scoops are generous. If you order a waffle cone, it will be filled to overflowing, really piled up. It is then topped with either whipped cream (less sweet than you are probably used to, but delicious) or marshmallow fluff. You can also opt for sprinkles (including licorice ones) or a dipping of chocolate sauce, the kind that hardens to a shell when it touches the cold ice cream.
Like everything else on the Vaffelbageren menu, the Belgian waffles are made fresh. They come out wonderfully carmelized outside and soft and chewy on the inside. If you don't want ice cream, they come with whipped cream and jam, with Nutella (not on the menu but available), with maple syrup, or with powdered sugar. My personal choice on my visit was a hot Belgian waffle topped with a hefty scoop of Coffee Chocolate Chip ice cream and whipped cream. I ate it at an outside table under a big umbrella, while the world streamed past. It was heavenly. I envied myself with every delicious bite.
Price Range: Remembering that you are in Copenhagen, one of Europe's more expensive cities, and in a tourist area, the prices are what you'd expect. A single scoop waffle cone costs 35 DKK/about $5.60. Two scoops are 40DKK/$6.40. A Belgian waffle with ice cream and whipped cream, like I enjoyed down to the last drippy bite, is 45DKK/$7.40. Extra toppings/sauce/sprinkles are under a dollar. A simple waffle adorned only with powdered sugar will set you back 35DKK/$5.60.
Pin It For Later: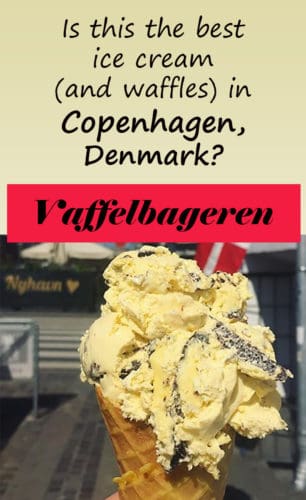 Latest posts by Donna Meyer
(see all)