"Eat Oysters, Get Lucky," screams the multi-colored neon sign over the bar. Oceana Grill is located in a 200-year-old house and serves contemporary Louisiana fare with an emphasis on the bounty of the Gulf, including those oysters you'll need to "get lucky" — fresh, chargrilled, or Rockefeller.
Location: Oceana Grill located at 739 Conti Street in the French Quarter, [amazon_textlink asin='1465457216′ text='New Orleans' template='ProductLink' store='theyums-20′ marketplace='US' link_id='95efbad2-4fae-11e8-91da-997950e98c23′], [amazon_textlink asin='1493012754′ text='Louisiana' template='ProductLink' store='theyums-20′ marketplace='US' link_id='0979ac1c-4faf-11e8-84c5-41b76da96b6f'].
Menu: [amazon_textlink asin='0935619003′ text='Cajun and Creole cuisines' template='ProductLink' store='theyums-20′ marketplace='US' link_id='1a713ce9-4faf-11e8-b70b-4d15a433e5ef'] are their specialties, with an emphasis on fresh seafood as the restaurant's name implies. Fresh from the ocean! Don't miss the mahogany-roux seafood gumbo, complete with a crab claw garnish, and roll up your sleeves for the New Orleans-style, peel-and-eat, tail-on Gulf shrimp sautéed in lemon butter and pepper sauce. The shells on the shrimp make the barbecue sauce exceptionally flavorful.
Landlubbers and vegetarians don't despair. For landlubbers, you'll find knife-and-fork barbecue ribs that fall off the bone or a 20-ounce certified Angus beef Porterhouse steak. Vegetarians will enjoy the spinach ravioli, vegetarian pasta or a Cajun vegetarian stew.
Thoughts: This [amazon_textlink asin='1560254947′ text='French Quarter' template='ProductLink' store='theyums-20′ marketplace='US' link_id='67bb01e5-4faf-11e8-b422-bf6c2062a03d'] family-friendly, casual dining venue has a bright and colorful vibe. Several dining rooms are available to match your mood. The bar has bright blue walls and neon signs; the Presidential dining room has a more sophisticated feel with exposed brick, decorated with a wall wine rack. The paintings adorning the walls in the Presidential dining room are more subdued, in other rooms, there are substantial murals in vibrant colors. Some places have wall art in primary colors, while others display giant local fish.
If you're not familiar with Creole and Cajun fare, the friendly staff are more than happy to provide the details, on how to manage that crab claw or those peel-and-eat shrimp.
Some of my favorite dishes are:
The Oceana famous oysters. Oceana Grill shucks their famous Louisiana oysters fresh; chargrills them over an open flame and smothers them with zesty garlic and herb cream Cajun sauce. They finish the dish with a blend of fresh romano and parmesan cheeses.
The blackened redfish LaFouche, topped with a crispy batter-fried shrimp, drizzled with a creamy mushroom sauce. All of this served over a large mound of white rice and accompanied by greens.
The Louisiana crab cakes served with crawfish and a creamy mushroom sauce. It's easy to see why it's the restaurant's most popular dish.
The Taste of New Orleans combination plate represents a wide variety of favorites. There's crawfish etouffee, Creole jambalaya, red beans, and rice served with smoked sausage that's grilled. The crawfish etouffee is a dish simmered in a brown roux. Plumb, moist shrimp fill the Creole jambalaya.
The chocolate Kahlua mousse. It's creamy with a deep, dark chocolate flavor. While you might picture a bowl of chocolate mousse, this serves as a slice of cheesecake with a layer of golden toffee crunches in the middle. A dollop of whipped cream accents this dessert and chocolate drizzles decorate the plate.
Price Range: Appetizers range from $7.50 for fried eggplant strips or Cajun alligator sausage for $17.50 for oysters Rockefeller or a dozen of Oceana's famous oysters. In the soup category, a cup of seafood gumbo is $5.50. Burgers range from $10.00 to $11.50. Luncheon portions of the chef house specials are $7.00 for the barbequed shrimp to $19.00 for the "Jazzy" crab cake platter. Other sides start at $3.00 for coleslaw or to $8.00 for a soft shell crab. Desserts range from $5.50 for New Orleans bread pudding to $7.00 for Kentucky bourbon pie or bananas Foster. Lunch for two runs about $50 including tax and gratuity.
For Pinterest: Pin this to your favorite New Orleans restaurant board.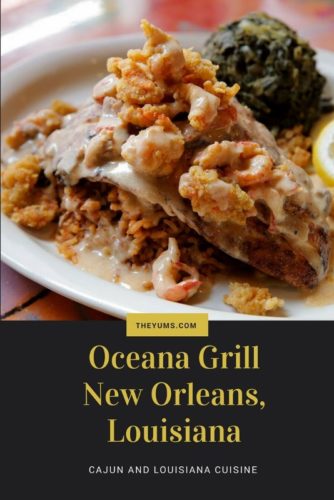 Photos provided by Oceana Grill.
Latest posts by Amy Piper
(see all)