When we moved to [amazon_textlink asin='1628872446′ text='Santa Fe' template='ProductLink' store='theyums-20′ marketplace='US' link_id='35365b27-7f82-11e7-8d02-d98a2cd1fe9a'] over a decade ago it was almost our anniversary and we wanted a special restaurant to celebrate the occasion. This was before the Internet was loaded with restaurant websites complete with menus as well as tons of review sites so we were flying blind. We asked the few people we knew as well as people we met where to eat. Two restaurants kept coming up. 315 Restaurant and Wine Bar (called Bistro 315 in those days) was one of them. We didn't go there for our anniversary but filed it away for our next major occasion. We've been dining there ever since.
Location: 315 Old Santa Fe Trail, Santa Fe, New Mexico
Menu: 315 Restaurant and Wine bar serves a mix of French-inspired and fusion fare. Three holdovers from the restaurant's bistro days are always on the menu: French Onion Soup, Steak Frites, and Salt Spring mussels. Other standouts you'll always find on the menu: velvety foie gras in seasonally changing presentations and the house-made charcuterie board. Fresh seafood fans will appreciate the oysters which are always half-price between 5 and 7 pm. Other diner favorites, including the light-as-a feather Squash Blossom Beignets with Goat Cheese Fondue & Tomato Basil Sauce and soft-shell crab, make an annual appearance every summer, a bit like the swallows coming back to Capistrano. There's always a seasonal vegetarian offering. For dessert, chocoholics will love both the Chocolate Pots de Crème and the flourless chocolate cake. Crème brûlée is another stalwart; other desserts vary seasonally.
The creative menu is augmented by a specials board brought to the table by your server. When 315 Restaurant and Wine Bar, opened in the late 80s, they served wine and beer only. They took their wine seriously. They were one of the few restaurants in Santa Fe with a cruvinet. They've always had a great wine list with decent selections by the glass, and that still holds. Today, they also offer full bar service. Diners are a mix of locals and tourists; some visitors go back again and again. The ambiance is warm and welcoming. Food and wine lovers won't go wrong at 315.
The bar is a great place for light dining without spending a lot of money. Currently, all plates on the bar menu are $10. We find that three or four dishes fill two of us up comfortably so it's possible to get out the door with a bill that doesn't break the bank.
Thoughts: 315 Restaurant and Wine Bar is the perfect place for both a special occasion dinner or a casual one. That's one of the great things about Santa Fe dining, the restaurants, even the ones with inspired cuisine, are mostly laid back when it comes to dress, though you may see black tie and jeans in the same place especially during opera season in July and August when people tend to dress up. Owner and Executive Chef Louis Moskow uses locally-sourced food whenever possible deftly applying his creative touch to the seasonally-changing menu. Tuesday and Saturday mornings in summer you may see him wandering the [amazon_textlink asin='B01D0F6KBY' text='Santa Fe Farmers Market' template='ProductLink' store='theyums-20′ marketplace='US' link_id='32b67101-7f83-11e7-bb36-01fe2fccf538′], often chatting with the growers.
Servers are all well-versed in the menu and happy to offer their recommendations if asked. The extensive wine list has a wide-price range. The great thing is if you and your dining partner(s) have different wine preferences, their by-the-glass offerings always include an interesting selection of whites, reds, rose, and dessert wines. Moskow is an oenophile and takes wine trips to keep himself educated and the staff is well-versed on the list and can recommend the perfect wine if you need assistance. Service is slow-paced.
If you have to be somewhere and can't linger over dinner let your server know and they'll have you out in time. Even if you don't have a big appetite, have an appetizer, even if you share. The selection shines! Save room for dessert or share one. The appetizer menu is so tempting that sometimes I order two and skip the entrée. 315 Restaurant and Wine Bar is open seven nights a week. Reservations are recommended on weekends and
315 Restaurant and Wine Bar is open seven nights a week. Reservations are recommended on weekends and in the summer, Santa Fe's high season. In warm weather, we enjoy dining on the patio or front portal (porch to the rest of the world).
When researching where to stay in Santa Fe, we like the reviews found on TripAdvisor. When you're ready to compare prices and book, take a look at the price comparisons found on Hotels Combined.
Price Range: Appetizers range from $14 to $24 (for foie gras), chilled seafood (wild shrimp, a selection of freshly shucked oyster and Jonah Crab Claws) are $3 each. Soups and salads range from $12 to $14 and entrees from $24 to $35 (for steak) with most in the high 20s. Desserts are all $10.
Prices by the bottle on the extensive wine list run from $27 to a high of $1,650 for Château Lafite Rothchild. Wines by the glass run from $10 to $16. Beers range from $6 to $8. Cocktails are from $7 to $16 . All items on the bar menu are $10.
Pin this photo: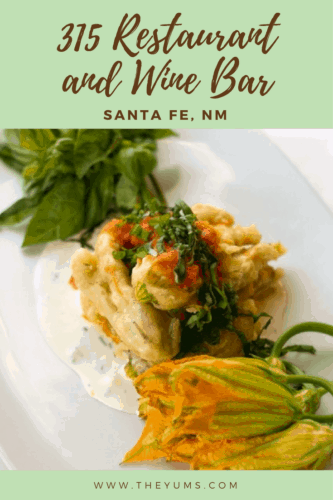 Disclosure:  This post contains affiliate links. Clicking through for additional information or to make a purchase may result in a small commission being paid. By doing so, you help support this site and its authors, and we thank you.
Photo credit:  Photo by Kate Russell, used here with courtesy of 315 Restaurant and Wine Bar.
Latest posts by Billie Frank
(see all)