For many Dubliners, brunch has become a tradition. A possibility to combine sweet and savory with a great cup of coffee or even a mimosa. However, with a city that is constantly evolving when it comes to food, it can be hard to find that perfect spot for a meal.
If you find yourself lost amongst all the options, and wondering where to get the best brunch in town, ask the locals and if you're lucky, one will let out the secret that is Brother Hubbard.
Location: Brother Hubbard has two locations in [amazon_textlink asin='163121683X' text='Dublin' template='ProductLink' store='theyums-20′ marketplace='US' link_id='4e7dcd07-218e-11e8-b020-895d603d2229′]. The Northside location is 153 Capel Street, North City. Its South Side sister is located in the trendy Camden Street area at 46 Harrington St.
Menu: One of the biggest reasons for Brother Hubbard's success is their food. Ireland has some top quality produce and the owners have managed to integrate this with their Middle Eastern background. They offer five different menus. From weekday breakfast and lunch to dinner and bites and even a special weekend brunch. Vegans will rejoice as they also offer a vegan menu.
We have visited for Brother Hubbard for both brunch and dinner and can confirm they are both outstanding. Pancakes can be dime a dozen, throw on sugary toppings and they will look and taste good. However, the Moroccan-style from Brother Hubbard were exquisite. These semolina pancakes are covered with freshly poached peach then topped with blackberry mascarpone, oat & almond crumble & a warm blackberry compote.
Our favorite dishes from our evening visits have to be the octopus pide and aubergine wedges. The pide is absolutely detectable. The braised octopus sits on a ricotta spread with purple potatoes, lemon aioli, fried capers & salsa. The two main ingredients with the kick of the [amazon_textlink asin='B000VK848Y' text='capers' template='ProductLink' store='theyums-20′ marketplace='US' link_id='79355161-218e-11e8-9a2d-d729ddbe432d'] marry so well together, that it seems unusual we have never stumbled upon an octopus pide before.
The aubergine wedges are beautifully crisp and served with a fiery with a sweet sauce. The wedges are the encrusted with polenta & paprika which helps with the crunch. The sweet sauce is a homemade date and chili relish. These were our idea of a uniquely perfect side dish.
On other occasions, we noted their approach on Irish baked beans and pork is a work of genius. In here, the cannellini beans are served with ras el hanout-roasted pork belly, spinach and an aubergine and mustard yogurt, this is another one of our favorite.
Their coffee is brewed to perfection. For many of us, the key to starting the day is a good cup of coffee. Brother Hubbard absolutely delivered the caffeine goods. From a blend of local beans from 3FE, the head barista is Bruno Ferrer, a notorious figure amongst Ireland's barista competitions. He manages to send out the perfect coffees each time we visited.
Thoughts:  You almost feel a sense of calm when you enter. The owners have managed to bridge that sleek Scandinavian feel with a cozy apartment you would drool over on Pinterest.  This has been quite a feat as they recently expanded into a very large space.
We found the staff helpful and especially when we wanted to make some changes to the dishes as we had one in our party with a particular aversion to capers.  We loved all the small touches such as the hand winding pepper grinder, homemade jam, and freshly churned butter. Those simple touches have us coming back with friends who don't believe that the Irish can produce world-class food.
Price:  Prices range from €3.95 for slow cooked organic porridge to €10.95 for Moroccan pancakes during the weekend. For dinner, the small plates all begin at €6.95 and the larger plates aren't any more than €15.95. This is a steal considering Dublin is considered one of the most expensive cities in Europe.
For Pinterest: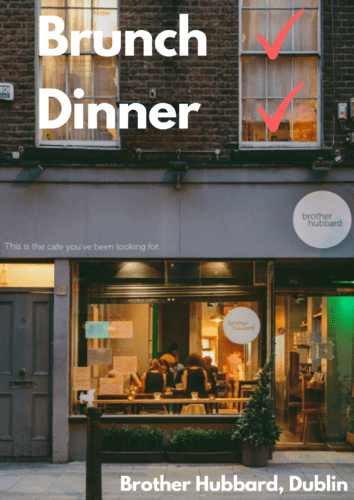 Guest author bio:  Brittnay is a professional house sitter & foodie from Australia. She has been living in London for the past two years and recently moved to Dublin. She has visited over 21 countries in Europe and Africa in that time You can find all her adventures in housesitting and travels on The Travelling House Sitters

Latest posts by Guest Contributor
(see all)