After a full day outside in the crisp air tackling the snow-covered trails in Northern Michigan, outdoor enthusiasts are usually ready for a satisfying après-ski dining experience that includes delicious food and a festive atmosphere.
Just six miles from Boyne Mountain ski resort, the small town (population 4000), of Boyne City boasts half a dozen excellent restaurants within a 2-block radius. Craving seafood? Then don't miss the local favorite Cafe Santé.
Location: Walk to the very end of Water Street and you'll be welcomed with a crackling fire and bistro-style décor. Cafe Santé is located at 171 Water Street in Boyne City, [amazon_textlink asin='1581572069′ text='Michigan' template='ProductLink' store='theyums-20′ marketplace='US' link_id='242ed8b9-a47c-11e8-a6db-adc8e7afbc54′].
Menu: House-made cocktails, fresh oysters on the half-shell and other tasty tidbits start the evening. It's even possible to witness an absinthe pour as the beautiful and ornate wood bar contains a large variety of drinks, beers, and wine. Cafe Sante's specialty is mussels soaked in a variety of sauces with crispy yet tender Belgian frites. Wood-fired pizza, pasta and traditional European dishes such as Steak & Frites and Salmon with lentils are also available. Dessert consists of classics like Tiramisu or Pot de Crème.
A celiac safe menu is available and contains many of the regular dishes prepared without bread or baked versus fried.
Thoughts: With a cozy yet elegant atmosphere, Cafe Santé is a restaurant where you can sit back and enjoy a lingering evening. Mussels are what the restaurant is known for and they serve a pound of them with your choice of four sauces: Classic French, German Style, Italian Style or Spanish Style. The restaurant boasts an excellent happy hour from 3-6 with several $3 cocktails, select wine specials and a variety of delicious appetizers. It's a fantastic value. If you are lucky, you can catch live entertainment – check the website to see what evenings as it changes per the season.
Cafe Santé is open for breakfast, lunch, and dinner. In addition to the wood-fired pizza and appetizers, the breakfast and lunch menu includes a variety of frittatas and sandwiches.
When the weather is nice, plentiful outdoor seating is available and nicely situated right on Lake Charlevoix. A large outdoor fire ring and even some areas blocked from the wind make it comfortable well into the fall.
Some of my favorite dishes are:
Mussels soaked in garlic herb sauce. The mussels are fresh and the herb sauce adds a bright flavor. Soak up the extra sauce with the frites served alongside.
Shrimp cocktail. The four jumbo shrimp are tender, ice cold and served with cocktail sauce.
Salmon pate. The salmon lends a slightly sweet flavor to this creamy whipped pate and it's accompanied by homemade crackers.
Happy Hour Margarita. With a homemade sour mix, this margarita has a pleasant balance of tequila and lime. Very refreshing and at $3 an amazing start to the meal.
Oysters. Very fresh and served with lemon slices, homemade house crackers, and hot sauce. If the oysters aren't available fresh, you won't find them on the menu.
Price Range: Breakfast and lunch prices start at $8 for a Greek yogurt bowl and go up to $20 for steak and frites. Dinner entrees run $19.50 for mussels and frites up to $38 for filet; pizzas are $12-15. Sides are $4 each. There is a kid's menu that ranges from $7-11 and desserts are all $6 or $7. Dinner for two including drinks and appetizers runs about $100.00. That includes tax and gratuity.
Save to Pinterest so you don't forget to try this: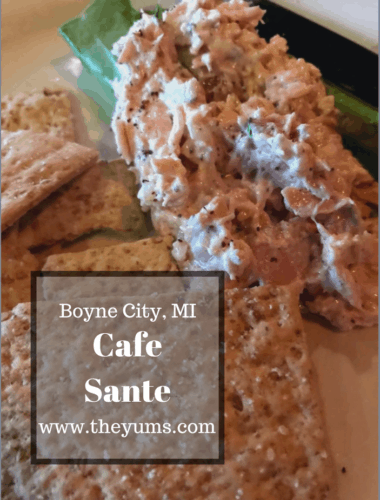 Bio: Pam Howard writes at Be Healthy  Be Happy Wellness. where she shares her everyday adventures and travels.  Her goal is to encourage her readers to find adventure everywhere and enjoy each day to the fullest.  With a full-time corporate job and two growing kids, she's found ways to still create an adventurous life and hopes to encourage you to do the same.

Latest posts by Guest Contributor
(see all)