Dry-aged steaks and locally-sourced produce have a new location in the heart of downtown [amazon_textlink asin='1493018396′ text='Nashville' template='ProductLink' store='theyums-20′ marketplace='US' link_id='fa5622a7-258f-11e8-a604-334612bd44dd']. At Deacon's New South, Chef Travis Sparks is on a creative roll, and owner Andy Marshall has another restaurant hit on his hands.
Location: 401 Church Street, Nashville, [amazon_textlink asin='0762792086′ text='Tennessee' template='ProductLink' store='theyums-20′ marketplace='US' link_id='2dc3e00c-2590-11e8-a11a-5f8ecf92fa47′]
Menu: Because of Chef Sparks background in both farming and butchering, meat takes center stage at Deacon's New South. Both dry-aged and wet-aged steaks are offered alongside pork and chicken from Katharos Farms, roasted steelhead and duck breast, diver scallops and a meatloaf crepinette. A vegetable farro is prepared for those who avoid meat. The dinner menu also features such starters as skillet yeast rolls, a charcuterie board, raw oysters and steamed shellfish. There are a variety of creative salads, along with lobster chowder and a flavorful soup of chicken, hominy, avocado, and jalapeno. Sides are prepared with regional products such as sorghum, collards, carrots, parsnips, Gifford's bacon and pumpkin seeds and include a grain risotto, a confit of marbled potatoes and a duck confit.
The lunch menu offers a house roast beef sandwich, a smoked beef sausage sandwich, fried trout and the very notable Deacon's Burger. For brunch on Saturday and Sunday, diners may order a Deacon's burger topped with a fried egg. All of the sandwiches come with hand-cut fries that have been sprinkled generously with nutritional yeast, which has a cheesy appearance and taste. The fries, trout and fried eggs are virtually the only truly fried items on the entire menu.
Specialties for brunch include a frittata, an omelet, oyster shakshuka, brioche monkey bread and brisket potato hash among other more traditional items.
Desserts for lunch or dinner include chocolate cola cake, seasonal hand pies and a selection of sorbets and ice creams.
Jenn McCarthy is both the General Manager and a Certified Sommelier at Deacon's New South. She has worked hard to offer a wide selection of Pinot Noir and Cabernet Sauvignon to pair with Chef Sparks' steaks, but she continues to add a number of other choices as well. As part of Deacon's Wine Program, she offers tastings and training for interested patrons.
Thoughts: Deacon's New South is geared toward upscale and sophisticated diners, and Nashville is a great place for such a culinary approach. Nashville has dozens of barbecue and comfort food restaurants, but Deacon's pushes that envelope to its highest level. It is primarily a steakhouse, but the locally-sourced vegetables and produce make all types of diners accepting of the unique preparations of dishes. According to the website: "The restaurant's unique entrees include Southern favorites with a modern twist such as bourbon-infused short ribs, lamb sausages and braised Tennessee rabbit." The glass-enclosed kitchen is within viewing distance of the diners and includes a wood-fire grill. Many of the fresh herbs are grown in a sunny spot inside the restaurant.
The restaurant is located on the bottom floor of an iconic downtown high-rise, the Life and Casualty Tower. The decor has an Art Deco vibe with lots of wire and glass-crafted light fixtures, wood, chrome, black ceiling, brown leather, and mirrors. The location, at the entrance to Printer's Alley, is perfectly suited for business people from surrounding blocks, as well as those driving in for a night on the town.
Owner Andy Marshall is known primarily for his Puckett's restaurant locations in nearby Franklin, Leiper's Fork, Columbia, Murphreesboro, as well as a block away from Deacon's. The name for Deacon's was derived from a nickname Marshall received during his college days. Apparently, he has always been thought of as an all-round-good-guy with a reputation for being helpful and generous.
Price range: Lunch starters are $8 to $21. Sides are $5 to $13. Steaks are $15 to $60. Sandwiches and other entrees are $14 to $20 and desserts are $8 to $10.
Dinner starters are $6 to $21. Greens and soups are $8 to $14. Dinner steaks are $30 to $60. Other entrees are $18 to $36.
Brunch items range from $12 to $30 with sides from $4 to $7.
For Pinterest: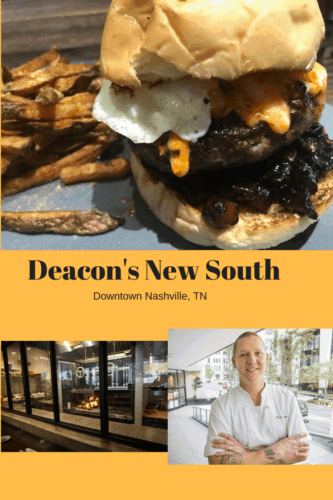 Latest posts by Connie Pearson
(see all)