If you're looking for a quiet spot to have pastry and coffee, Belle Pastry offers a delicious experience in downtown Bellevue, Washington. It's almost like being in Paris at your favorite neighborhood cafe. If you have gluten, milk,  or soy concerns, Belle Pastry has you covered. And if you're vegan, you'll find lots of tasty options here as well.
Location:  10373 Main Street, Bellevue, [amazon_textlink asin='0147546907′ text='Washington' template='ProductLink' store='theyums-20′ marketplace='US' link_id='df1a955b-2723-11e8-a259-4db41e9399ba']
Menu: The menu ranges from croissants to quiches, creme pastries to tarts, custom special occasion cakes to macarons. Of course, the macarons. Breakfast and lunch are also offered.
Thoughts: One of my great joys when visiting Paris is easing into the day with a cafe au lait and a croissant at a sidewalk cafe. I love easing into the day with a good cup of coffee and a tasty morsel and watching the world go by, enjoying some quiet conversations, or perhaps reading a good book or journaling. And while Bellevue will never be Paris, I enjoyed the convivial atmosphere at Belle Pastry  – and it's a lot closer to home.
We chose a table by the window, but on a sunny day, I'd recommend an outdoor table. If you're like us, you'll want to make several trips to the pastry cases as you're deciding what you want. The visual was a big part of our ordering strategy.
Our party of three gave the menu a good try:
My husband chose a chocolate croissant (pain au chocolat) and said it was just the right of flakiness but didn't flake all over the place, but could have used a smidge more chocolate. The teen had a cherry danish roll and while he didn't say much about it, he did scarf it up in a few bites and asked if he could have another. We ordered two more, including a raspberry one, so we could all share the – don't judge, it was vacation – and it was delicious. I opted for a pear and apple tartlet. It was the right blend of flaky crust and creamy filling with a sweet – but not too sweet – layer of pears and apples. The adults ordered cafe au lait, strong with warm milk added, and we all enjoyed easing into the day reading the paper and planning our day.
I'd also recommend picking up a few macarons for later. We stayed at Hotel 116 for a long weekend (read my review of the hotel here) and created a little afternoon tea back in our room. It was a great pick me up after a busy day of outdoor activities.
There was also a nice selection of full tarts, cakes, and other desserts in the pastry. These would make a lovely hostess gift or contribution to a family potluck.
If you want a respite from a busy day of shopping a nearby Bellevue Square, are looking for a place to stop off while your visiting, or perhaps you're lucky enough to live in the area and can become a regular, Belle Pastry offers great French pastries at very reasonable prices.
Price: Belle Pastry's prices were extremely reasonable, croissants start at $2.50, the chocolate one was $3.20. The cherry danish was the same, and my tartlet was $5.20. You'll find a good selection within that range, with a few outlier items. Full cakes and tarts start around $25.
For Pinterest: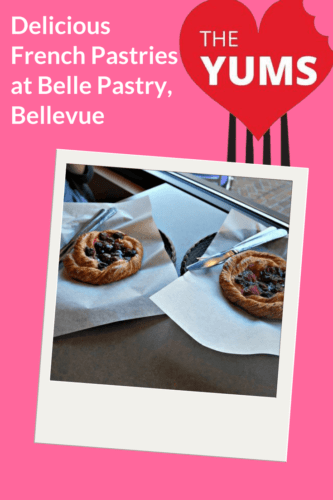 Disclosure: A portion of our order was complimentary as part of a project with Visit Bellevue. We also purchased some items to take with us.
Latest posts by Mary Jo Manzanares
(see all)