Tucked inside 49 magical acres of gardens and pathways is Tohono Chul Desert Bistro. Surrounded by desert plants teeming with flowers for the butterflies and birds, this oasis is located, surprisingly, just a step away from one of the busiest commercial and residential areas of Northwest Tucson. The warm ambiance will feed all of your senses, not just your hunger.
Unwind and relax as you take in sweeping views of the Catalina Mountains as you eat on one of the patios. Then, plan some time after eating to explore the adjacent greenhouse, gift shop, walking paths and gardens that surround the historic building and courtyard that houses the Garden Bistro.
Location: 7366 Paseo del Norte, Tucson, Arizona
Menu: Whether you are looking for an early breakfast, late lunch or something in between, the brunch menu covers it all. Combining southwestern ingredients from gardens right behind the restaurant and other locally-sourced ingredients, your eggs or lunch selections are completely unique. The menu changes seasonally, and even daily, based on what local, organic fresh ingredients are in season. And, luckily, the Tucson climate allows year-round harvesting.
Egg dishes and extensive omelet ingredients can include chorizo, cotija, roasted chilis, Mexican cheeses, as well as the traditional fare of bacon, ham, mushrooms and more!
Interesting hollandaise sauces, such as the cilantro lime hollandaise and smoked pepper pesto hollandaise, can enhance your egg entree.
For the adventurous: the Bistro's unique take on chicken and waffles features a crispy chicken breast with a blue corn-green chile waffle accompanied by chiltepin-mesquite honey and Tajin watermelon. Doesn't that sound like fun?
On the side, you can choose I'itoi Onion Smashed Spuds or Seasonal Calabacitas.
Southwestern inspired lunch plates include the Chul Burger, a 1/2 pound classic bacon, cheeseburger with Tumbleweed Onions and Chul Sauce, the Street Tacos, a Chicken Chili Relleno, or Griddled Quesdilla.
If salad is more your style, you won't be disappointed. The variety of salad selections allow for the choice of a long list of additions (three are included but you can add on if you can't stop there!).
Vegan and Vegetarian choices are also available.
The beverages include flavored ice tea and prickly pear lemonade as well as a small selection of craft beer and house wines. The prickly pear harvest has also given us the Bottomless Mimosa and Margaritas for just $14 when you purchase an entree. Guess I am going to make an Uber trip next time to take full advantage of this.
If you have the room, the unusual and amazingly decadent desserts, such as Pineapple Polenta Upside Down Cupcake or a Churromiso made with a Kahlúa Drunk Churro, Cinnamon Mascarpone, and Abuelita Pastry Cream will leave you sated and happy.
Thoughts: Most days, Tucson's mild weather allows you to enjoy the surroundings of the two areas designed for al fresco dining. If you prefer indoors, you'll feel as if you are eating in a gracious hacienda complete with Mexican tiled floors and wood-beamed ceilings.
It was a crisp December day when we visited but it was still comfortable enough to take advantage of a patio table next to the flowering plants with Monarch butterflies flitting about. The Bistro was busy, but the servers were attentive, bringing two glasses and a carafe of water immediately and then returning for drink selections.
I love their prickly pear lemonade that blends the local, dark purple prickly pear syrup with homemade lemonade, delivering tart and sweet together into a wonderfully yummy blush. Our glasses were continually refilled and delightfully, the server offered a to-go cup (filled to the brim with fresh lemonade) to extend the pleasure on our way home.
My favorite salad is called Tres Ensaladas. Three scoops of delicious salads: Tuna-Crab salad, Cactus-Pecan Chicken salad, and Cage Free Egg salad are served on a bed of local greens accompanied by some sourdough bread and flatbread. I've never been able to finish it. Come with a big appetite or delight that you have extra for a meal at home.
On this afternoon, I ordered the Chul Chopped Salad with smoked salmon, avocado and pecans topped with their vinaigrette dressing: healthy fare with an extravagant twist. Every bite offered new flavors and the large serving filled me up and provided a take-home box.
I balanced the healthiness with a delicious side of perfectly cooked sweet-potato fries with prickly pear catsup!
My companion got the Chul Cheeseburger accompanied by crispy, salty spiked French Fries. Two large, perfectly cooked pieces of bacon and a tasty Chul sauce topped the half-pound cheddar cheeseburger along with lettuce, tomato, and pickles for a supersized lunch.
We skipped the tantalizing desserts because we were just too full, but should probably come back and do dessert first!
The Desert Bistro is a good reason to be lured into this fantastic setting and take some time to nourish your body and your soul.
Additional Note: There is a small fee for entrance to the Tohono Chul Park's pathways and gardens (but not to visit the restaurant). As a non-profit organization, their mission "to enrich people's lives by connecting them with the wonders of nature, art and culture in the Sonoran Desert region and inspiring wise stewardship of the natural world."
Price Range: Breakfast ranged from $14 for the omelet to $16.50 for the Waffle and Chicken. Lunch/Brunch options ranged from $14 to $18. Desserts were $8.50 each or $6.50 for the fresh gelato. Beer is $5 or $6 and House Wines are $8.
For Pinterest: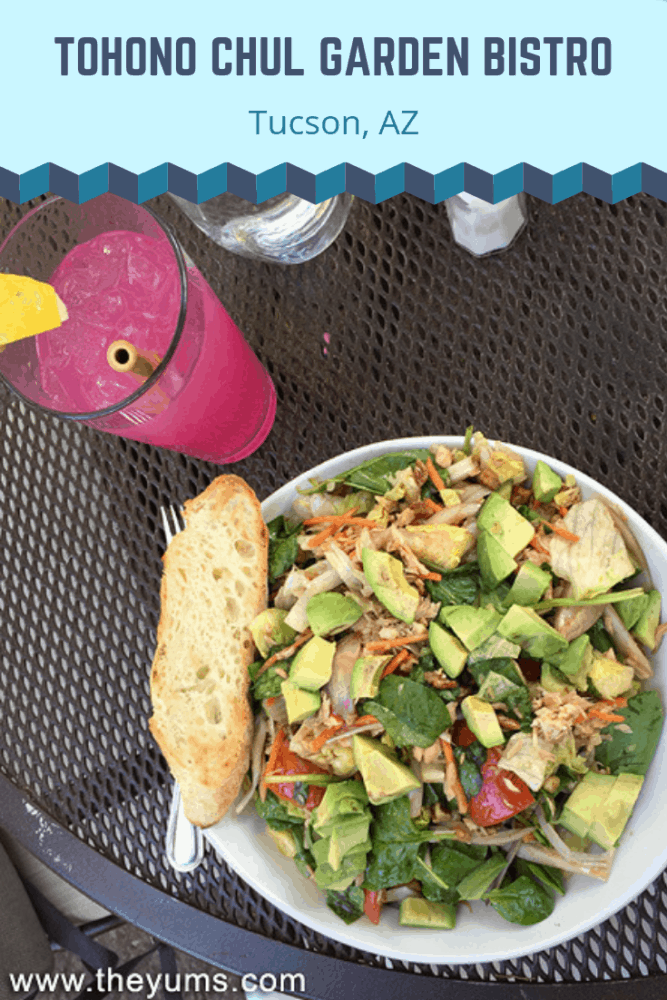 Guest Reviewer Bio: Joeann Fossland is a freelance writer at JoeannsView.com. This baby boomer, hippie chick was bitten by the travel bug decades ago and has never recovered. When not enjoying Fossland's Paradise in Tucson, Arizona, she spends time adventuring the world, so far visiting over 30 countries and 4 continents. She can often be found on a warm island beach. Sharing tips and experiences to inspire others to live their dreams makes her filled with joy.

Latest posts by Guest Contributor
(see all)