Fast food can be good food, and Karne Garibaldi in Guadalajara, Mexico
proves the point over and over again. If I'm in Guadalajara, I try to plan on having at least one meal at this casual restaurant whose claim to fame is the Guinness Book of Records (1996) entry for the fastest service. They set the record at 13 1/2 seconds for a six top.
During this time of social distancing and isolation, we still have to eat. And we still want to patronize local restaurants that we love, helping to keep them in business. We urge you to check the websites of the restaurants we've reviewed and to consider eating local as a way to help our communities. Dining restrictions and house of service change frequently.
Locations: There are six locations around the greater Guadalajara area. I patronize the one at Plaza del Sol, Mariano Otero 3019, Zona Plaza del Sol (nearby hotels include the Ibis Guadalajara Expo and the Arriva Express Plaza del Sol). There are also locations at Santa Tere, Gran Plaza, Plaza Galerias, Tesistan, and Tlaquepaque
.
Menu: If you have an Americanized version of what Mexican food is like, Karne Garibaldi will force you to forget those preconceptions. Ordering is basically all about size, as one item dominates the menu – the regional specialty, carne en jugo (beef in juice). Basically, this is like a tasty beef stew, cooked in its own broth and flavored with bacon, beans, tomatoes, and spices. There are a few other items on the menu, but I've never ordered them. The reason I go here is for the carne en jugo. Just place an order for the size you prefer, ranging from extra small to extra large, and then get ready to dig in — in keeping with their fast service reputation, it'll be at your table practically before the words have left your mouth.
Thoughts: Since the service is touted as fast, let's talk about how fast that really is. The service is so fast that before you're even seated a group of waiters will arrive at your table bringing you appetizers to get started. It's a plate for of fresh, warm tortillas, served along with delicious grilled onions, refried beans with bits of corn in it (this Karne Garibaldi specialty is available for purchase by the can), and other condiments (chopped green onions, radishes) and salsa. Chips and guacamole are available but must be ordered separately, and fair warning, guacamole is not always available. Don't worry, though, you'll be just fine without it.
Just because the service is fast, doesn't mean you have to rush your meal. Once seated, waiters are there to take your order immediately.  By default, they are prepared to get you in and out in a hurry, but they are more than accommodating if you ask them to slow down the pace.  If you want time to have an ice-cold beer and enjoy some conversation, speak up and ask for a little more time.  I'd recommend starting with a cold Negro Modelo
(ask for a frosted mug
) first thing, and then placing your food order when the beer arrives.
When your meal arrives there are a couple of ways to eat it.  Tourists (and there are usually not a lot in the restaurant) tend to scoop the meat out of the juice, drop it into a tortilla, add a few condiments and eat it like a taco.  I ate it that way the first few times because I didn't really know what else to do.  After going to dinner there with local friends, I'd like to think that I've learned better, and now eat it like a local.  Locals eat is like a soup or stew, adding a variety of condiments to the meat and broth, including the radishes, chopped onions, and salsa.  Then tightly roll up a tortilla in one hand, and use it as you would a piece of bread, using a spoon to enjoy every bite of the carne en jugo.  You can also add the grilled bulb onions, although they are deliciously eaten plain.
Just as fast food can be good food, so can fast service be good service. The waitstaff is not just fast, but also attentive. An empty mug will generate a request if you'd like another. When the tortillas, refried beans, or any of the condiments run low, they'll be replenished without your needing to ask. The service is seamless and unobtrusive, banishing the myths about fast food and the accompanying service.
My recommended order would be a medium-size carne en jugo with a couple of beers. I always have leftovers, and they are extremely gracious about packing them up and including all the side condiments, usually replenished.  The tortillas can be a little tough the next day, but everything else is just as delicious.
Karne Garibaldi is not a tourist restaurant, despite promoting their Guinness record
.  The majority of patrons are locals. Although the staff does not speak much English, the language difference was not a problem.  The delicious flavors of your meal will make the conversation easy.
For more reviews about Karne Garibaldi go here.
Price:  A medium-sized carne en jugo, two beers, and a generous tip will come in well under $10, depending on the exchange rate.
Pin to your favorite Pinterest boards: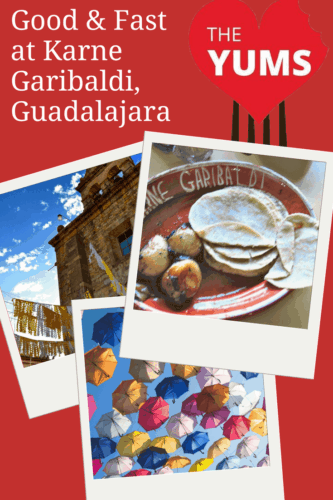 Latest posts by Mary Jo Manzanares
(see all)