Always in search of new Italian eateries near us, we happened upon Casa Nostra in the small town of Leesburg, Virginia, where we were able to enjoy a fine dining experience with our children and grandchildren on a beautiful Saturday morning.
Location:   2 W Market St, Leesburg, [amazon_textlink asin='1581573715′ text='Virginia' template='ProductLink' store='theyums-20′ marketplace='US' link_id='a8930e85-61d8-11e8-8e70-7fc2fe499d02′]
Menu:  Everywhere we travel we are in search of authentic Italian flavors. At Casa Nostra we were pleasantly surprised by their calamari, which is dipped in a light buttermilk tempura batter and served with a spicy marinara sauce.  Cooked to perfection they included both rings and tentacles. Among their antipasti, they serve a rustic Funghi Ripieno di Granchio, which is stuffed mushrooms filled with crab and lightly toasted with a side of sautéed garlic spinach in a white wine sauce.  Additional antipasti include a Minestra del Giorno or "pie of the day," as a special presentation by the chef; Antipasto alla Casa Nostra, a sweet and spicy salami, prosciutto di parma, pistachio mortadella, artichoke hearts, marinated house-made mozzarella and pickled vegetables; and gamberi scampi, pan roasted with scampi sauce and fresh herbs.
Next came the soups and salads.  We enjoyed a white bean soup with a buttery crisp crouton, finely diced carrots, ham, and onion in a lovely buttery broth.  We also tried the soup of the day, a fresh lobster bisque full of rich flavor and texture, sure to please. A few of the salads include a classic caprese prepared with ripe tomatoes and a house-made mozzarella and a Caesar salad.
Our main course consisted of classic spaghetti with meatballs covered with a spring-like Pomodoro sauce; ravioli al' aragosta, plump ravioli filled with lobster lusciousness and coated in a decadent vodka cream sauce.  Other items on the menu included a classic lasagna with homemade pasta, beef and sausage ragu, ricotta cheese, bechamel and a marinara sauce; a puttanesca with tagliatelle pasta, Kalamata olives, capers, diced tomatoes, onions, peppers, and topped with a white wine and tomato broth.
Serving homemade flatbreads and sandwiches Casa Nostra offers a Margherita flatbread with their house-made mozzarella and a pomodoro sauce and the Chef's daily creation flatbread del giorno.  Casa Nostra "Bellisimo" is a rustic olive ciabatta, mortadella, Genoa salami, spicy soppressata, Cotto ham, aged provolone, roasted peppers, pesto, extra-virgin olive oil and a fresh pasta salad, and a "classic" Italian sausage and peppers with house caponata, pesto, aged provolone on homemade bread.
And last comes the dolci, all desserts are made in-house with fresh ingredients, from the Florentina di pecan, crème brulee, cannoli, gelati and sorbetto to the crostata rustica di cioccolato with a thick cookie crust lightly sprinkled with confectioners' sugar and dotted with crème fraiche; a tiramisu prepared with a modern-day twist as the lady fingers are soaked in Tia Maria, Kahlua, and Marsala; zabaglione, which was a lovely lemon sorbet, covered in a lemon cream sauce, a delightfully fresh raspberry sauce underneath, and filled with prosecco-soaked berries and topped with candied orange pieces and a pecan crisp cookie.   The flawless end to a lovely meal.
Thoughts:  Offering a classic style with a modern-day twist Casa Nostra offers that and so much more.  There was public parking on the street and a parking lot across the street from the restaurant. Casa Nostra is located in a lovely Victorian period home converted into a restaurant just near the main drag as you travel through Leesburg.  Light and airy, with authentic Italian, fresh-made fare Casa Nostra was a perfect way to begin our weekend. Our servers, Eric, Rory, and Randy were pleasant and funny, on hand to immediately address our questions and treated us like family, catering to the seven of us with humor and light-hearted banter. They made the children laugh and we all felt welcomed into their slice of Italy.
Chef William J. Walden has been a chef and restaurateur for over 35 years and puts together elegant Italian fare that is both classic and contemporary, from fresh-made pasta and desserts made in-house, from scratch, you can taste his pursuit of excellence in every bite.  A chef de cuisine, an executive chef and a "caterer and culinary captain for diplomatic events in the Reagan, Bush and Clinton administrations, as well as the inaugural events for President Obama, Chef Walden has also been featured on radio and television talk shows."
Price Range:  A range of prices to fit every budget, the antipasti fell between $9 for the polpettine up to $16 for the carpaccio di Manzo; the house salad at $9 or the Caesar for $10 up to the caprese classico for $12 with the additional benefit that you can add meat to any salad for an additional charge. The pasta starts at $9 for the tagliatelle alla casa nostra to $19 for the ravioli al' aragosta and lasagna, $10 for the puttanesca and the Bolognese, $12 for the tagliatelle and classic spaghetti and meatballs and $14 for the quattro ravioli al formaggio.  Sandwiches and flatbread begin at $10 for the Margherita, $11 for the classic sausage and peppers, $14 for the Casa Nostra "Bellissimo," and $16 for the torta rustica del giorno. And lastly, the dolci, each dessert is only $10 and worth every penny.  As a perfect finish the frothy cappuccino was only $6.
For Pinterest: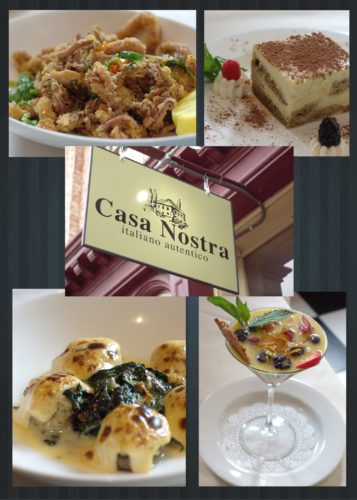 Author Bios:
Cassandra Ellis is a traveler, court reporter, and grandmother who currently resides in the Washington, D.C. metropolitan area having transplanted to the East Coast from Seattle, Washington.  She has traveled extensively across the United States and around the world, for both business and pleasure, experiencing a variety of cultures and foods from Asia, the UK, all over Europe, as well as the Isles of the Caribbean, and many other locations.  Cassandra has just turned 50 and is seeing the world through new eyes, living her dreams of becoming a writer and enjoying all of life's opportunities alongside her husband, her best friend.
Joseph Ellis is a traveler, videographer, photographer who currently resides with his wife in the Washington, D.C. metro area.  He spends his days searching for just the right photo to take or just the right video to shoot and when he's not taking photos and video he is working hard in his yard to create the garden of their dreams or traveling alongside his wife on their next big adventure.

Latest posts by Guest Contributor
(see all)