The late Ivar Haglund was a Seattle icon, widely known as a local entertainer, folk singer, and restauranteur. He was also an opportunistic marketer, getting his start in the seafood business when he started a chowder/fish and chips business to sell to the hungry visitors at his aquarium. From there, Ivar's Acres of Clams was born and the rest, as they say, became Seattle history.
Covid restrictions are in place in restaurants around the world. When you travel and choose your restaurants, be sure to check the website or call to get the latest information about indoor and outdoor dining along with current hours of operation.
Location: 1001 Alaskan Way, Seattle, Washington (Pier 54, at the foot of Madison Street)
Menu: Clams and chowder, of course! You'll also find lots of other seafood options, including fish, lobster, and shellfish. If you're not a seafood lover, you'll find salad, beef, and chicken options.
Thoughts:  Growing up, Ivar's was my family's spot for the special occasion dinner. My dad loved the fish and chips and my mom, the crab Louie salad. As kids, we ordered off the diver's mask menu full of kids items, and I really don't remember if I had a favorite – until my 12th birthday when, as a rite of passage, we got to order the lobster dinner. That was my favorite!
I returned to Ivar's after an absence of four decades. While the restaurant decor has changed, more wood and open spaces rather than glass sea floats and netting, the commitment to attentive service and fresh seafood haven't changed a bit.
The restaurant is on a pier (Pier 54), so it's no surprise that the water views are impressive, and is open for lunch and dinner. We went for dinner on a sunny Seattle afternoon and had a window table as a background for our meal.
To toast the Seattle sun (yes, we do this when we get a break from the spring rain), we started with a toast – a Michelle sparkling rose ($9.50 glass) from Chateau Ste. Michelle for me and a margarita ($9.50) for Tony. The rose tickled my palate with hints of citrus. The margarita was nothing special; I blame it on bad ordering as this doesn't seem to be the right choice to go with this menu.
For an appetizer, we ordered from the daily special sheet choosing a fresh local Dungeness crab stack ($16), a mound of crab on top of watermelon, and avocado, topped with shaved fennel and a mango vinaigrette. It was a great starter before dinner, but it would be perfect, along with a glass of wine, when you want to take a break from sightseeing and grab a bite in the bar. It probably won't make the regular menu anytime soon; as the old saw goes, fresh Dungeness is best ordered in months that don't have an "r" in them.
Tony ordered the fresh Alaska halibut fish 'n' chips ($25) for an entree. Made with Manny's Pale Ale beer batter on the fish and served with a classic side of coleslaw, the fish was tender, flavorful, and the batter added to the taste rather than camouflaging it. Tony said that two pieces of fish seemed right for lunch, but he felt a third piece (even with an additional upcharge) would have been more satisfying for dinner. With an appetizer and dessert, he was plenty satisfied but had he ordered the fish alone, he says he would have still been hungry.
I ordered the butter roasted Maine lobster tail ($54), taking a little trip down memory lane to my childhood days. Served with the requisite drawn butter, sour cream and green onion smash red potatoes (delicious comfort food), and a seasonal vegetable (on our visit that was asparagus). While it could never be as delicious as that first tasty bite from childhood, it was pretty darn good. Served with the shell, which was handily removed by the waiter, it was tender and sweet and came heavily seasoned with memories.
For dessert, we shared a warm apple crisp served with ice cream on top. It was perfectly gooey with the ice cream melting through it, and we used our spoons to scoop up every last drop. It was delicious enough that I'd recommend stopping off just for dessert before heading home, back to your hotel room, or back onboard your cruise ship.
Price Range: Generally speaking, starters run $6.50 -16, the lower price covering a cup of chowder, entrees are $19-56, and desserts are $4.50-10. Prices on the daily fresh sheet may be outside of this range.
Pinterest: Pin this to your favorite Pinterest boards, you'll want to try Ivar's on your next visit to Seattle.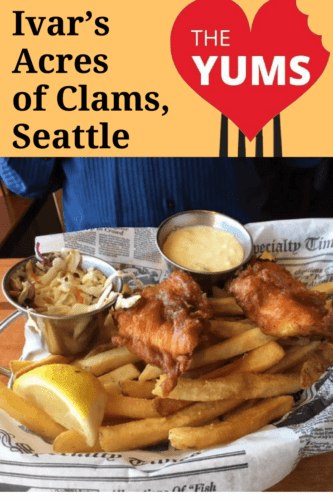 Disclosure: The author received a complimentary dinner to facilitate a review.
Latest posts by Mary Jo Manzanares
(see all)