The sticky sauce, the smoky aroma, the burnt bark, and the charred succulent meat that just pulls off the bone, it melts in your mouth as you sigh — "That's good barbecue."
Location: Iron Works BBQ, 100 Red River, Austin Texas
Menu: The menu features the usual suspects – brisket, pulled pork, smoked chicken, house-made sausage, and ribs. Choose a sandwich, barbecue plate or a sampler; it's all laid out before you on the chalkboard above the window to the kitchen. Walk up, or should I say line-up because be warned, there will be a line. Place your order directly with the kitchen staff, and once you are handed your red cafeteria tray with your heaping styrofoam plate of meaty heaven, head over to the cashier to pay. If you are looking for more – treat yourself to a pickled egg from the giant jar or perhaps a slice of pie for dessert. Plastic cutlery and water are self-serve. Some great local beers and wines are also available.
Thoughts:  As we were walking along West Cesar Chavez Street in Austin, Texas
, we knew that we were getting close to our destination, Iron Works BBQ, because we could start to smell that familiar scent of burnt wood. Housed in a formerly wrought iron foundry the building looks more like an auto repair shop than it does a restaurant.
Once inside there is no mistaking that we've come to the right place. With red and white check vinyl tablecloths, wooden booths, plastic flowers in little vases, rolls of paper towel, and assorted plastic squeeze bottles of sauce on each table — Iron Works BBQ is a come-as-you-are, casual eatery where you are only there for the food.
My rule when it comes to eating at a barbecue restaurant, especially if this is a first time, is to always go with a sampler or combination plate if they have one on offer. A sampler allows you to taste test an assortment of menu items without being limited to just one. My sampler included beef brisket, one beef rib, sausage, and two sides – I chose coleslaw, and potato salad. My husband skipped the sampler and chose the chicken barbecue plate with potato salad, and macaroni and cheese. All meals include unlimited sliced white bread and pickles. Nothing disappointed. The beef rib was fall off the bone good, the brisket melted in my mouth, the sausage had the perfect amount of spicy kick, and the chicken was moist and smokey. We contemplated ordering an additional sampler to take home but the portions were so large we weren't able to finish what we already had.
Prices: Sandwiches all under $ 7.50, barbecue plates $9.95 to $18.95, sampler plates are $16.95.
Additional Notes:
Portions are large so come hungry. A take out container may be necessary but your taste buds will thank you for the repeat performance.
There is a patio seating at the back that overlooks the creek.
Pinterest: File this Austin Texas food find on your favorite Pinterest board.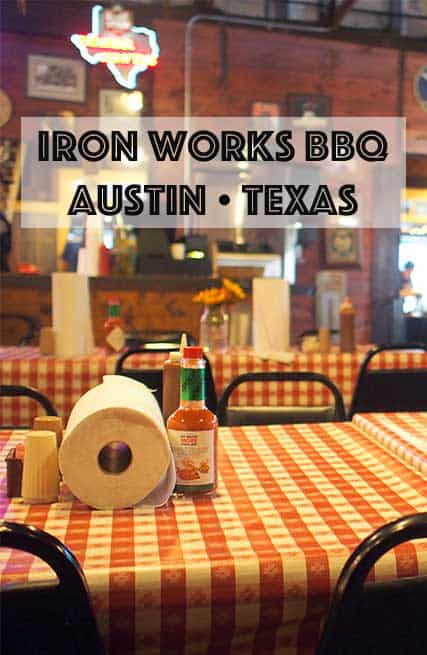 Photo credit: © Mary Chong; used with permission.
Disclosure: This post contains affiliate links. Clicking through for additional information or to make a purchase may result in a small commission being paid. By doing so, you help support this site and its authors, and we thank you.
Latest posts by Mary Chong
(see all)