Serving traditional, hearty Bavarian dishes like knödel (potato dumplings), spätzle (egg noodles), and sauerkraut in scrumptious sauces, Klinglwirt in Munich, Germany, is a truly local restaurant. The best part? It's all organic.
Self-branded as "Bayrisch & Bio," Klinglwirt maintains high standards of sustainability in its food sourcing, which the staff and website freely promote. All meats and cheeses are certified organic, with poultry and eggs derived from free-range farms. Preservatives and additives are never used, and the restaurant sources products locally as much as possible.
Location: Balanstraße 16 in the Haidhausen neighborhood of Munich, Germany
Menu: Traditional Bavarian food is heavy in meat and potatoes, which Klinglwirt gladly upholds while supporting local, organic farmers. Yet some mouth-watering, vegetarian items like the spinach-cheese potato dumplings with sage-butter may capture your taste buds instead.
Meat-lovers can enjoy an array of Munich-style pork roast, sausages, or fried fish from nearby Lake Starnberg served with plenty of housemade gravy and a side of sauerkraut.
For traditional German brotzeit (literally meaning "bread time," Brotzeit is a small evening meal consisting of bread with cold cuts), Klinglwirt serves platters of organic farmer cheeses with fig-mustard, walnuts, and brown bread.
A Bavarian meal would not be complete without a beer to wash it down, which Klinglwirt certainly offers. Löwenbräu and Franziskaner are both Munich natives, and the unfiltered organic beer from Schlossbrauerei is produced in neighboring city Dachau.
For non-alcoholic options, try one of the schorle (sweet syrup mixed with sparkling water) flavors of red currant, raspberry, rhubarb, apple, or my personal favorite: Bavarian elderberry flower.
The restaurant also offers a changing weekly menu with seasonal specials elegantly penned on a black chalkboard. Hostesses are happy to answer questions about ingredients and provide suggestions for out-of-town guests.
Thoughts: Klinglwirt is clearly a local favorite, as you can see couples out on dates, ladies night groups, and even solo eaters just looking for a hearty meal. I am a big eater, and Klinglwirt does not disappoint! In addition to my Bavarian-style gröstl (pieces of pork roast with fried potato dumplings, bacon, and onions), I also ordered a mixed green salad with honey-mustard dressing to split with my husband, leaving us both wonderfully satiated.
But the most interesting characteristic of Klinglwirt is not just its cozy, Bavarian atmosphere or the buttery homemade gravies. What makes the establishment unique is its family history now in the 4th generation and commitment to the local community.
Klinglwirt first opened its doors in 1905 as an inn, restaurant, and event hall for local games, tournaments, and celebrations. Passed down through the generations, the venue was forced to close its doors in the 1980s, much to the dismay of the community. After working in the fields of business and climate protection, the original owner's great-great-granddaughter Sonja Obermeier decided to open her own version of Klinglwirt in 2011–this time with a focus on organic food and sustainable business practices. She partners with local organic suppliers and family farms to provide the best quality ingredients to her customers.
Organic restaurants are popping up all over Munich, but Klinglwirt is currently the only Wirtshaus (traditional German tavern) I could find serving an organic menu.
For Pinterest: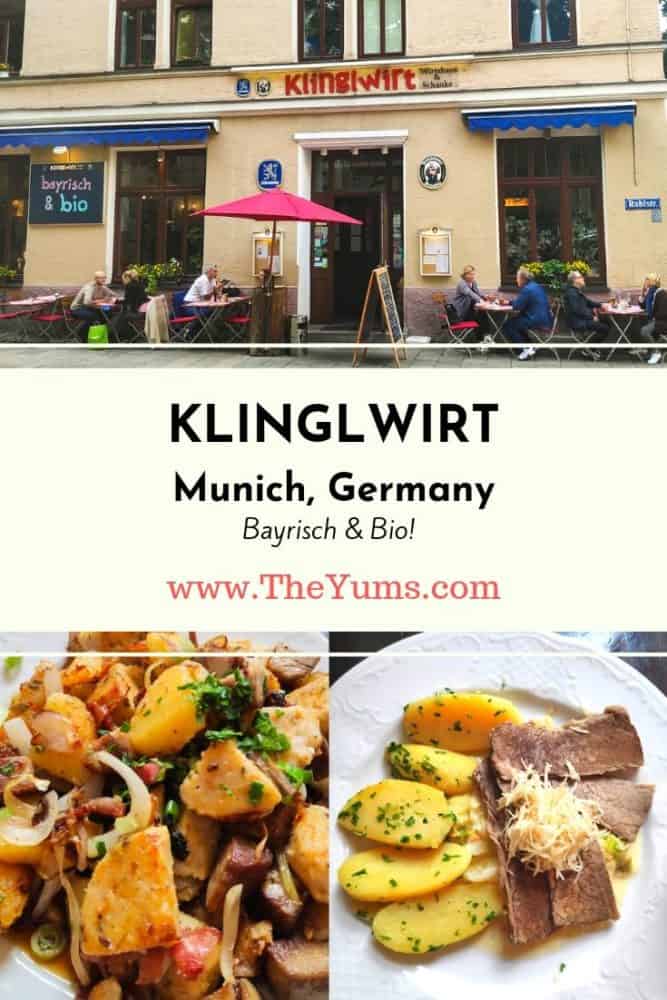 Price Range: Considering the nearly all-organic menu of locally-sourced items, plus being located in the trendy Haidhausen district, Klinglwirt has surprisingly reasonable prices ranging from €13-23 for a main course. Beers run between €4-5 for a half-liter (equivalent to a pint), and the German beverage is a necessary complement to any Bavarian meal.
Guest Reviewer Bio: Valerie Haas is a freelance writer and CrossFit enthusiast, who loves to eat good food. She enjoys the blend of cultures, languages, and culinary traditions offered in the corner where Germany meets the Netherlands and Belgium. Follow her expat travel adventures at Tri-Border Traveler or on Instagram.

Latest posts by Guest Contributor
(see all)