If you only go to one place for dinner in Lviv, Ukraine it should be Kryivka. Here, you get not only food but an entire World War II Insurgence Army experience. But first, you have to find it…

Lviv is the prettiest European city that you've never heard of. Located in western Ukraine near its border with Poland, Lviv's strikingly lovely Austro-Hungarian old town with cobblestone streets and green-domed churches is a UNESCO World Heritage Site

Location:  Kryivka's website lists the location simply as "somewhere in Market Square," which is part of its appeal. To find it, keep your eye out for a wooden door with a cutout that can be opened.  During high season, you'll find it easily by the queue of people waiting to get in.
Menu: Eating at Kryivka is as much an experience as it is a tasting. Food is plated in ration-style tin dishes and cups at rough-hewn tables. The menu is hardy, serving up traditional specialties.

A popular choice is deruny – Ukrainian potato pancakes. Unlike the American version which is made from left-over mashed potatoes, the Kryivka style uses finely-grated raw potatoes and onion, fried crispy golden brown, and served with sour cream.

Another delicious favorite is varenkny, also called pierogis in some regions of Western Ukraine. These are traditional dough dumplings filled with mashed potatoes and fried onions, minced meat, or pickled cabbage. Varenyky can also be filled with fruit such as cherries and served with sour cream and honey as a dessert.

Perhaps the most interesting entrée at our table was the dish of kholodets, beloved by Ukrainians but not so much by Americans. The dish preparation starts with meat broth. Then pieces of cooked chicken and carrots are added, held together in the transparent, congealed broth. It's served cold.

The extensive menu allows you to sample other authentic Ukrainian classics such as borsch (beet soup) and salo (sliced lard served with whole cloves of garlic).
I couldn't leave without another shot of medovuha, the honey infused vodka that I'd already sampled.
Thoughts: Lucky for us we were with our JayWay Travel local Ukrainian guide who knew just where to find the "secret" door.  She proceeded to rap loudly on the entrance, which was immediately jerked open by a stern man in a Ukrainian Insurgence Army uniform from World War II.

"Slava Ukraini!" (Glory to Ukraine!) he barked. We shouted back the password, "Heroyam Slava!" (Glory to its heroes), which was the secret system of identification used by partisans of the Ukrainian Insurgent Army, which waged guerrilla warfare against the Nazis. Because we knew the password, the gruff guard granted us entrance into the antechamber.

Inside the vestibule, he inspected us further, and I was asked "Moskal?" (Russian spy). Perhaps it was the blond hair? "Ni, ni!" I said, insisting that I was not. He pushed a shot of honey vodka towards my lips so of course, I drank it. It was surprisingly delicious! He grunted and opened a faux bookcase, revealing a set of crude steps leading down into a labyrinth of underground tunnels.

We emerged into a set of cavernous rooms meticulously outfitted to look like partisan bunkers.  Walls were littered with old newspaper clippings about the war, vintage posters, and portraits of army leaders; worn-out military uniforms hung from pegs and antiquated rifles were stacked in a corner – all waiting for patrons to pick up or try on. The photo ops were endless.  
My favorite was in the courtyard which had an antique motorcycle and sidecar that I sat in with a friend while other friends popped their heads through cutouts in the background as they tried to "shoot" us down. Great fun and those photos are some of my favorites from my trip to Ukraine!

During your visit to Kryivka, if you hear a loud siren, don't be alarmed. No need to leave your table. It just means they have found a Russian spy.

Prices: The prices, while typical of Ukraine, will amaze Americans. Appetizers and salads $2; entrées $3 – $18; wine/beer $2 – $3; shot of vodka $1.

Disclosure: The author was the guest of JayWay Travel for her meal at Kryivka.

For Pinterest: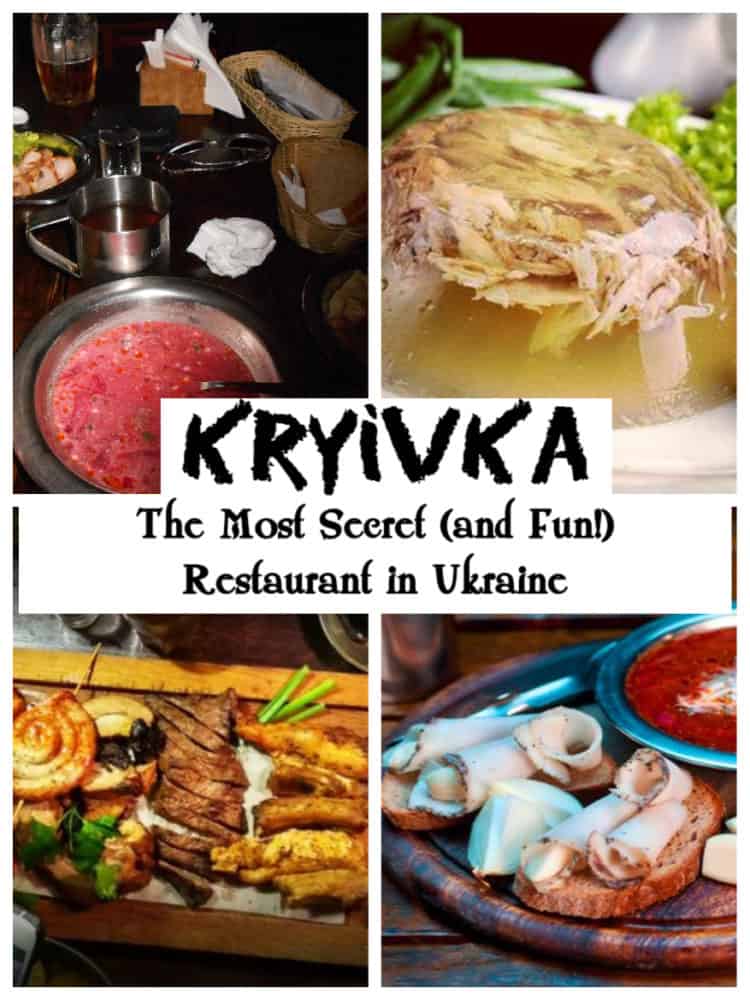 Reviewer Bio: Patti Morrow is a freelance travel writer, founder of the award-winning baby boomer travel blog Luggage and Lipstick, and the author of the book "Girls Go Solo: Tips for Women Traveling Alone." Patti has over 150 bylines in 40 online and print publications, including The Huffington Post, The Washington Post, International Living Magazine, Travel Girl Magazine, and Ladies Home Journal.

Latest posts by Guest Contributor
(see all)