In the kickin' part of downtown Indianapolis lies an upscale pizza joint serving local farm-to-table ingredients that dress up our favorite comfort foods. This is Napolese Artisanal Pizzeria.
Location: There are three Napolese Artisanal Pizzerias in [amazon_textlink asin='076275673X' text='Indianapolis' template='ProductLink' store='theyums-20′ marketplace='US' link_id='5f1939f6-88e0-11e7-a9e6-c1f3d2f4c47b']. All three serve dinner, but The Fashion Mall at Keystone (8702 Keystone Crossing) location is open for lunch, as well. This is the Napolese that I visited. It is an easy walk from Indianapolis' downtown hotels; the majority of the walk is inside of the city's covered skywalk system.
Menu: Napolese is an artisanal pizzeria. So what does that mean? Napolese (a Patachou company) starts with a handmade dough that they have perfected the recipe for. The stone hearth baking, in an 800-degree wood-fired oven, is the restaurant's secret to the thin, crispy, delicious crust. After baking, Napolese tops their Neopolitan pizza pies with local ingredients (cheeses, meats, fresh vegetables), most all sourced within 100 miles. Two of Napolese's best-sellers are the Broken Yolk Pie (Margherita pizza pie topped with whole eggs) and Runaway Jim's Pie (combination of smoked chicken, pickled chiles, and a mix of goat cheese and provolone cheeses). The menu also features tantalizing appetizers, salads, and sinful desserts.
Napolese offers gluten-free dishes and pizza crust for a nominal fee. This is a kid-friendly environment; there is a children's menu.
Thoughts: During my visit, Napolese provided excellent service. Our waiter went above and beyond to make sure that our whole group (some with food allergies and dietary restrictions) was satisfied. I appreciate and applaud the fact that the top quality, delectable food is locally sourced. Napolese Artisanal Pizzeria is aesthetically pleasing, which only adds to the restaurant's ambiance and fun factor. Our group had a fabulous dining experience at Napolese. Though not a big pizza fan, I would go to Napolese over and over again just for the appetizers and salads. In fact, the Napolese Double Chopped Salad (see below) will certainly make my Top Eats of 2017 year-end post. Another bonus is that Napolese changes the menu seasonally, keeping the freshest items as the base for their culinary creations.
Napolese Artisanal Pizzeria's decor is a stunning mix of rustic and contemporary furniture, wall hangings, and light fixtures. The bright lighting makes the colorful pizzas really pop against the otherwise neutral color palette.
Pro Tip: You can order a half salad at lunchtime, even though it is not listed on the menu.
My Favorite Dishes:
Baked Capriole Goat Cheese – Winner, winner chicken dinner. The tangy sauce that coats the uber rich goat cheese is a dream come true. Browned a bit from the broiler, the ooey-gooey cheese is luscious with the [amazon_textlink asin='B00D9BXEVY' text='tomato sauce' template='ProductLink' store='theyums-20′ marketplace='US' link_id='c6632e66-88e0-11e7-92d4-2d84f4fd7e8b'] and fresh basil topping it. It comes with the [amazon_textlink asin='B004H6H59W' text='focaccia bread' template='ProductLink' store='theyums-20′ marketplace='US' link_id='e66378f7-88e0-11e7-b234-67d6afe881c4′].
Focaccia  – Great day in the morning! Bread is not usually my vice, but I could eat this delicacy all day long. The focaccia is baked to perfection, drizzled with [amazon_textlink asin='B0027EOTKO' text='olive oil' template='ProductLink' store='theyums-20′ marketplace='US' link_id='7d1cd4ce-88e1-11e7-beae-ebd21e8e42eb'] and maybe a hint of [amazon_textlink asin='B000CC1FM8′ text='butter' template='ProductLink' store='theyums-20′ marketplace='US' link_id='9149a079-88e1-11e7-8f88-a13fd69b3766′]. Napolese pairs it with the goat cheese for dipping.
Fava Bean Hummus – Napolese leaves the hummus chunky, which is how I prefer it. Pair the creamy spread with pita slices, topped with a few bits of onion and fresh herbs, and the combination is heavenly.
Napolese Double Chopped Salad – The star of my meal at Napolese Artisanal Pizzeria was this super healthy salad. This colorful dish could make a salad eater out of the most finicky eater. The Napolese Double Chopped Salad marries the flavors of peas, diced tomatoes, shredded mozzarella, and bacon, then tosses them in a mouth-watering dressing.
Price Range: $13-$15 most lunch items
For hotels in the downtown Indy area, take a look at these properties reviewed on TripAdvisor. We like the comparative booking prices found on HotelsCombined.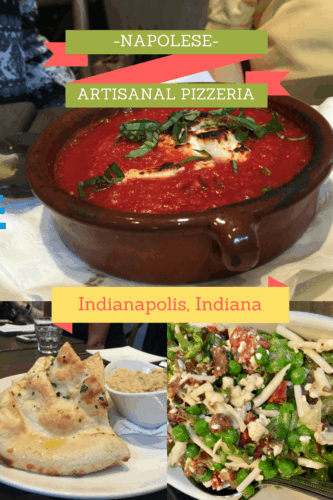 Disclosure: This post contains affiliate links. Clicking through for additional information or to make a purchase may result in a small commission being paid. By doing so, you help support this site and its authors, and we thank you.
Latest posts by Melody Pittman
(see all)