The Twisted Chopstick in DeLand, Florida, is one of those special places. Tucked away in the "incubator" at DaVinci Design Studio, this tiny little sushi eatery is creating some of the most innovative, creative and delicious sushi I have ever eaten.
Location: 117 Howry Avenue, Deland, [amazon_textlink asin='1742207529′ text='Florida' template='ProductLink' store='theyums-20′ marketplace='US' link_id="]
Menu: As you would expect, The Twisted Chopstick has an excellent selection of rolls. Favorites include their California roll, Spicy Tuna roll, and Yellowtail roll.
Some of the more creative sushi selections include their Japanese Bagel roll. Scottish Salmon, avocado, cream cheese and sesame seed are the heart of this scrumptious roll. Their Big Bang roll has Yellowtail, Tuna, [amazon_textlink asin='B003X6FVKC' text='wasabi' template='ProductLink' store='theyums-20′ marketplace='US' link_id="], sesame seed, and [amazon_textlink asin='B001E5DZZM' text='sriracha' template='ProductLink' store='theyums-20′ marketplace='US' link_id="] (a little bit spicy and a whole lot delicious!) Their rolls are not just sushi; they are edible artwork.
My Thoughts: The cooked rolls show off their range of creativity, using [amazon_textlink asin='B0086PGTOC' text='panko crumbs' template='ProductLink' store='theyums-20′ marketplace='US' link_id='0dfa3b88-88e9-11e7-8ce6-8f4a6fb85fd7′], sesame seed, and eel sauce as the basis for several of the rolls. Two that are standouts among the cooked rolls are the Volcano roll and the Indie Roll. The Volcano sushi roll uses Snow Crab, Kani, avocado, cucumber, and cream cheese, topped with baked Crab, eel sauce, roe, scallions and sesame seeds. The Indie roll is unquestionably an experience in out-of-the-box eating. Made with Snow Crab, cucumber, avocado, and carrot and topped with micro greens, wasabi, and honey. Two words describe this edible delight: decadent deliciousness.
For my husband, who grew up on the island of Guam, eating Poke is a treat. The Twisted Chopstick allows your culinary artistry to run wild as you build your own [amazon_textlink asin='B071VWWX2V' text='Poke bowl' template='ProductLink' store='theyums-20′ marketplace='US' link_id="]. You can choose your fish from the Crab mix, Spicy Tuna, Yellowtail, Salmon, Shrimp or Seaweed Salad. The toppings include Micro greens, asparagus, avocado, carrots, daikon, scallions, cucumber, green sprouts, spring mix, roe, red cabbage, cream cheese, panko flakes and sesame. Top your poke bowl with Yuzu, Eel Sauce, Kobachi, Wasabi honey, Bourbon reduction, Ponzu or one of their gluten-free choices of Spicy mayo, Wasabi mayo or White sauce. The food is fresh and delicious.
Similar to the poke bowl is the opportunity to Build Your Own "Sushi Burrito"! Let your creativity run wild and create your own custom sushi delight.
The Twisted Chopstick is quite literally a tiny, hole-in-the-wall, hidden gem in DeLand. With only a couple of tables and seating at the sushi bar, you will make new friends each visit to this excellent eatery. As James Beard says, "Food is our common ground, a universal experience." At the Twisted Chopstick, creative and innovative food is the common ground that brings people together.
Price Range: Sushi rolls range from $6.50 to $10 for specialty rolls. The Build Your Own Poke Bowl and Build a Sushi Burrito are $10.
All menu items are available for carryout. Free Delivery is available within five blocks walking distance; there is a $3 charge for delivery within 5 miles or $5  for delivery within a 5-7 mile distance.
Deland is part of the greater Daytona Beach area and a little under an hour from downtown Orlando. Check out TripAdvisor for hotel reviews in the area.
Pinterest:  File this sushi gem on your favorite Pinterest board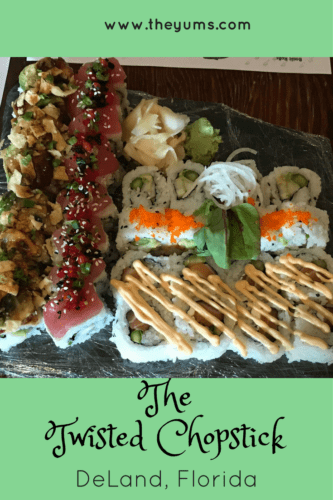 Disclosure: This post contains affiliate links. Clicking through for additional information or to make a purchase may result in a small commission being paid. By doing so, you help support this site and its authors, and we thank you.

Latest posts by Betsi Hill
(see all)