Mario's Catalina is a captivating foodie gem in [easyazon_link identifier="1534635661″ locale="US" tag="theyum-20″]Fort Lauderdale[/easyazon_link] offering a tantalizing selection of Cuban and Spanish specialties in an old-World manner.
"My Passion is to bring people and fine food together" –Mario
Location: Mario's Catalina, 1611 North Federal Highway, Fort Lauderdale, Florida
Menu: The main staples at Catalina are seafood, pork, beef, and chicken. I love the chicken and shrimp in garlic sauce! The delicate sauce is packed with taste and compliments both the chicken and shrimp perfectly! Plantains, rice and beans and a fresh house salad round out the entree, however, the black beans and rice are the best we have ever eaten! They are not overdone and are tasty and flavorful. The paella is made fresh and from scratch and is divine! Filled with seafood, chicken, and beef; Jim tells me it rivals any [easyazon_link identifier="B000QYM2OC" locale="US" tag="theyum-20″]paella[/easyazon_link] he ate while in [easyazon_link identifier="1631214519″ locale="US" tag="theyum-20″]Spain[/easyazon_link].
Growing up in [easyazon_link identifier="1910120359″ locale="US" tag="theyum-20″]Honduras[/easyazon_link], Mario shares that family is everything. And family time revolved around shared meals. When Mario came to the US in 1994, he brought with him the love of family and his memories of cozy, intimate, relaxed family meals. Having worked his way through the ranks up to the manager at the Gran Hotel Paris in La Ceiba, Honduras, he understands all facets of the hospitality industry. The evening we dined at Catalina we watched Mario seamlessly take on several different roles.
As we walked through the door, Mario greeted us personally, and then rushed off to deliver a meal to a table. He graciously stops at every table and greets the diners, inquiring as to how their meal was. Quickly bringing drinks to a table, Mario briefly pops into the kitchen to oversee the meal preparation. He is truly a hands-on owner, who takes pride in his restaurant. Word of mouth has grown his clientele over the years, with many repeat customers who visit Catalina on a regular basis.
Catalina can be found on one of Fort Lauderdale's main arterials. It looks like a run-of-the-mill restaurant from the outside, but we were shocked at the transformation upon entering. You leave the chaos of Fort Lauderdale behind and enter a sanctuary of peace and calm and casual elegance. Chandeliers cast a soft glow on the room, and simple chairs take second stage to the stars – the impeccably dressed tables, with fresh white linens, and beautiful crystal glasses. The atmosphere softly speaks of old world elegance and a charm from years past.
As we were dining a group of men walked in the door. Mario greeted them with subdued exuberance and showed them to a corner table. As the server brought the men a bottle of wine, it was apparent that this was a working dinner, and Catalina was a familiar location for them to conduct business. Exactly what Mario wanted when he came to the US, with his memories of family and shared meals.
When I asked Mario what made him the happiest, he replied, "when my customers, new and old, want to share Catalina with their friends."
Prices: Entrees fall in the $30 to $60 range.
Additional Notes: [easyazon_link identifier="0470505214″ locale="US" tag="theyum-20″]Mojitos[/easyazon_link] are a traditional Cuban cocktail, and in Florida, you find lots of mojitos. We are always on the search for the best mojito, and thus far, Mario's Catalina tops our list! I love a good sangria as well, and Mario does craft an amazing sangria! My preference is a white sangria, which is a refreshing cocktail in the humid South Florida heat.
For Pinterest: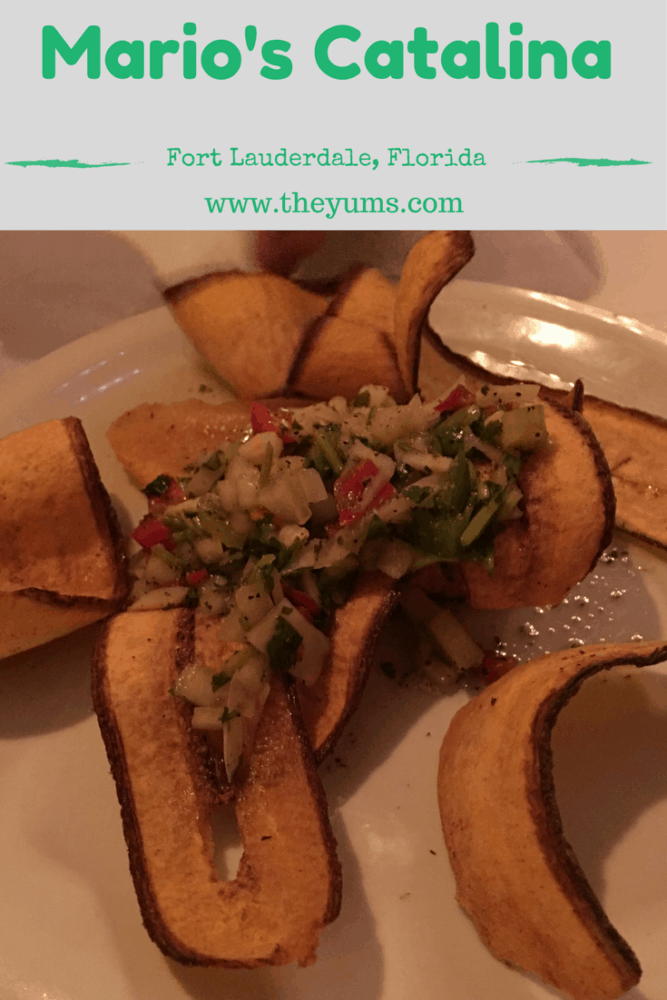 Disclosure: This post contains affiliate links. Clicking through for additional information or to make a purchase may result in a small commission being paid. By doing so, you help support this site and its authors, and we thank you.

Latest posts by Betsi Hill
(see all)