When you head to Philippe the Original in Downtown Los Angeles, you're not just going to a great deli/restaurant. You're heading into a landmark. A favorite with local workers on lunch break, high-class concert goers, Dodger fans pre or post-game, and pretty much anyone else who's ever been there, Philippe's has been a downtown fixture for 110 years.
A decade into its existence, a kitchen accident resulted in a sandwich that took the fancy of the whole neighborhood, then the city, and then the world. The French Dipped sandwich was born at Philippe the Original when the owner was making a sandwich and inadvertently dropped the sliced French roll into the pan full of hot meat roasting juices. The customer, a policeman, accepted it anyway. He liked it so much he came back the next day with some pals, demanding more "dipped sandwiches." And the legend was born. A century later, it's still very much worth making the trek to Downtown LA for a Philippe the Original French Dipped Sandwich.
Location: 1001 N Alameda St, Los Angeles, California, at the corner of Ord, less than a block from Union Station
Menu: Expect an old-fashioned deli menu anchored by the famous French Dipped sandwiches. Get them with slow-roasted beef, lamb, pork, turkey, ham, or NY pastrami, all with or without cheese. There are also other sandwiches, if you insist, plus entrée salads, beef stew, soup of the day, and chili. A selection of typical old-school deli sides is available too, like potato or macaroni salad, cole slaw, eggs pickled in beet juice, and pickled pig's feet. A range of desserts goes from fruit and cream pies to tapioca and a baked apple. Beer (including half-a-dozen on tap), wine, cold drinks, and coffee round it all out. A full breakfast menu is served in the mornings.
Thoughts: Philippe the Original opened in 1908 and moved to its present location in 1951. The good news is that very little has changed since. (More good news: the bathrooms have been updated and are modern, bright, and sparkling clean.) The location all but guarantees an eclectic mix of patrons, all on the search for a great sandwich. Its ideal corner site on the edge of Chinatown, a block from Union Station, around the corner from the Mexican charm of Olvera Street, and a short walk from both Dodger Stadium and The Music Center means you'll probably be sharing your communal table with baseball fans and opera-goers, neighborhood workers and tourists.
Here's the set-up, which can be confusing for first-timers. When you enter, cross the sawdust-strewn floor to the deli counter. You'll see what looks like an unfocused mob standing there waiting to order. But look closer and you'll see there is some order in the chaos. These folks are actually in several lines, if slightly amorphous ones. Pick a line and get in it. Don't fret too much, since they move quickly. (Hint: the lines farthest from the door tend to be shorter.) While you wait, study the overhead menu boards and decide on your order.
When you get to the counter, the carver standing there will prepare your meal to order, carving the meat, dipping the French roll in the rich meat juices, scooping up the side orders and pulling your drink. It's all served up on sturdy paper plates, those recyclable ones like egg cartons. Pay with cash or credit card, take your tray, and find a seat. The room is filled with large communal tables, topped with cheerful red laminate, that seat eight people on wooden stools. In the back rooms, there are several wooden booths if you want a tad more isolation. If the noise level is too much or you want yet more intimacy, the large upstairs seating area is more spacious and quieter.
It's all super old school from the sawdust on the floor and the century worth of memorabilia on the walls to the carvers' uniforms. In their short-sleeved teal blue dresses with powder blue collar and cuffs and a dark/light blue apron, they look like they just stepped out from behind a five-and-dime lunch counter from the '50s. These carvers, many of whom have worked here for decades, are famous for both their efficiency and their friendliness. And the 46¢ coffee will take you way back in time. Vintage wooden phone booths along one wall now provide a quieter spot to make a cell phone call, and the old-fashioned candy counter near the door offers a few classics, like Butter Rum Lifesavers and Chik-o-Stik, O'Henry bars and Luden's cough drops mixed in with the more common Hershey's and M&Ms.
You're probably here to eat one of their famous original French Dipped Sandwiches, although the beef stew, chili, and soup of the day are also mighty fine. But an awful lot of locals will tell you that coming to Philippe's and NOT having a dipped sandwich is a crime. I think there may be a city ordinance against it. You can order your sandwich with three levels of "dippiness": Single means one side of the fresh, house-baked French roll is dipped quickly into the gravy. Double, the most common, means both sides are dipped. And wet means just what is says; both sides of the roll are dipped, then flipped over and dipped again, until the whole thing is dripping with au jus. Add cheese or not, up to you. The choices are American, Swiss, Jack, Cheddar, or goat cheese, which is fantastic on the carved leg of lamb sandwich. Ask for some of the free yellow peppers, then order a big old kosher dill pickle to finish it off. Once at your table, add some of the house-made magic hot mustard. But caution! Don't just slather it on unless you're a fan of fire-in-the-mouth. This stuff is potent with sinus-opening horseradish. Taste it first, then add to taste. If you love it, as so many do, you can buy a bottle to take home.
How popular are these dipped sandwiches? Glad you asked. Philippe the Original dips and serves up to some 3,000 customers a day, on average, and many more on Dodger game days or other neighborhood events, for a total of about 20,000 dipped sandwiches a week. The sides are classic and well done. The potato salad was slightly sweet and creamy, not soupy or sloppy with too much mayo. The cole slaw was crisp and tasted fresh and bright. The beef stew is also classic and satisfying, chockful of big chunks of beef, potatoes, carrots, celery, and tomatoes. The pickled eggs sitting in a big jar on the counter are mildly vinegary and a beautiful fuchsia color from beet juice.
If you need more food, a drink refill, or a yummy dessert you didn't order up front, return to the line. You can save time and avoid some of the chaos by heading to the special line on the right for non-sandwich orders. When you're done with your meal and the inevitable conversation that comes with sharing a table with fascinating strangers, just leave everything on the table. The bussers will come by and whisk it away with admirable efficiency.
Parking in Downtown LA can be a nightmare of circling blocks forever. Fortunately, Philippe's got that covered as well, with two free parking lots, one behind and one across the street. There's also metered street parking that can be viable outside working/shopping hours and event days. But don't plan on leaving your car in the lot while you wander around the neighborhood. The space is for active customers only, and once you've left the restaurant, you're liable to have your vehicle towed.
Price Range: Dipped sandwiches are $8.50-9.85. Cheese adds $.45-.80. Sides are $1.65 for potato or macaroni salad or coleslaw. A pickled egg is $1.40, while a pickled pig's foot is $2.95. A big crisp kosher dill pickle, sliced, is $1.50. Soups, which vary every day, are $2.90 a cup, $4.60 a bowl. A bowl of rich beef stew is $4.30. A slice of pie is about $2. A glass of well-made unsweetened iced tea is 80¢ and yes, a cup of coffee really does cost just 46¢. At breakfast, an egg sandwich is $3.50; eggs with bacon, sausage, ham steak, corned beef hash, or a pork chop from $7.90-10.95. Pancakes are $5; French toast is $6.75. Omelets run $6.95-9.45.
Pin it to Your Favorite Food Board So You Don't Forget: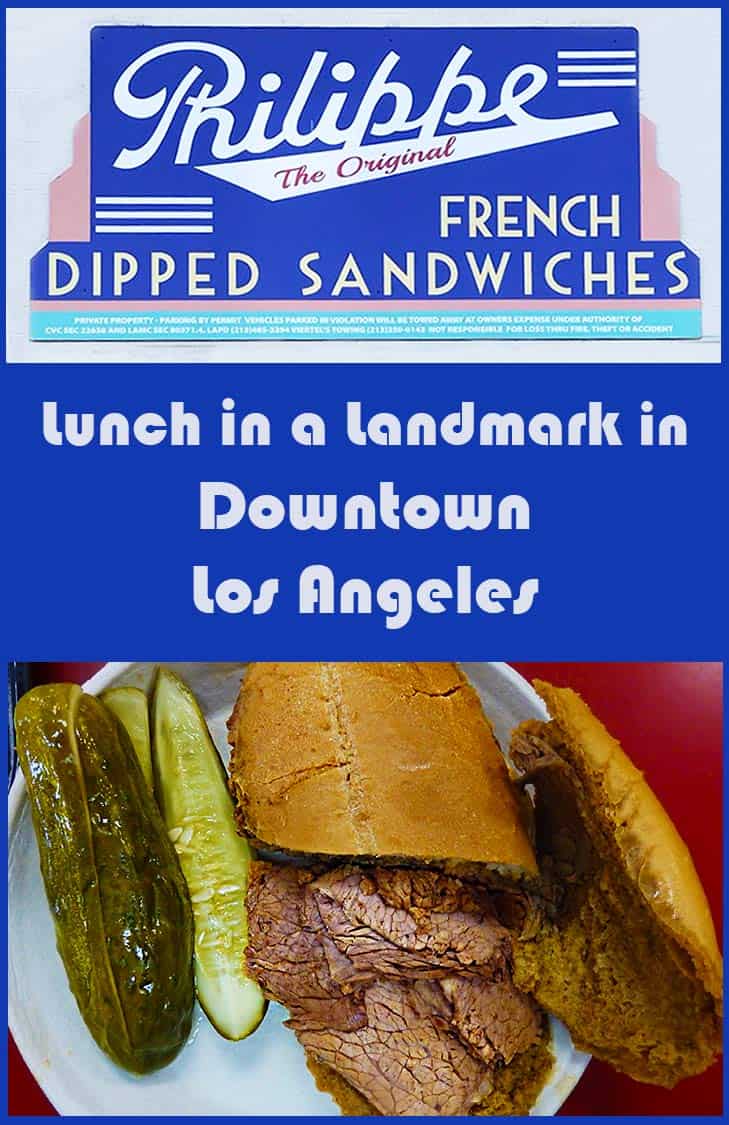 Latest posts by Donna Meyer
(see all)