Looking for your next Parisian meal at a low key, fun, and friendly restaurant? Then THIS is THE PLACE to be. Found in the hip and trendy Marais (in Paris, France), if you're not paying attention you might miss this bistro. Petit in size, the deep maroon and brown colors on the façade will have you look twice. The only ways to tell you have reached your destination? A small black metal sign, lettering in white. Simply stating Robert et Louise.
(Or as I like to think of it: Bienvenue to the fire restaurant.)
Location: 64 rue Veille du Temple – 75003 (in the Marais)
Menu:  Robert et Louise offers the quintessential French fare. Starters include several choices such as glistening buttery escargot, charcuterie or the decadent Terrine de Foie Gras Canard, all very well priced. Mains are not for the faint of heart. A few dishes displayed on the old style menu present a 900g Côte de boeuf or the Entrecote (Rib Eye Steak). Red meat not your style? How about the Gambas Flambées (Tiger Prawns), or Confit de Canard as an alternate. (Mains are served with salad or vegetable of the day.) Desserts include cakes, crumbles, the crème brûlée, and assorted French cheeses.
Thoughts:  Once you step foot inside all the craziness of the city disappears. Turning back the hands of time and space, it becomes apparent you are in for a captivating ride. Quaint and cozy is the feeling when you enter what seems like an old-style cottage. Wooden beams along the ceiling and the cutest open kitchen. Brown and red brick, as well beige cobblestones line the walls. Rose gold copper pots hanging in rows and old hardwood tables where you can still feel the grain.
Stating our orders as if making a wish from a genie bottle, we sit back to take it all in. You cannot help but be enchanted by the atmosphere. The main feature? The large fireplace with its glowing embers and dancing flames. Robert et Louise is one of the very few restaurants to use their fireplace to cook their most delectable meals.
Adding to the hearth and charm? Large tubs of greens peaking from the kitchen counter adding to the home-style allure. To be able to look through to the tiny open kitchen to see the men at work is a treat to the senses. The process of food envy has begun. Absorbing everything that is Robert et Louise. We hear chopping and meat searing in the background. Low chatter and laughter from the other diners are heard. Everyone, and I mean everyone, is smiling.
Looking towards the chimney one of the cooks is down on bended knee, tending to the roaring fire. And there I see it – two large steaks glistening in the fireplace. Thick-chunky slabs of deep red meat with white marbling, enticing you with every flicker of the flame. To keep from looking like a crazed hungry wolf, allow your eyes to wander. Placed with care throughout the restaurant are pictures of owner Robert and Louise. Robert is seen mixing, creating, and proudly posing during his time at the restaurant.
Enter merriment of a new group, seated at our table. As it is a small restaurant communal tables are present. Together we are dewy-eyed, shy, yet delighted in the shared excitement. You do not have to break bread nor be forced into any conversation. Exchanging a story or two (or even a shared bottle of wine) with your new mates is completely up to you. One thing strongly shared? The satisfied faces and the "mmm" sound as each morsel will snicker and lure you at each bite!
Price Range: Starters range from 7€-18€ and mains from 14.50€ to 48€. Don't be alarmed by the 48! That price is for the mouthwatering Côte de boeuf – to be shared between two people. Desserts and cheeses range from 5€-9€
Tip: MAKE A RESERVATION! This place books up FAST.
Save to your favorite Pinterest Boards!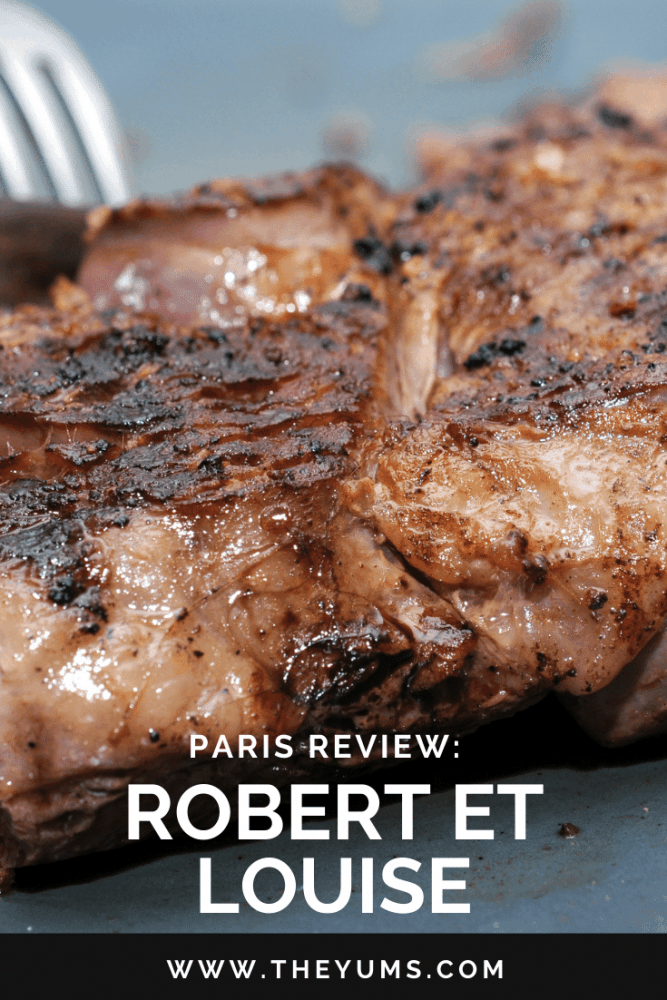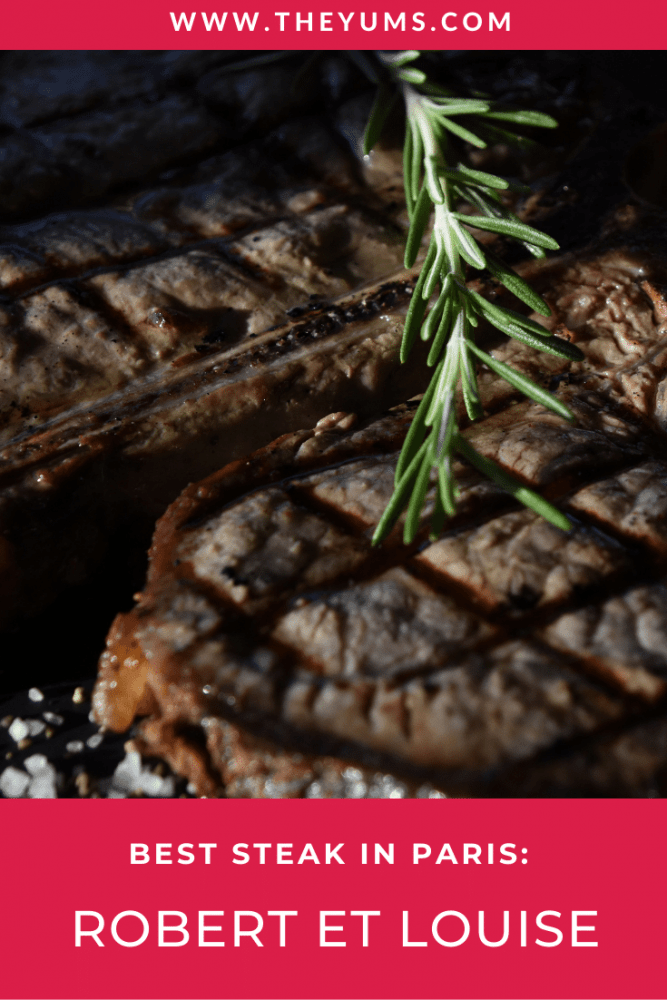 Guest Author Bio: Owner of Michellemedia.ca, Michelle loves to create content on everything lifestyle and inspiration. A freelance food and travel writer, she contributes to various websites and is a member of the ITWPA. Born and raised in North America, Michelle and her chef husband sold their home and moved to the City of Lights, City of Love – Paris, France. Both on a mission to enjoy life and share it with the world. You can also follow her on Instagram @michellenouvelle.

Latest posts by Guest Contributor
(see all)