Visitors to [amazon_textlink asin='1465457194′ text='Japan' template='ProductLink' store='theyums-20′ marketplace='US' link_id='043b3c2b-48a3-11e8-a922-dbf66c4e59fe'] often have a list of foods they want to try during their travel in this culinary heaven. And while [amazon_textlink asin='1623155975′ text='Sushi' template='ProductLink' store='theyums-20′ marketplace='US' link_id='1fbb5625-48a3-11e8-8798-c58347fe4f5e'] and Ramen often make the top of the list, [amazon_textlink asin='1482357410′ text='Udon' template='ProductLink' store='theyums-20′ marketplace='US' link_id='3cfc3288-48a3-11e8-966c-ed5d75498f4f'] shouldn't be forgotten.
These thick white wheat flour noodles are a Japanese favorite in winter (served hot) as well as in summer, when they are served chilled. And while there are many Udon restaurants in Tokyo, it will definitely be an authentic (and of course delicious) experience trying your first Udon at Taniya in the center of Tokyo.
Location: The official center of Edo (the former name of Tokyo) was Nihonbashi (Japan bridge). Not even two kilometers and a comfortable walk away is Taniya restaurant, with its white shop front with a big window. From the window, you will be able to see the Udon cook at work rolling out the dough and cutting it into the characteristically shaped thick noodles.
You can reach Taniya from multiple metro stations, the closest is Suitengu-Mae Station on the Hanzomon Line the sight of a beautiful Japanese Shinto shrine. Google maps are helpful in locating the restaurant, see it here.
Menu: Taniya has an English menu which makes ordering for foreigners a lot easier. The menu conveniently explains what each dish is and includes some pictures that will also help your understanding.
There are different basic types of Udon. Udon in Dashi broth. Hot or cold Udon topped with an egg and soy sauce. Udon with only soy sauce. Hot Udon for dipping into a kind of soup. These different variations can be topped off to your liking. There is meat or fried tofu as well as fish eggs and other very Japanese toppings.
The side for Udon is Tempura, deep-fried meat or vegetables. The difference in consistency and flavor between Udon and Tempura makes for an interesting and unique combination.
Other side dishes are also available, for example, Tamagoyaki (Japanese style omelets), a favorite in many Japanese Izakayas (Japanese style bars) or chilled Tomato served with mayonnaise or salt. These side dishes go very well with beer and other refreshing alcoholic drinks, like for example a cold Lemon Sour made from a whole lemon, the restaurant's special drink.
Thoughts: The restaurant consists of a long counter with about 15 seats and some tables in the back. If you have the chance sit down at the counter and watch the chefs at work in the open kitchen while you wait for your Udon and Tempura to be prepared.
Taniya has a very characteristic background sound. Over the chatter of the guests, you can not only hear the staff greet and welcome every single guest in loud voices, you will also hear the characteristic clonk-clonk-clonk of the Udon noodles being cut.
If you don't want to stand in line, because the restaurant does not accept reservations and because it can get very crowded you should avoid the peak times at 12 p.m. and 6 p.m. And if you want to relax and enjoy the atmosphere it is probably best to arrive sometime around 7 p.m.
Price Range: A full meal at Taniya is quite cheap by Japanese standards. The Udon noodles cost somewhere between 600 and 1200 Yen (6 to 12 USD) depending on the topping and the Tempura will cost you 100 Yen (1 USD) a piece.
Because of Japanese culture, there is no tipping and the consumption tax is already included in the price on the menu so you really just pay what you consume.
For Pinterest: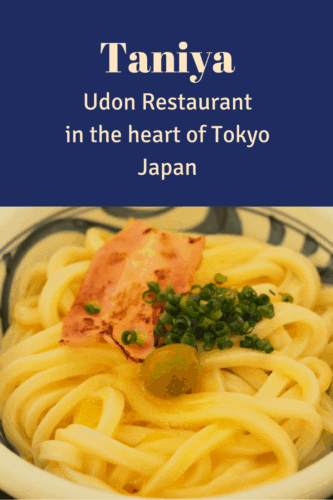 About the Author: Lena is a travel blogger at The Social Travel Experiment. She mainly writes about what she calls Social Travel, traveling in order to meet and stay with locals and learning from them about their culture, traditions, history, and food. Connect with the Social Travel Experiment on Facebook and Instagram.

Latest posts by Guest Contributor
(see all)