Nothing typifies New Mexican eating and drinking like tequila and chiles. The family-owned El Pinto Restaurant has grown from one room in 1962 to the largest New Mexican restaurant in the state. Fueled by giving folks tasty, traditional chile-based meals, they now can seat 1,000 people. Along with their spicy food, you can order from 160 different kinds of tequila. 
Location: 10500 4th St. NW, Albuquerque, New Mexico. The website is here.
Menu: Fiery, traditional New Mexican fare is served for lunch, dinner and Sunday Brunch. The menu has a little icon to indicate the choices that are mild, but these are definitely in the minority. 
You'll enjoy the local in-season foods, Hatch chiles, fresh eggs, and local honey incorporated into the creative dishes.
Lunch offers burritos, enchiladas, salads, and burgers. Dinner offers great appetizers, selections from the grill, as well as an ample number of combination plates. There are many gluten-free options available on each menu.
The selection of Tequila and Margaritas is unlike anything I have ever seen.
Thoughts: Set on twelve acres, under towering trees, El Pinto has expanded to three large dining rooms, five patios and a Cantina. The patios are enclosed during the cooler months, so that seating is still available. Behind the restaurant, is a canning facility where they process 25,000 jars a day of their famous El Pinto Salsa to distribute to over 8,000 locations nationwide.
Adjacent to this, 240 hens live in a 20,000 square foot hen hotel, happily providing the eggs for all the meals.
In the dining rooms, you'll feel like you have been transported to an old hacienda while enjoying modern New Mexican hospitality.
Jim and John Thomas, sons of the original owners, purchased the restaurant from their parents in 1994. I dined with a dozen others who had come to learn more about the restaurant. John met us when we arrived and gave us a tour beginning with the Tequila Bar, the canning facilities, and then joined us for dinner.
We began with appetizer plates overflowing with chips, fresh guacamole, salsa, chile con queso, and the Red Chile Ribs that El Pinto has become known for.
We also ordered some Green Chile Strips. The flash-fried, hot, green chile strips were served with a red chile ranch dressing that provided the perfect foil.
A large basket of hot, puffy sopapillas came with local honey to pour into their pockets. While I've been limiting the sweets I eat these days, this was an indulgence I couldn't pass up. 
John recommended some of his favorites entrees. I followed his advice with the #3 Combo which included a rolled taco, a red chile cheese enchilada, some chile con carne, a chile relleno, and pinto beans. Each of these provided a different combination of ingredients but all supplied the red chile taste. There was no room for dessert after this meal.
The Carne Adovada Plate was my husband's choice. A large flour tortilla was topped with deliciously hot and spicy lean pork which had been marinated in red chile. Traditional pinto beans and rice accompanied the pork. He was also too full for dessert.
El Pinto incorporates their salsas and Hatch chiles into recipes that are special to their restaurant. They are known for their Red Chile Ribs, their Green Chile Meatloaf, and their Green Chile Chicken Stew. On their website, you'll find recipes so you can make the dishes you love when you get home.
Sunday Brunch is not a buffet, but a special breakfast and brunch menu with items not offered at other times. Choose from wonderful dishes such as the Hatch Red Chile Eggs Benedict—a Green Chile Cheese Biscuit topped with Asparagus and Shaved Ham smothered with a Red Chile Hollandaise Sauce. Breakfast Potatoes and Chile con Queso complete the meal.
Or, if you love pancakes, go for the Blue Corn Blueberry Pecan Pancakes. Made with stone-ground blue corn, then topped with local pecans and fresh blueberries, they are served with bacon and pure maple syrup.
And, of course, to liven the day up, there is a great selection of Margaritas, Mimosas and Bloody Marys
Price Range: Lunches range from $9-$14 and there is a Lunch Buffet for $14.29 for adults, $7.29 for kids under twelve. Dinners come with salad and a side and range from $12-$30 with most under $20. Sunday Brunch selections start around $13.
The Blanco, Resposado and Anejo Tequilas are $9 to $27 per shot. The Reserva/Extra Anejo will set you back $25-$85 unless you are a patron who has purchased from their keg and then it is only $13 a shot.
Disclosure: VisitABQ provided our meal to facilitate this review.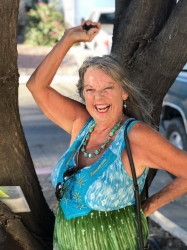 Latest posts by Joeann Fossland
(see all)