Noble Hops is a place to relax and enjoy the stunning views of the Catalina Mountains. At sunset, when the mountains turn pink, it's time for a drink. Impressive food offerings, the 28 craft beers on tap, and an extensive selection of bottled beers invite you to come hungry, come thirsty, and come to enjoy.
Location: 1335 W Lambert Lane, Oro Valley, Arizona. The website is here
Menu: The menu is seasonal and there are daily specials. You can count on high-quality, creative and delicious food.
While this is a gastropub and the craft beer is a big draw, the food is top-notch. Small and sharable plates, artisan salads, nine types of burgers, and heartier entrees provide everything you'd want or expect as well as some selections you probably hadn't considered. The daily homemade desserts will satisfy your sweet tooth.
Consideration is given to those who want their food and drink gluten-free or vegetarian.
Thoughts: The unique two-sided, 30-foot-long indoor/outdoor Noble Hops bar captures your attention as you enter.  You can comfortably sit on either side and soak in the view.
There is a small indoor area with 10 tables. Outside, there are couches and tables on the spacious 750 square foot outdoor patio. This is Tucson, after all, and we have few days you can't sit outside. Water misters for the summer days and a large gas fire pit and built-in heaters for the cooler days make outside dining comfortable most of the time.
My husband and I have come for a late lunch and found only four other tables occupied. As the day gives way to a more standard time for beer drinking, the crowds will fill the seats.
I ordered the Shredded Kale Caesar with the Atlantic Salmon. The kale was piled high on a dinner plate with chunks of avocado, fresh corn, squares of jicama, sunflower seeds, large pieces of cotija cheese, and Breadsmith croutons incorporated. Each bite was a wonderful panoply of tastes and contrasts.
My husband went for the "Craft Your Own" Burger. On a Breadsmith egg bun, the 100% Angus half-pound, medium-rare burger with lettuce, tomato, and onion was juicy and tasty. The regular fries accompanied this.
We indulged in adding the Greek Fries. They were hot, gooey and delicious with lemon aioli, greek seasoning, melted cotija cheese.
If you just want some munchies to go along with your drink, there are lots of unusual small and sharable plates – everything from Crispy Brussel Sprouts to hot Pretzels with beer cheese or, even, salmon cakes. The Signature Salumi Board with its artisan meats, cheeses, and pickled veggies will satisfy several people.
For the health-conscious, the four artisan salads are great alone. Or add some chicken, salmon, ahi or grilled rib eye and you'll enjoy a filling meal.
Burger lovers have nine types of burgers to choose from, including a pork belly burger, a turkey burger, an ahi burger, and two vegetarian burgers. The other four used 100% fresh-ground Angus beef with a variety of accompaniments.
If you are here for a hearty lunch or dinner, they still have you covered. Entrees include spaghetti, duck, fish, jackfruit carnitas or a vegetarian grilled eggplant.
There is a kid-friendly menu with standards such as grilled cheese, peanut butter and jelly, or mac and cheese.
Noble Hops is pet-friendly–You can bring your friendly canine companion to the patio any time. Additionally, there is a Yappy Hour on the first and third Monday of every month, with some proceeds benefiting local pet charities. Not only will you be able to socialize with other dog owners and dogs, but local veterinarians will also be in the mix to mingle and answer any questions.
Live music livens things up every Sunday and sometimes on other days. Their event calendar on the website will give you the latest.
Price Range: Appetizers range from $6 to $16 with the Signature Salumi Board costing $22. Salads were mostly $12 except for the Sashimi Salad at $17. The add-ons ranged from $5-$10. Burgers started at $9 and the Ahi Burger was $13. Entrees ranged from $17 to $26.
Every afternoon, most appetizers are discounted a couple of dollars to go with the discounted beer, wine, and cocktails at Happy Hour.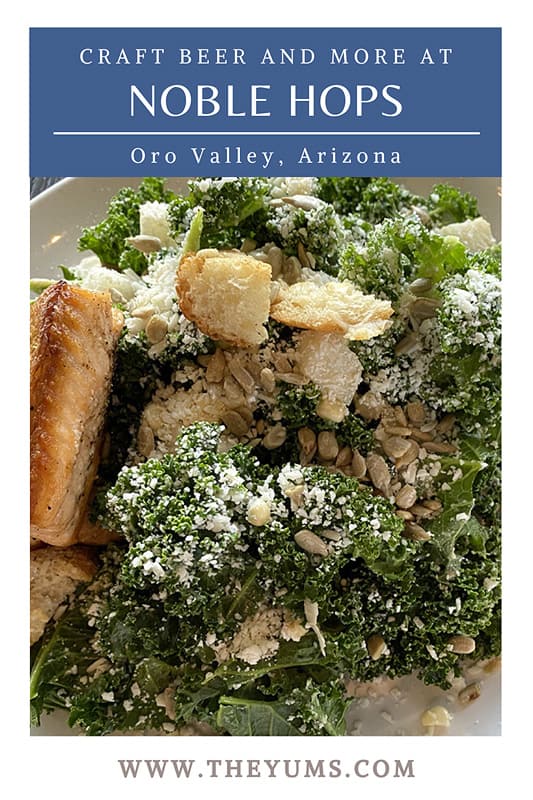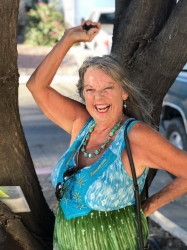 Latest posts by Joeann Fossland
(see all)