The trendy restaurant scene in downtown Tucson just got enhanced with a Seafood Galería! The newly opened Charro del Rey exudes a congenial atmosphere in a charming 100-year-old building filled with Mexican art and antiques. From the raw fish bar to the extensive champagne and craft beer menus, a night out spent here is a treat.
Location: 178 E Broadway Blvd, Tucson, Arizona
Menu: Dinner and Happy Hour Menus feature seafood of every kind, primarily sourced from the Pacific Ocean and Sea of Cortez. If you must have meat, the aged Prime Rib in two portion sizes will please you. Vegan and Gluten-free choices are available.
Thoughts: Our party of four arrived during the busy 4-6 pm Horas Felices (better known as Happy Hour). We excitedly jumped right in, ordering fresh oysters, wine and Margaritas. This half-price early menu offers both drinks and small plates. Our first plate of 18 oysters were so good and fresh with a wonderfully piquant horseradish and lemon wedges, we ordered 18 more!
For dinner, The Enchiladas Banderas sounded like delectable comfort food containing my favorite seafood. Lobster, shrimp, and halibut were rolled into four fresh flour tortillas, smothered in three different salsas and topped with avocado and cheese. On the side, large portions of Spanish rice and beans rounded out the meal. This dish melded Mexican and Seafood for the best of both worlds.
Even though fish was the focus, my carnivore partner had eaten a dozen oysters and wanted some meat. Available in 12 ounce or 16 ounce portions and aged 22 days, the tender, grass-fed Prime Rib with au jus and chile verde horseradish was just the ticket. On the side, a generous serving of mashed potatoes enhanced with the warm chile verde .
Our friends both feasted on the Charvida Salmon. The generous portion of salmon was citrus roasted, then plated on a bed of tangy ginger jalapeño slaw and topped with a sauce with pepitas, avocado, and hemp seed. This example of the Seafood/Mexican combination drew raves.
For dessert, we were treated to a house specialty, The Gilberto, since we were celebrating my birthday. Locally-made, rich chocolate ice cream was paired with a tart raspberry sorbet whipped with Gran Marnier and home-made whipped creme. This match truly was made in heaven. It was big enough for all four of us to share after I made a wish and blew out the candle.
Fresh seafood in Tucson is not the norm, so I was anxious to see if their food would impress. It did! The Charro family restaurants have become renown for authentic Mexican food since 1922. The original El Charro Café is the oldest Mexican restaurant continuously operated by the same family in the U.S. Keeping true to their roots, Charro del Rey, and right next door, sister restaurant, Charro Steaks, expand the legend.
Price Range: For Dinner, you'll find starters from $11-15 or market value for the two-person, decadent seafood tower. Soups and Salads are $10-16. Most Seafood Entrees are $16-22 except for lobster, halibut and crab legs priced at market value. Prime Rib is available in 12 or 16 oz for $32 or $39. Desserts are $8.
Cocktails are $8-15 and wines by the glass start at $7 and bottles from $27. During Happy Hour order, there is a wide range of half-price selections and drinks.
For Pinterest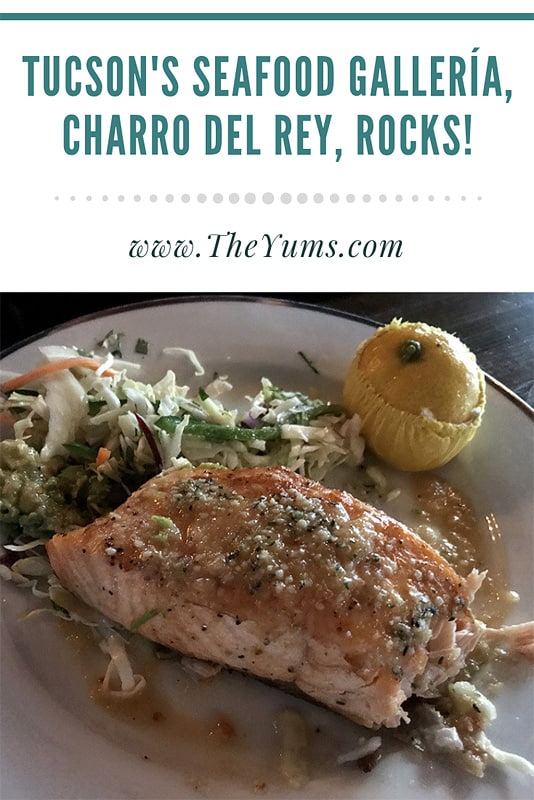 This baby boomer hippie chick was bitten by the travel bug decades ago and has never recovered. She has adventured through over 30 countries and 4 continents and can often be found on a warm island beach. A travel writer, she shares tips and experiences to inspire others to live their dreams makes her filled with joy.

Joeann is a member of TravMedia, Travel Massive, and ITWPA (International Travel Writers & Photographers Alliance).
Latest posts by Joeann Fossland (see all)