Bull Mountain Grill is an authentic Montana Steakhouse with steaks topping their menu along with many other American favorites with a western flair. It is the place to go to in Billings, Montana for great steaks and NO Bull!
Location: 2376 Main Street, Suite 818 Billings, Montana
Menu: Serving lunch and dinner the restaurant opens at 11:00. Closing times vary. They also serve a limited brunch on Saturday and Sunday. Bull Mountain Grill has daily features that include a soup, lunch and dinner items.
Appetizers on the menu include unique named items such as:
Cow Pasture Platter: A combo of favorites! Onion rings, bull skins, and jalapeno poppers served with fresh local salsa.
Rocky Mountain Oysters: These may remind you of branding day on the ranch. Deep-fried to a golden brown and served with a horseradish cocktail sauce.
Bull Skins: Potato skins topped with queso cheese, bacon bits, and diced green onions. Bull Skins are served with a side of fresh local salsa.
The lunch menu includes burgers, sandwiches, salads, and saddle up platters. Burgers are ½ pound, handmade, and cooked over an open flame. Lunch entrees include your choice of a side dish.
Some delicious items to try:
Bunkhouse Burger: What a combination! A burger topped with bacon, grilled onions, mushrooms, your choice of two kinds of cheese, and a slice of smoked brisket.
Bull Mountain Steak Salad: Montana renegade sirloin seasoned with Prairie Dust then charbroiled just the way you like it. Served over mixed greens and fresh vegetables with your choice of dressing.
The dinner menu includes pasta, steak, chicken, pork, fish, burgers, and salads. Entrees are served with a choice of two sides and a homemade dinner roll. Some items you might want to consider:
King Salmon: Fresh King Salmon brushed with olive oil and fresh herbs, grilled and finished with Signature Bull Mountain Huckleberry Butter.
Trailhead Ribeye: Hand-cut daily and exceptionally tender and juicy. Ribeye steaks are available in five sizes including the "78-ounce Steak Challenge"!
Loaded Mac & Cheese: Penne pasta tossed in their rich cheese sauce, then loaded with chopped bacon bits, diced green onions, and shredded cheddar cheese.
Brunch items include:
Belgian Waffles with Bacon: Three mini Belgian style waffles served with 4 slices of bacon with butter and syrup. Strawberries, pineapple or huckleberry can be added to the waffles.
Chicken and Waffles: Three mini Belgian style waffles served with breaded deep-fried chicken bites and butter and syrup.
They serve huckleberry lemonade and tea. If you are not from Montana, this might be a totally unique thrill for your taste buds!
A good selection of microbrew craft beers is also available.
Bull Mountain Grille is known for using high quality, local Montana sourced steaks, fresh ingredients and creating distinctive recipes.
Thoughts:  While visiting the Big Sky state, we wanted an authentic Montana steak.  We asked several locals where to go for a good steak dinner, they all said Bull Mountain Grill.  One of them told us, "The Bull is hands-down the best steakhouse in Billings! They make so much of their food from scratch, use fresh ingredients and the steaks are delicious and all their dressings are homemade."
With a recommendation like that from multiple people who live in the area, we decided to give it a try.
The Bull Mountain Grill is located in a strip mall. But don't let that fool you, this restaurant knows how to serve up tender, juicy, succulent steaks that melt in your mouth.
When you enter the restaurant, you immediately notice the western décor. The restaurant ambiance is appropriate for Montana with wagon wheels in the entryway and western handcrafted throws draped over fence posts. Rustic wood accentuates the décor. The flooring is also multicolored wood. Cowboy and ranching photos adorn the walls along with various hides. Each booth is enclosed in a wood fence type area that resembles a stall in a barn. Beverages are served in Ball pint jars. You get that true Montana feel.
[amalinkspro type="showcase" asin="B00GYB4A8C" associate-id="theyums-20″ new-window="1″ addtocart="0″ nofollow="1″ sc-id="4″ imgs="LargeImage" link-imgs="false" stack-imgs="false" specs="" btn-color="#ff9900″ btn-text="View on Amazon" alignment="aligncenter" hide-prime="0″ hide-image="0″ hide-reviews="1″ hide-price="0″]Ball Regular Mouth Drinking Mason Jar,16 Oz,6 pack[/amalinkspro]
Several American flags are displayed in the restaurant. Near the entryway is a table set for one with an empty chair and a framed 8 x 10 poster of an empty pair of army boots with a small flag and the saying "Home of the free, because of the brave" A single red rose in a vase is also on the table. A red, white and blue ornament is on the plate.
I ordered the Renegade Sirloin. It was a juicy choice sirloin seasoned with prairie dust and grilled to savory perfection with a delectable red wine sauce glazed across the top. The meal included a baked potato, fresh dinner salad with tangy huckleberry vinaigrette dressing, and a roll.
My dining partner ordered the sirloin with sautéed mushrooms and onions on his steak. It was loaded with tender mushrooms and served with wild rice pilaf and sautéed mixed vegetables.
The steak was deliciously awesome. The portions were generous and the service was phenomenal! Our waitress was friendly and offered tips for the next leg of our trip. It is easy to understand why Bull Mountain Grill was voted the best steakhouse in Billings.
Additional Note: They also offer catering.
Price Range:  Steaks range from $26.99–49.99, Pasta $9.99–13.99, Burgers $11.99–15.99, Other dinner entrees $15.99-22.99, Beers include domestic and crafts $3.75-5.50, Wine and Wine Cocktails $3.50–8.00.
For Pinterest: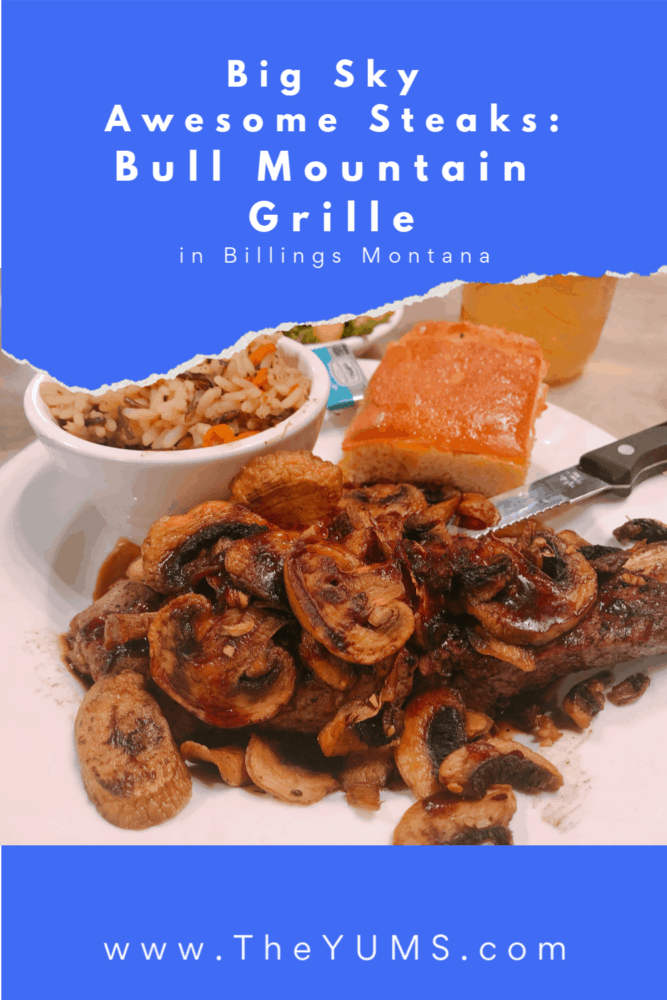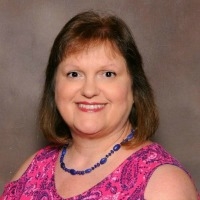 Latest posts by Robin Smith
(see all)