Step inside the Mexican soul food restaurant, Barrio Queen, in Scottsdale, Arizona and you'll discover a funky downtown vibe, authentic margaritas, and delicious regional fare. Day of the Dead inspired decor greets you with bright colors splashed across the interior and sugar skull artwork tucked here and there. Outside on the patio it's a lively vibe, with cafe lights strung overhead and the warm Arizona breeze gently blowing, while Scottsdale's visitors saunter past on their way to nearby art galleries and shops.
The food itself is inspired by Mexican family recipes and traditional regional cuisine with an Arizona twist. Barrio Queen is also known for extensive tequila list and tasting flights. They're usually busy, so come early or be prepared for a bit of a wait as seating is first come, first served.
Location: Barrio Queen is in Old Town Scottsdale at 7114 East Stetson Drive Suite 105 Scottsdale, Arizona.
There are additional locations in Gilbert, Arizona at 388 N. Gilbert Road, Gilbert, and in north Phoenix at the Desert Ridge Marketplace on 21001 N Tatum Blvd, Phoenix.
Menu: Barrio Queen offers a range of Mexican dishes including appetizers such as their nationally renowned tableside guacamole and traditional soups like their green chili and hominy pozole.
There's an entire menu page of various taco options which are 3 for $12 and include chicken, pork, beef, seafood, and vegetarian choices. There's also a good selection of traditional, well known Mexican dishes like burritos, enchiladas and tortas, as well as specialty entrees from various regions of Mexico like the cochinita pibil, Sonoran style carne asada, and chiles en nogada (a vegetarian dish of roasted peppers filled with a fruit, nut, and raisin mixture, and drenched in a creamy almond sauce). They also have a dessert menu with tasty options such as churros, flan, and tres leches cake.
For beverages, they offer house made margaritas and cocktails, beer, sangria, and tequila flights from their extensive tequila list. On the non-alcoholic side, there's traditional aguas frescas and horchata along with the typical American soda, iced tea, water options.
Thoughts: Barrio Queen is one of my favorite places to take visitors, so I've eaten here quite a bit and had a chance to try a variety of their dishes. The pork green chile here is incredible and served in a variety of ways. If you're looking for a soup, try the pozole verde. This soup takes pork chili verde and hominy (corn) and adds cabbage, red onion and radishes for a filling and flavorful starter.
Also, make sure to order the guacamole! It's prepared tableside and the spiciness can be adjusted to your heat tolerance. It's fun to watch them prepare it with fresh ingredients – the server mashes the avocados in front of you and mixes it with onions, lime, cilantro, then tops it with pomegranate seeds. It might not be typical, but don't skip the pomegranate seeds! The sweet and tangy seeds give that perfect extra kick of flavor to the creamy, zesty guac.
No matter how many time I branch out, I always go back to the Arizona Burrito. This burrito is filled with slow cooked, mild green chili pork and topped onions, cilantro, and a fresh green tomatillo salsa, then drizzled with a crema fresca. While not overly spicy, it does have a bit of heat from the chiles. I have a very low spicy tolerance and I don't have any issue with it. If you like spicy food, you won't be able to taste the heat at all, but there are plenty of other spicy options on the menu for you to choose. The burritos are also about as big as your head, so I'd recommend splitting it or taking some of it home with you for leftovers. I can confirm it's great heated up for lunch the next day!
Another of our favorite ways to try a variety of their specialties is to order a mix of tacos. A few of my favorites are the Pollo Deshbrado – pulled chicken with a mild pico de gallo salsa and cheese, the Carne Asada – beef marinated in orange and garlic and topped with avocado, onions, and a bit of cilantro, and the Al Pastor – pork marinated in spices and topped with juicy pineapple and onions.
If you have room after all that feasting, try one of their decadent desserts. While I'm partial to churros (especially when it involves a chocolate dipping sauce like they serve here) my dining companions sang the praises of the creamy tres leches cake – vanilla cake topped with berries, whipped cream, and pecans.
If you're looking for a funky, upscale Mexican restaurant with delicious entrees and a fun atmosphere, definitely check out any of Barrio Queen's Arizona locations.
Price Range: $4.50-$24. Happy Hour Monday-Friday offers reduced prices on appetizers, beer, house wine, and margaritas.
For Pinterest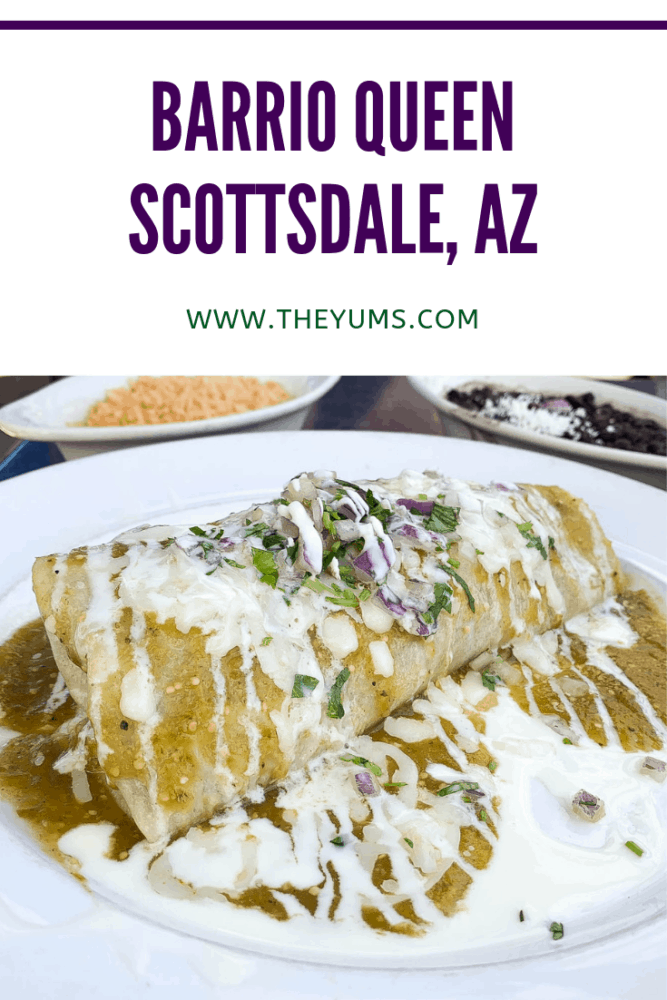 Guest Reviewer Bio: Sarah Cribari is a freelance food, wine, and travel writer based in Arizona. She loves hitting the road and looking for the best culinary adventures, wine regions, and off the beaten path experiences to share with others. Follow her adventures on her blog, farbluemountains.com.

Latest posts by Guest Contributor
(see all)