What could be better than being in Paradise? Devouring the Prime Rib at the Harwood House at Quinn's Hot Springs after a day of relaxation spent hot springs soaking (or river rafting or fishing)! The meals here provide a perfect complement to a self-indulgent day.
Location: Quinn's Hot Springs Resort, 190 Hwy 135, Paradise, Montana
Menu: Breakfast, Lunch or Dinner and the Sunday Brunch incorporate locally-sourced, organic produce, eggs, fresh seafood, and local meat. Weekend Dinner Specials change with the seasons.
At breakfast, Applewood smoked bacon and free-range eggs bring gourmet tastes to the omelets, burritos, and even a signature Corned Beef and Hash. Lighter fare is also available.
At lunch, Angus or Buffalo Burgers, salads, appetizers and a wide array of sandwiches, including choices like grilled prime rib melt, will fill you up.
For dinner, start with small bites, such as smoked trout or fried Brussel sprouts. Interesting salad combinations can be a side or a meal. Whether you want some Montana raised beef, fresh seafood or fish, or pasta, a creatively prepared entree awaits you.
The wine list is extensive giving you the opportunity to pair the perfect wine with your dinner selection. The Harwood House was recognized by Wine Spectator magazine with a 2019 Award of Excellence for it's wine selections.
Thoughts: Located beside the Clark Fork River, the rich and colorful history of Quinn's Hot Springs Resort dates back to the 1880s and the Harwood House's roots back to 1949. Over the years, the Harwood House has brought fine dining to Paradise and surrounding towns and has gone through economic ups and downs. These days, it is often a delightful surprise to folks that have come just for the hot springs.
There is plenty of seating in the main dining area and then a dozen or so tables on a glassed porch with a view to watch the hummingbirds and enjoy the abundant hanging flowers. It's a relaxed, country atmosphere allowing your leisurely enjoyment. Take your time with a nice glass of wine and several courses and then, of course, dessert and maybe an aperitif. Harwood House has gained a reputation that brings diners from many miles away to enjoy great food in a friendly, comfortable setting.
We've been here several times and it never disappoints. My husband was set on having their slow-roasted 16-18 oz Prime Rib (for about the 4th time!). Its crust was generously seasoned and the meat was tender, enhanced by the au jus and some fresh horseradish. Mashed potatoes and fresh spring asparagus gave him the comfort-food meat and potatoes he was craving.
My duck breast came medium rare and was presented on and topped with tart Cherry Sweet and Sour Sauce. Accompanied with Stir-Fried Asparagus and Sweet Peas, Toasted Cashew Crumb, Honey Mushroom Grits Cakes, King Trumpet Crisps, it was pretty, tasty and unusual.
The dessert tray held a variety of tempting sweets, from Créme Brûlée to Molten Chocolate Cake. A delicious way to end the meal.
If you stay here, you must eat here. Or, it is worth the travel.
It's a good idea to make dinner reservations, especially on the busy weekends.
Price Range: Breakfast entrees are $9-$16. Lunches range from $9-$18. Dinner meals including veggies on the side will cost $24-$40. If you've brought the family, there are children's favorites at $6-$9. 
For Pinterest: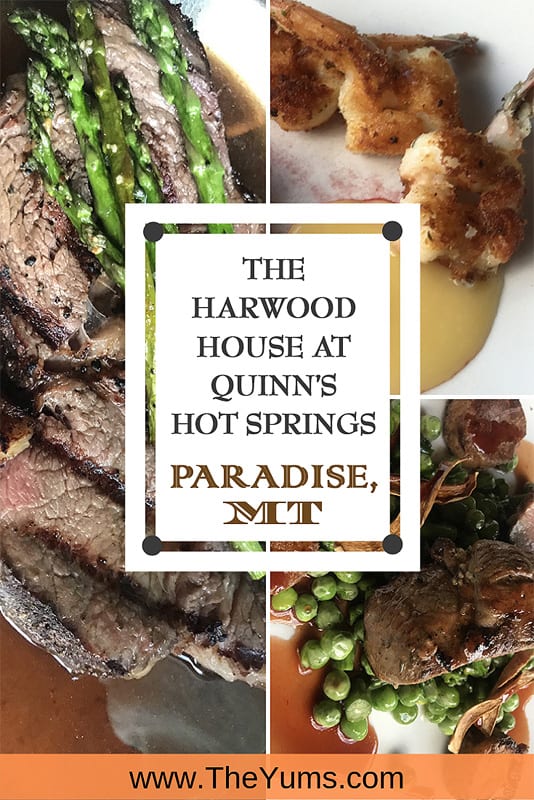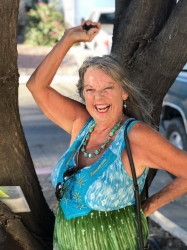 Latest posts by Joeann Fossland
(see all)