Seasonal, indigenous foods to New Mexico's Rio Grande River Valley are the mainstay at CAMPO. On the Los Poblanos Historic Inn and Organic Farm, CAMPO is surrounded by acres of lavender fields. The atmosphere is casual fine-dining. That may sound like an oxymoron but it is not the least bit stuffy. This gourmet restaurant brings you delicious farm to fork dining.
Location: 4803 Rio Grande Blvd NW, Los Ranchos De Albuquerque, New Mexico
Menu: CAMPO's chef, Jonathan Perno, is a five-time James Beard nominee. He and his team bring a creative bent to the regional foods of New Mexico. Many of the recipes are family recipes that go back generations and have been refined and updated. Menus change depending on the season and what's growing in the gardens. Daily specials take advantage of the fresh produce and change with the seasons.
Breakfasts of old farm favorites or dishes that meld unexpected ingredients offer something for every palate.
Classics you'd expect, such as French toast, Eggs Benedict or a Farm Breakfast take on a southwest twist with chile or cracked potatoes. Most egg dishes are complemented with freshly baked toast and a choice of meat-sausage, ham steak or bacon. Breakfasts of smoked brisket and eggs or cochinita pibil tacos with an egg made for a hard choice.
Plenty of sides allow you to customize your breakfast—from yogurt to chile to freshly baked delights.
Dinner is served Wednesday-Sunday by reservation
Starters include soup, salad, and small plates. A combination of these could easily make up an entire dinner. The Los Poblanos Charcuterie Board is a worthy start.
The main courses are signature recipes based around Lamb, Beef, Pork or Chicken, each prepared with spices, sauces, and local vegetables.
Several Vegetarian and gluten-free choices are available.
Thoughts: You feel as if you've entered a magical paradise as you drive into the 25-acre farm through a tunnel of tall cottonwood trees. Peacocks and llamas may be wandering through. Surrounding the Inn and the restaurant, CAMPO, are two full acres of lavender fields. A greenhouse, beehives and organic gardens provide the kitchen with truly fresh produce year-round.
Before you walk into CAMPO, the trickling sound of running water from the fountain sets a relaxing tone. You enter into a room with a long bar, set with barstools and surrounded by half a dozen gathering spots with couches and chairs. A wall of wine selections shows there is no shortage of choices. You can order food and eat here if you like.
The main dining room has tile floors and lofty ceilings with vegas and ocotillos ribs. The busy kitchen is open. The noise level in this room is quite high when the room is full, given all the hard surfaces. Six booths line one wall and three rows of two and four-top tables fill the rest of the room. Large parties are easily accommodated by rearranging the tables. The night we visited, a birthday party was being celebrated by a large group. Weddings are held here frequently, so make sure to make a reservation.
Within the kitchen, there is a bar with 8 chairs at the center of the action. Off to the side, there is a smaller, quieter dining room. If the weather is good, the patio, overlooking the lavender fields, is a quiet, enjoyable place to eat.
CAMPO has an extensive cocktail and wine list. It includes many specialty cocktails and a large selection of New Mexico wine. Don't miss the special CAMPO Margarita made with Milagro Blanco Tequila, Naranjo and lavender served with a salt and sugar rim on half the glass.
A friend joined my husband and me. She walks with a cane and they thoughtfully sat us near the door, so it was easy to maneuver. We were surprised with a fun taste to start: a yummy spoon with an apple ball on top of the chef's signature butter caramel. It felt like having dessert first and was a tantalizing way to begin. We could tell this wasn't going to be an ordinary meal.
Our waiter, James, boasted that everything, down to the butter used was sourced locally from the Los Poblanos gardens, other local organic farms, and ranches.
They are proud of the certified organic grass-fed lamb they serve, produced by the Manzanares family ranch in the mountains of Northern New Mexico. The distinctive delicate taste of this lamb is attributable to their diet of lush native grasses (wheatgrass, grama, and fescues) and shrubs such as mountain mahogany and snowberry. You won't find this lamb anywhere else.
We were hungry and took the edge off by starting with bread and their Charcuterie Board.
The basket of fresh-baked bread included a jalapeño cheese sourdough and a red chile manteca. The Charcuterie Board included pate, smoked trout, carrots, radishes with homemade accompaniments.
After describing the specials and explaining some of the ingredients we weren't familiar with, James offered that selections could be split or even plated "tapas-style" for an opportunity to share and have multiple tastes.
My husband wanted the Shepard's Lamb Mole Rojo all to himself. A half rack of beautifully cooked medium rare lamb was sliced and covered with a spicy brown sauce. A large lamb-neck cornmeal tamale was also smothered with sauce. Fresh squash, mushrooms, and onions added a healthy component to the meal. I convinced him to share a couple of bites. The lamb was truly wonderful.
My friend and I split the Seafood Chowder and Lamb Pappardelle. The Seafood Chowder was an interesting, spicy blend of clams, fish roe, green chile, potatoes, and sweet corn. The spiciness wasn't overpowering and set this chowder apart from anything I have ever had.
The Lamb Pappardelle was served in a bowl with wide noodles, chunks of lamb, smothered in a fruity sauce with apricots and mint. It was a nice compliment to the chowder.
We shared a lemon pistachio dessert. Visually similar to a key lime pie, this dessert had a crust of ground pistachios with a tart lemon custard filling. Beside it was a beautiful bright purple sorbet on a bed of more ground pistachios, topped with whipped cream.
Price Range: Traditional Breakfast plates start at $11. The "from the fire" special breakfasts cost up to $15. Sides were reasonably priced. Dinner Starters ranged from $10-18. Mains from $22-43.
A chef special and bar menu are available on nights when the dining room isn't serving, with selections ranging from $5-18.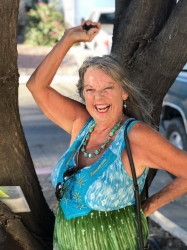 Latest posts by Joeann Fossland
(see all)