Serving locally sourced, made from scratch items that not only look delectable but taste scrumptious.  Farmers & Distillers take the farm-to-table concept to a new level.
"We are inspired by our farmer-owners, making everything we can from scratch, from our bread and butter to our booze."

Farmers & Distillers
Location:  600 Massachusetts Ave NW, Washington, DC
Menu: Serving breakfast, lunch, and dinner as well as their famous "First Bakes." The bakery items can be smelled several blocks away. The donuts are to die for.
The minute you walk in the door, you can follow your nose to the delicious fresh donuts served throughout the day.
Farmers & Distillers collaborate with and buy the majority of their beef from a family-owned company working directly with Pennsylvania cattle farmers. Their pork is from Leidy's in Souderton, Pennsylvania. Seafood is wild-caught or sustainably farmed. All pasta is handmade from scratch every day in their kitchen. 
At lunch, they serve a variety of sandwiches and unique burgers, such as Mark's Juicy Lucy that comes stuffed with fresh house-made American cheese, lettuce, tomato, shredded onion, relish, and burger sauce on the sandwich.
Another unusual burger is the Impossible Burger, made entirely from plants for people who love meat. It is topped with lettuce, tomato, red onion, bread & butter pickles, and burger sauce.
All salads come in two sizes, the small side salad or the entrée salad.
Homemade bread made on-site is ordered separately The selections include a rustic loaf of boule, skillet cornbread with house-churned honey butter and parmesan garlic knots with a roasted tomato-basil chutney and whipped ricotta.
Some of their interesting starters on the dinner menu made me snicker:
Whirley Pop Kettle Corn
Fried Green Tomatoes served with a goat cheese herb spread
Glazed Bacon Lollis
Most entrees (unless otherwise specified) are served with a choice of their special baked potatoes: classic loaded, pimento cheese, or sour cream & onion. Or select two sides and the choices are sweet potato confit, mashed potatoes, heirloom roasted carrots, and sautéed green vegetables.
Historical & Neighborhood Favorites include:
Southern Fried Chicken & Donut served with mac & cheese, green beans, white cream gravy, and a maple glazed donut.
Beer Can Roasted Chicken surrounded by sautéed green vegetables and served with a root vegetable succotash.
Chicken Pot Pie served with potatoes, carrots, and peas with a puff pastry top.
Steak House entrees include:
48-Hour Salt-Cured Prime Rib with au jus, horseradish, a classic loaded baked potato, and sautéed green vegetables.
Mustard Seed-Crusted Filet Mignon
The menu also includes a large variety of premium seafood and their signature handmade pasta.
The evening special was Lobster Tail and Ravioli prepared with roasted tomatoes in a creamy sauce.
Ice cream, donuts, cheesecake, sundaes, cakes, and pies complete the dessert menu.
Thoughts: You have to try one of their donuts! I recommend the maple glazed.
Situated in the heart of Mt Vernon Square, Farmers & Distillers is within walking distance to many of DC's historic landmarks, including the U.S. Capitol, the National Mall, and the White House.
Inspired by President and Martha Washington, their goal is to transform the American dining experience and take us back to our roots: family farms and natural products. Items are made from scratch whenever possible, including their beverages.
They make all decisions for Farmers & Distillers, including furniture and uniforms by asking, "What would our founding father, George do?"
Most know George Washington as America's first president and highly respected general, he was also an acclaimed farmer, distiller, and entrepreneur ahead of his time. This restaurant honors him and his ideals.
[amalinkspro type="showcase" asin="1732687900″ associate-id="theyums-20″ new-window="1″ addtocart="0″ nofollow="1″ sc-id="4″ imgs="LargeImage" link-imgs="false" stack-imgs="false" specs="" btn-color="#ff9900″ btn-text="View on Amazon" alignment="aligncenter" hide-prime="0″ hide-image="0″ hide-reviews="1″ hide-price="1″]George Washington Dealmaker-In-Chief: The Story of How The Father of Our Country Unleashed The Entrepreneurial Spirit in America[/amalinkspro]
When we entered Farmers & Distillers there was a line waiting for dinner. The delicious smells reminded me of my grandmother's kitchen on baking day.
A family restaurant, it is simply decorated with historical items against the rustic dark wood. As we were escorted to our table for two we passed the warm donuts on display. They looked even more tantalizing than they smelled.
I ordered the Glazed Cedar Plank Salmon. It was served with a baked potato and seasoned broccoli.
My dining partner ordered the Yankee Pot Roast with buttery mashed potatoes and sautéed green beans. We shared a breadbasket of warm crusty rolls.
Our meals arrived on pewter plates with colonial silverware. Both meals were steaming hot and cooked to perfection.
For dessert, we shared a Caramel Apple Pie that consisted of a flaky pastry crust, sliced apple filling topped with a crumbly brown sugar and cinnamon topping. A caramel sauce was drizzled over it with a dip of house-churned vanilla bean ice cream to cap it off.
We also bagged a few of their special maple glazed donuts to go.
Donuts can be purchased individually, and by the dozen. Many customers come in just to purchase the donuts to go.
If you visit DC, seek out this restaurant and enjoy it for yourself. You won't be disappointed. Don't forget the donuts!
Additional note: Farmers & Distillers is a certified green restaurant and participating in Our Last Straw (a coalition in the DC region with a mission to eliminate single-use plastic straws.) They have switched to biodegradable paper straws.
Price range: Starter, soup and salad range from $6.50 –15.50. Burgers and sandwiches run $11.50–19.50. Entrees are $13.50–49.50. The bread is $7.50. Desserts are $1.00 for a single donut to $9.50 for pie with ice cream on top.
For Pinterest: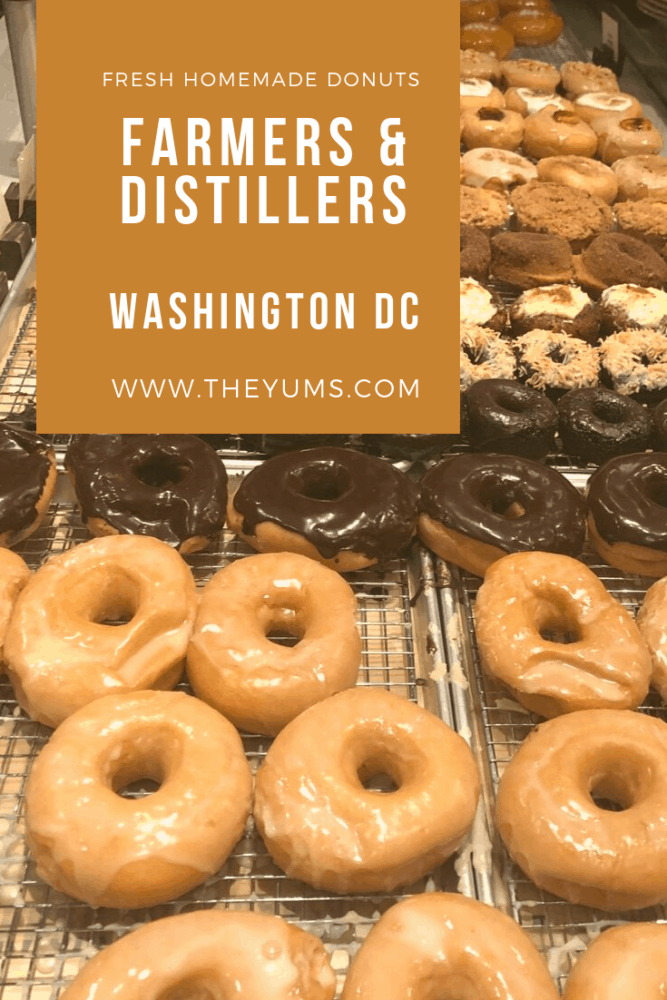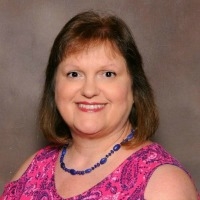 Latest posts by Robin Smith
(see all)