Imagine, a sip of crisp, citrusy wine alongside a bite of smoky, peppery dip while watching everyone else dodge the rain on their way home for the evening. On a brisk, cold night in the Windy City, Fisk & Co's warm and welcoming atmosphere is a delight for the senses. Ask for a window seat and enjoy watching the flow of pedestrians go by. If it's early in the evening, step up to the raw bar and enjoy fresh seafood and interesting drinks before indulging in a 5-star dinner. What a terrific start to an evening in Chicago.
The casual yet elegant Belgium vibe of Fisk & Co. meshes perfectly with a menu that highlights mussels and frites as well as other traditional bistro delights. With booths you can sink into and comfortable chairs decorated in soft colors, relaxing at Fisk & Co. is a given. The servers are attentive and ready to help create a memorable dinner without being overbearing.
Location: Fisk & Co. is found in downtown Chicago at 225 N. Wabash just a few blocks from the Magnificent Mile in the Riverfront area. It's situated on a busy corner lot within walking distance of several theaters and shops. Although Fisk & Co. is attached to the Kimpton Hotel Monaco, it's not your typical hotel restaurant. With creative comfort food and a chef-driven menu, it's the perfect spot to enjoy a decadent dinner before or after a show, or sample fresh seafood during Happy Hour.
Menu: Although known for their mussels and frites, Fisk & Co. also has a nice variety of traditional Belgium Bistro fare such as steak and frites, salmon, scallops and an impressive raw bar. Fisk & Co. has a full bar, interesting cocktails, an extensive beer and wine list (with many local craft varieties on tap) and indulgent desserts.
Thoughts: In a city full of amazing restaurants, the comforting atmosphere and mouth-watering food make Fisk & Co. a standout. Especially when seafood or upscale bistro cuisine is what you are craving.
Some of my favorite dishes are:
Steak and frites with green goddess dipping sauce. A New York strip prepared exactly to your liking with a crisp flavorful finish and tender meat is served alongside crave-worthy frites. Add a dipping sauce (I loved the green goddess although Fisk & Co. has a variety of options) and you'll be licking your plate clean.

Smoked Trout Rillettes. Although an appetizer, the size of this dish is perfect for a smaller appetite (or someone who's been slurping down $1 oysters at Happy Hour). The trout is perfectly seasoned and served alongside homemade chips and greens. Be sure to include all three items in each bite and the flavor will explode on your tongue.

City Market. A refreshing mocktail made with raspberry, lemon, mint and topo chico. If you have kids dining with you, this is a fun alternative for them versus soda.
Price Range: Fisk & Co. is not inexpensive, but for the atmosphere, location and quality of food, it is perfectly reasonable. Mussels are $20 with your choice of sauce and frites can be added for an additional $7. Entrees range from $17-36 while appetizers are anywhere from $7-16. Breakfast and lunch entrees start at $10 and can go all the way up to $26 for a lobster roll. A couple can easily enjoy dinner including drinks and tip for $150.
Guest Review Bio: Pam Howard writes at Be Healthy Be Happy Wellness. where she shares her everyday adventures and travels.  Her goal is to encourage her readers to find adventure everywhere and enjoy each day to the fullest.  With a full-time corporate job and two growing kids, she's found ways to still create an adventurous life and hopes to encourage you to do the same.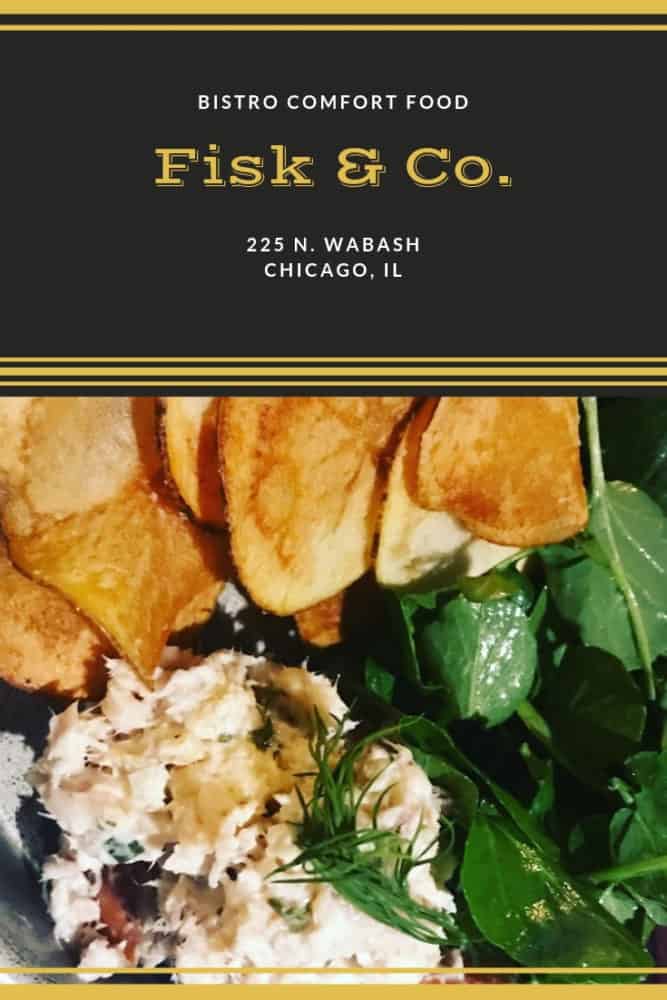 Latest posts by Guest Contributor
(see all)