Tucked away on southern Montana ranch lands, surrounded by the Absaroka Mountains, in a little town named Pray, is the historic Chico Hot Springs Resort. Charm, history, and views abound. Unexpectedly, amid the terry cloth robed clientele who are either staying at the lodging or dropping in for the day, The Dining Room has gained a reputation for some of the best fine dining in this part of Montana.
Location: 163 Chico Road, Pray, Montana. Just 35 miles north of Yellowstone, 30 minutes from Livingston or an hour from the eclectic Montana town of Bozeman.
Menu: A standard American Breakfast Buffet and Breakfast menu are available Monday through Saturday. On Sundays, you can enjoy a lavish brunch.
The real treat is dinner – dining with a western flair begins at 5 pm.
Prepared under the direction and creativity of Executive Chef Dave Wells, a semi-finalist for the 2019 James Beard Awards, Best Chef Northwest region, the selections range from fresh caught trout from streams nearby, beef and lamb from local Montana ranches and even duck. Behind the main Lodge, greenhouses and extensive gardens provide garden to table freshness.
Of course, a menu like this deserves the best libations to accompany it. The Dining Room boasts one of the region's finest wine lists in Montana and has been recognized by Wine Spectator magazine.
Thoughts: In 1900 when Chico Hot Springs and Spa originally opened, the first proprietors learned folks will travel far for a good soak and a fine meal. Through the years, the property has had many iterations, including being a boarding house for gold diggers, a hospital, and sanatorium. Today, the Davis family is continually improving and adding to the lodgings. I have my eye on one of the Conestoga Wagons to stay in for our next visit.
The highlight of each stay has been the decadently yummy food served in The Dining Room. Their reputation continues to grow and it isn't unusual to see a movie star or locals celebrating a birthday or anniversary, regardless of the 30-60 minute drive from surrounding towns.
For our most recent stay, we enjoyed three days with two gourmet dinners. We tend to eat early but were glad to have made reservations because, by the time we were seated, the dining room was fully booked. An attentive waiter came by the table almost immediately. Throughout the meal, there were several different waitstaff that checked in with us to make sure we had everything we needed, graciously bringing extra bread and refilling our wine glasses as needed.
We enjoyed a glass of good Shiraz as we struggled with the choices for dinner. So many tempting options! Seeing the delectable meals being served at tables nearby didn't make it easier. We briefly considered the classic Chico Beef Wellington (for two) which sounded delicious, but we made separate choices.
I choose the Gorgonzola Filet Mignon. My husband, Bub, chose the Chico Prime Rib. Both were accompanied by house-baked bread and seasonal vegetables from the garden out back. My Angus beef filet was melt in your mouth tender and flavorful, spiced with a run of toasted fennel, sea salt, pepper, and coriander. It was beautifully presented on a port reduction to add even more luscious flavor and topped generously with chunks of Gorgonzola.
The gratin potatoes that accompanied it included both Gruyère and Gorganzola cheeses for a comfort food extraordinaire. This was so good, the second night we were there I decided to forgo the other temptations and enjoy this again. And, I wasn't sorry!
Bub started with a Wedge Salad, loaded with blue cheese. He tends to be very picky about his prime rib but was delighted here. He devoured the Chico Prime Rib, a large, medium-rare slice that had been slow roasted and crusted with herbs. The fresh caramelized onion horseradish sauce added the right degree of pungency. Herbed mashed potatoes complemented the beef for an all American dinner.
The second night, Bub enjoyed their nightly special, a Fresh Halibut, seared, dusted in Panko crumbs and topped with a mango salsa.
Their seafood and fish are flown in daily guarantee freshness. Bub commented,"It was the best I have ever had "inland."
Desserts! Ah, leave room for some amazing selections. They change daily. The signature dessert is the Flaming Orange: A hollowed-out, pulpy sweet goo-filled flambé of chocolate and citrus and four kinds of liquor. Created in 1974 by chef Larry Edwards, the filling and meringue topping require oranges, bittersweet chocolate, vanilla ice cream, Grand Marnier, vodka, sour cream, egg whites, sugar, and rum. Light a match and enjoy.
If you come for dinner, without being a resort guest, you can still enjoy the Hot Springs, before or after for a totally indulgent experience.
Price Range: The daily Breakfast Buffet is $12 and the fabulous Sunday Brunch is $20
The dinner menu features Starters from $12-$15 and Salads from $9-13. Entrees, which include a nightly vegetarian special, seafood special and chef's special, range from $29-$38. The Beef Wellington for two is $70. Desserts are $7.50-$8.50
Note: "Pistachio Crusted Lamb" pictured here is in the new cookbook, The Western Kitchen: Seasonal Recipes from Montana's Chico Hot Springs Resort, published last September. You can learn more about the book here.
Photo Credit: Lynn Donaldson, used with permission.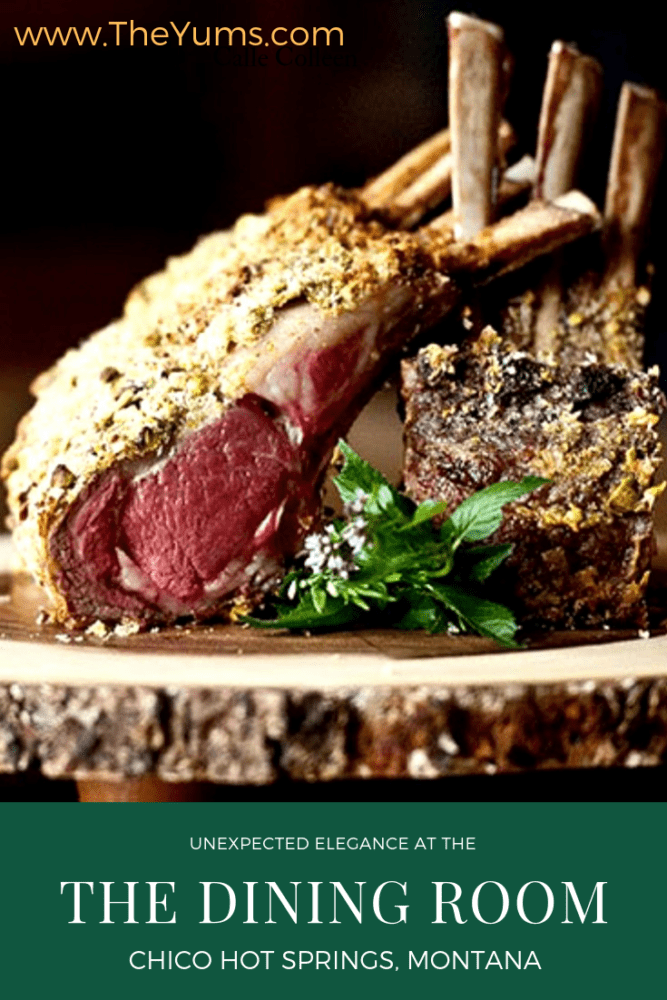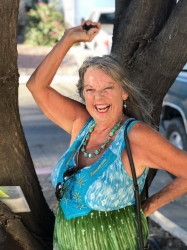 Latest posts by Joeann Fossland
(see all)