When you leave La Fiesta you will be saying, "Barriga llena, corazón content" which means "Full stomach, happy heart."  The food is absolutely delicious and the portions are huge! 
The atmosphere and music make you feel like you are at a Mexican fiesta and you can't help but feel jubilant. Seniors and senoritas alike will enjoy this restaurant! Grab your sombreros for tasty Mexican food and a fun time!
Location:  Located at 310 Airport Drive, Martinsburg, Pennsylvania.  La Fiesta is inside the airport on the 2nd floor.
Menu: Offering authentic Mexican cuisine La Fiesta features classic dishes such as Quesadillas, Enchiladas, Burritos, and Fajitas. A large variety of Seafood, Steak, Chicken, Combination Dinners, Appetizers, Salads, Specialties, and Children's Plates are available. There is also a Lunch Only menu.
A few menu items to try:
Vegetarian Spinach Quesadilla that includes a grilled flour tortilla stuffed with cheese, spinach, and beans, served with rice, lettuce, guacamole, sour cream, and tomatoes.
Carnitasi created with pork cooked golden brown and delicately seasoned with special spices served with rice, beans, and tortillas, Pico de Gallo and tomatillo sauce on the side.
The Quesadilla Deluxe includes a flour tortilla grilled and stuffed with cheese and a choice of cooked chicken or shredded beef.
Fiesta Plato is a fried beef or chicken chimichanga, one cheese quesadilla and two taquitos, one beef and one chicken, served with lettuce, sour cream, guacamole, and tomatoes.
Seafood entrees include Shrimp, Tilapias, Fish Tacos and more.
Chile Colorado, Steak Ranchero, Steak Americano, Steak Mexicano and Carne Asada are highlights of the steak menu.
[amalinkspro type="showcase" asin="0399582495″ associate-id="yuhustewarde-20″ new-window="1″ addtocart="0″ nofollow="1″ sc-id="4″ imgs="LargeImage" link-imgs="false" stack-imgs="false" specs="" btn-color="#ff9900″ btn-text="View on Amazon" alignment="aligncenter" hide-prime="0″ hide-image="0″ hide-reviews="1″ hide-price="0″]The Essential Mexican Instant Pot Cookbook: Authentic Flavors and Modern Recipes for Your Electric Pressure Cooker[/amalinkspro]
Several specials and smaller versions of several regular menu items are part of the Lunch Only menu.
They have a delectable dessert menu including churros, cheesecake, sopapilla, and more.
Thoughts: A hidden gem in the cove, La Fiesta is new at this location. Other eateries have been located in the space in the past. I heard many positive comments from locals about the luscious food at this restaurant and was curious to try it for myself.
Soft mariachi music and the aroma of savory Mexican food fills your senses as you walk towards the La Fiesta restaurant.
Music, a very important part of Mexican culture, is played throughout the restaurant. It added to the atmosphere along with Mexican photos and mariachi band cutouts greeting you when you enter.
We were a group of five visiting for dinner on a Monday evening. When we entered La Fiesta, we were greeted immediately by a host who seated us. There were only a few other diners in the restaurant. Shortly after our late afternoon arrival, the restaurant started to fill.
We were immediately served warm crisp tortilla chips served with fresh seasoned salsa. Our meals arrived swiftly.
I ordered the Fajitas Tropicales consisting of zesty grilled chicken, green peppers, pineapple, onions, and tomatoes served in a half pineapple with lettuce, refried beans, guacamole, and Pico De Gallo on the side and 3 soft flour tortilla shells. (Sour Cream and cheese are normally served with it too, but I ordered mine without.) It was absolutely wonderful. I was not able to eat everything and they provided a box for the remainder. It was enough for a second meal.
Another in our party ordered Mushroom Quesadilla. It included a flour tortilla grilled and stuffed with cheese, mushroom, and beans. It was served with rice, lettuce, guacamole, sour cream, and tomatoes.
Chicken Fajitas for Two and Shrimp Fajitas were the choices of others in our party. All fajitas come with the 3 tortilla shells and lettuce, refried beans, guacamole, Pico De Gallo, sour cream, and cheese on the side.
Portions were huge and the service was exemplary!
To say we were raving about the delicious food is an understatement.
Don't wait till Cinco de Mayo to try out this restaurant. With so many tantalizing dishes, you will want to return over and over to try them all. La Fiesta proves you don't have to go south of the border for great mouthwatering Mexican food!
Ole!
Additional Note: La Fiesta is currently non-alcoholic.
Price Range: Appetizers range between $3.50 – 12. Lunch only menu $5.25 – 9. Children's Plates – $5.50. Entrees $9.95 – 18.
For Pinterest: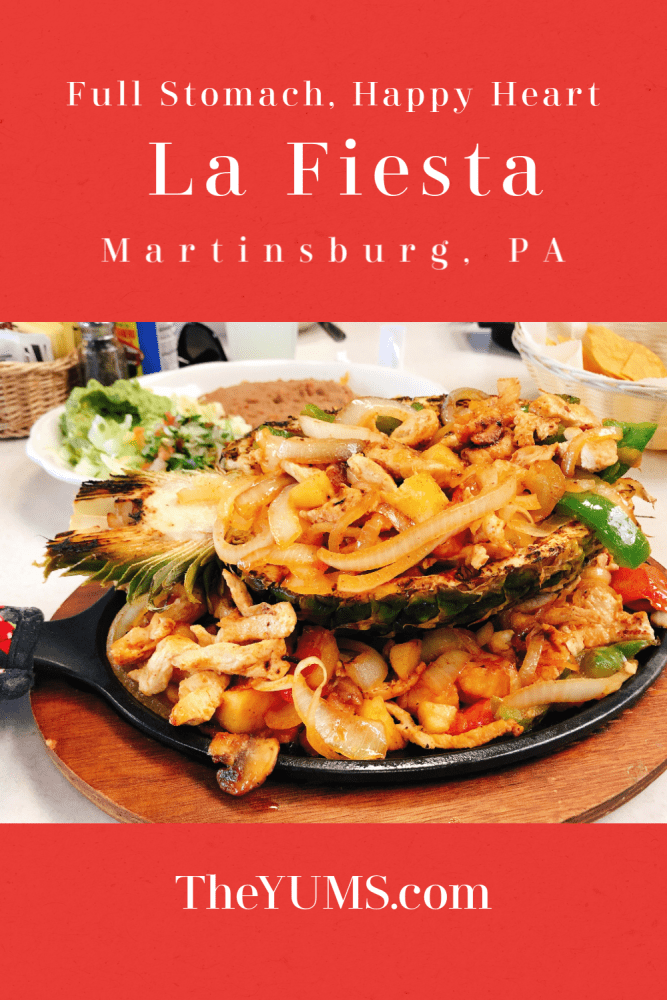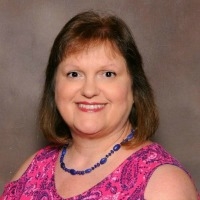 Latest posts by Robin Smith
(see all)