A trip along the Oregon Coast is not complete without a stop at Depoe Bay and eating at Gracie's Sea Hag restaurant right on the Pacific coast.  Gracie's serves seafood fresh from the ocean and other tasty treats.
Depoe Bay is famous for having the world's smallest navigable harbor and for whale-watching. Whales can often be seen right outside the door of Gracie's restaurant.
Location:  Depoe Bay is located on U.S. Route 101 next to the Pacific Ocean. Gracie's Sea Hag restaurant is near the harbor at 58 US-101, Depoe Bay, Oregon.
Menu: Gracie's Sea Hag has a delightful menu sure to please seafood and meat lovers. They serve breakfast, lunch, and dinner as well as snacks and cocktails. A children's menu is available.
Breakfast is traditional items such as pancakes, waffles, eggs, etc.   Lunch includes sandwiches and salads, traditional burgers, fish sandwiches, tuna melt, and the Sea Hag Shrimp Croissant along with many more choices. 
Entrees include steak, seafood pasta, Chicken Caribbean, fish and chip boats and so much more. Entrees come with a cup of their award-winning clam chowder.
Thoughts: Gracie's Sea Hag is an oceanfront seafood restaurant and bar with a maritime theme featuring live music in the evenings. For almost 60 years, people from around the world have been enjoying Gracie's seafood. Once you visit, you will understand why it has been around for generations.
As you walk along the boardwalk, Gracie's stands out with a Sea Hag statue outside the door inviting you in for some fun and merriment. Once you enter, you are transcended into an old sea boat.
It has a lively atmosphere even in the middle of the day. This is not the place to grab a quick lunch since it takes a while to review the menu and your cooked-to-order food to arrive. But it is worth the wait!
The restaurant also has a large salad bar if you want a quick meal.
I had the Crab & Shrimp Spinach Salad. I special ordered it without the crab. The salad contained shrimp on a bed of fresh spinach garnished with bacon crumbles, hard-boiled egg, blanched almonds & mandarin orange. The unique, warm sweet & sour dressing was served on the side. And let me tell you, it was to die for. I want to go back to Oregon, just to get this salad again.
My husband ordered clam chowder and steamed clams in the shell.   The clam chowder was a creamy treat, swimming with chunks of chopped ocean clams.  The two pounds of tender steamed northwest butter clams with natural nectar were served in a heaping–full bucket. 
Our waitress was attentive and checked on us often as we waited for our meal.
Gracie's Sea Hag is frequented by locals and visitors alike. It definitely is the place to visit for a meal in Depoe Bay, Oregon.
Be sure to plan some time for whale-watching after your meal!
Additional Note: Live entertainment is available in the evenings. Bar service is available.
Price Range: Breakfast prices from $5.95–12.95, Appetizers and salads $4.95–14.95, Sandwiches and entrees $6.95–28.95. Kid's Menu $4.95–7.95, and Desserts $5.95.
For Pinterest: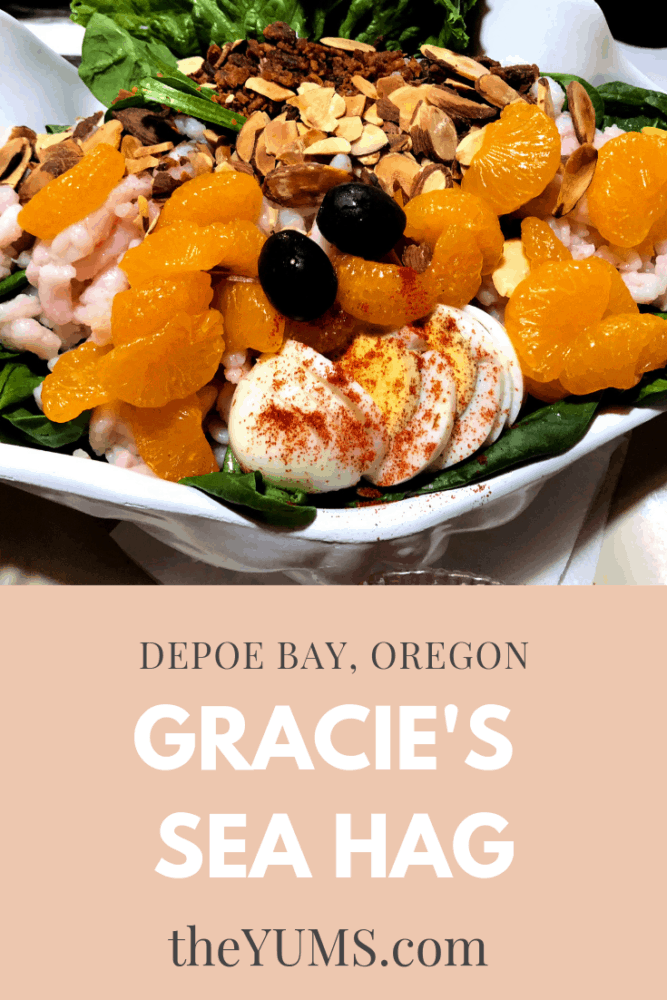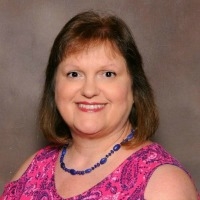 Latest posts by Robin Smith
(see all)