In As You Like It, Shakespeare writes, "I almost die for food, and let me have it!" He would like the LARKS Home Kitchen Cuisine. It is THE place to eat in Ashland, Oregon before catching a performance at the famous Oregon Shakespeare Festival. Or, really, just about anytime. The succulent and unexpected combinations are sure to rescue anyone's hunger from near death!
Location: 212 East Main Street, Ashland in the Ashland Springs Hotel.
Menu The LARKS serves lunch, dinner and weekend brunch. Seasonal dishes and daily specials take advantage of ingredients at the height of freshness supplied by local farms. Cooked from scratch, menus items offer tastily prepared standards as well as creatively prepared gourmet selections.
At lunch, have a half-pound Burger or a Herb Roasted Tawanda Farms Lamb Wrap. At dinner, enjoy comfort food, such Meatloaf or something more adventurous, such as the House Ricotta Gnocchi. The evening we were there, braised rabbit was part of the special menu! The Brunch menu expands on the lunch menu and brings in some breakfast options.
Local and seasonal ingredients extend to the drink menu. Creative specialty cocktails, some prohibition classics, and an extensive wine list complement the genius food selections. In addition, for teetotalers, there are many non-alcoholic delights available including Vanilla Bean or Lavender Dry Soda, Rose Lemonade, or Sparkling Pomegranate Juice.
Thoughts: As you walk into LARKS, there is a chalkboard proudly listing the purveyors, farms, ranches, orchards, and local sources that supply the fresh ingredients for their meals. With starters such as Buttermilk Fried Asparagus and an unusual use of ingredients like truffle oil, wild mushrooms, hazelnuts, pears, and marionberries, LARKS treats you to Oregon flavors and combinations you aren't likely to find anywhere else.
 The drink of the day was a Strawberry Mojito that sounded too refreshing not to order. It delivered on that promise. My husband ordered a Rogue Valley red wine from a list that includes many local wines. They offer 2 oz. tastings as well for those who would like to sample several different wines. For fun, you could have a flight of 6 wines with your meal. Or, you could come in and sit at the 1920's LARKS Bar and indulge without a meal.
We both started with the day's special soup: Coconut, Chicken, Peanut Curry Soup. A delightful, creamy soup full of flavors – the name says it all. My salad was a base of organic spinach with feta, blackberries, blueberries, toasted almonds topped with a honey-smoked jalapeño vinaigrette.
I ordered the catch of the day – a glazed halibut with potatoes and peas arranged in a creamy sauce with edible flowers and chunks of bacon rounding out the artistic presentation. It was as beautiful as it was distinctive.
My husband was delighted they had meatloaf on the menu. It is one of his favorites and not mine, so he never gets it a home! And, this wasn't just any meatloaf – it was glazed with a charred onion-mustard rub, giving it lots of flavor. The German-style potato salad and roasted cauliflower were flavorful sides.
The table next to us ordered the Old Fashioned Chocolate Sundae, but our waiter suggested the Warm Butter Cake with Strawberries. We were glad he had tipped us off. It was a mouth-watering, decadent ending for a wonderful meal.
Price Range: Lunch entrees run $11-16 and dinner $25-39. Desserts are priced $10-11. The weekend brunch menu is priced similar to the lunch menu; it is not a buffet. 
Disclosure: We received a complimentary meal at LARKS that served as the basis for this review.
Pin this for your next Oregon dining experience: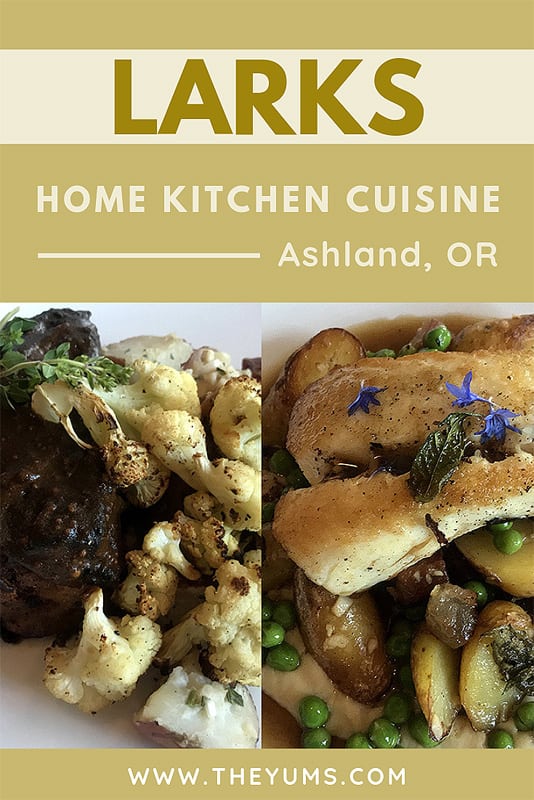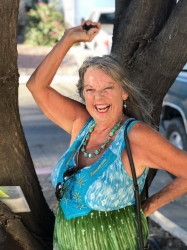 Latest posts by Joeann Fossland
(see all)