There is a new brewery in town, a modern alehouse that strives to carry forward the lost treasure of the American public house. A center of the community where conversations of the day run long over shared news and cold brews. Located in the hub of Camano Island, [amazon_textlink asin='1786573369′ text='Washington' template='ProductLink' store='theyums-20′ marketplace='US' link_id='51728b1c-70d7-11e7-92fd-c7c751054969′],  inside Terry's Corner, Naked City Brewery and Pub offers warm smiles and a cozy, family friendly atmosphere to go along with their cold, delicious ales.
Location:  848 N Sunrise Blvd. E101-102, [amazon_textlink asin='1626193649′ text='Camano Island' template='ProductLink' store='theyums-20′ marketplace='US' link_id='58711e15-70d6-11e7-8030-676d87d8388e'], Washington
Menu: Naked City Brewery offers 34 rotating house beers, 6 ciders, wine taps, and craft sodas. Their dinner menu serves up the standard pub food, burgers and fries, sandwiches, and salads all with a sophisticated, modern palette, including several vegetarian/vegan options. Pub food for the 21st century. They offer small plate starters, lunch specials and a dessert menu to satisfy any sweet tooth. Since they are family friendly there is a kids menu with a scaled down version of the standards, such as the kid's burger with fries or apple slices and of course the childhood classic, grilled cheese sandwich, also adorned with the side of your choosing. Naked City is open Sunday-Thursday 11 am to 9 pm , Friday and Saturday 11 am to 10 pm.  Sunday is Happy Hour ALL DAY LONG with drinks $1 off.
Thoughts:  I confess, a guilty pleasure of mine is I love pub food! Being vegetarian does not always go hand in hand with what can be termed, "pub grub". Sometimes the best you can settle on is a side salad and fries, but not at Naked City. What drew me was the rumor and highly talked about Beet burger, a hand crafted specialty created by Executive Chef Tessa Roberts. Each sandwich, burger, or salad plate uses locally sourced ingredients which are fresh and seasonal. So, on Camano Island, vegetables come in from growers such as Island Harvest Farms, and other community merchants.
The Beet burger, made vegetarian with your choice of cheese or vegan, without the dairy, is a savory, sweet, earthy delight on the variation of the traditional burger. Served on a poppy seed bun with fresh greens, onion, and tangy Dijon mustard. It pairs well with the rich darkness of the Pinkerton Porter, with its underlying notes of chocolate and treacle. On the side, lies home cut, slender fries just right for dipping in the accompanying herb aioli sauce. For this veggie girl, a truly wonderful fresh and healthy take on pub fare.
For a lighter brew with your burger, try the Crossfire IPA, a blend of citrus, pine, and a hint of caramel for a well balanced traditional Northwest IPA. This is their flagship IPA, named for the 1947 film noir, Crossfire. It's just one way that Naked City tips its fedora to demonstrate its commitment to supporting the arts and local artists.
But to really grasp the flair of this pub house, as well as the many flavor's  Naked City Brewery, has to offer, order the Sampler tray. It is the sweet deal of the house at $10. Before you will sit a wooden rack of 6 – 5oz. samplers of various brews from IPA to reds to the rich deep hues of the porters. Definitely enough to share with a friend over a lively or languid conversation.  Let the fun begin as your taste buds host a party, testing out each beer, one at a time. You're bound to find a new favorite found among them.
Favorite dishes: Nothing beats a burger and a brew and Naked City serves it up well, be it the Beet burger or the more traditional Naked burger for the more omnivorous eaters. Additional entrees to try are the Tuna melt, BLT, and Fried Green Tomato sandwich, truly a wide range of handcrafted, comfort pub fare
Price Range: Small plate starters $5-8. Soups begin at $3.50-$7. Salads come in two sizes priced at $7 and $10. Burgers and sandwiches come adorned with a side of home cut fries, salad, or a cup of soup, and range $12-16 a plate. Draft beers $5.50-9.59 a pint. Wine by the glass $7-9. Sampler Trays $10-12.
You won't find hotels on Camano Island, but there is a great selection of vacation rentals. Take a look at the reviews here.
For Pinterest: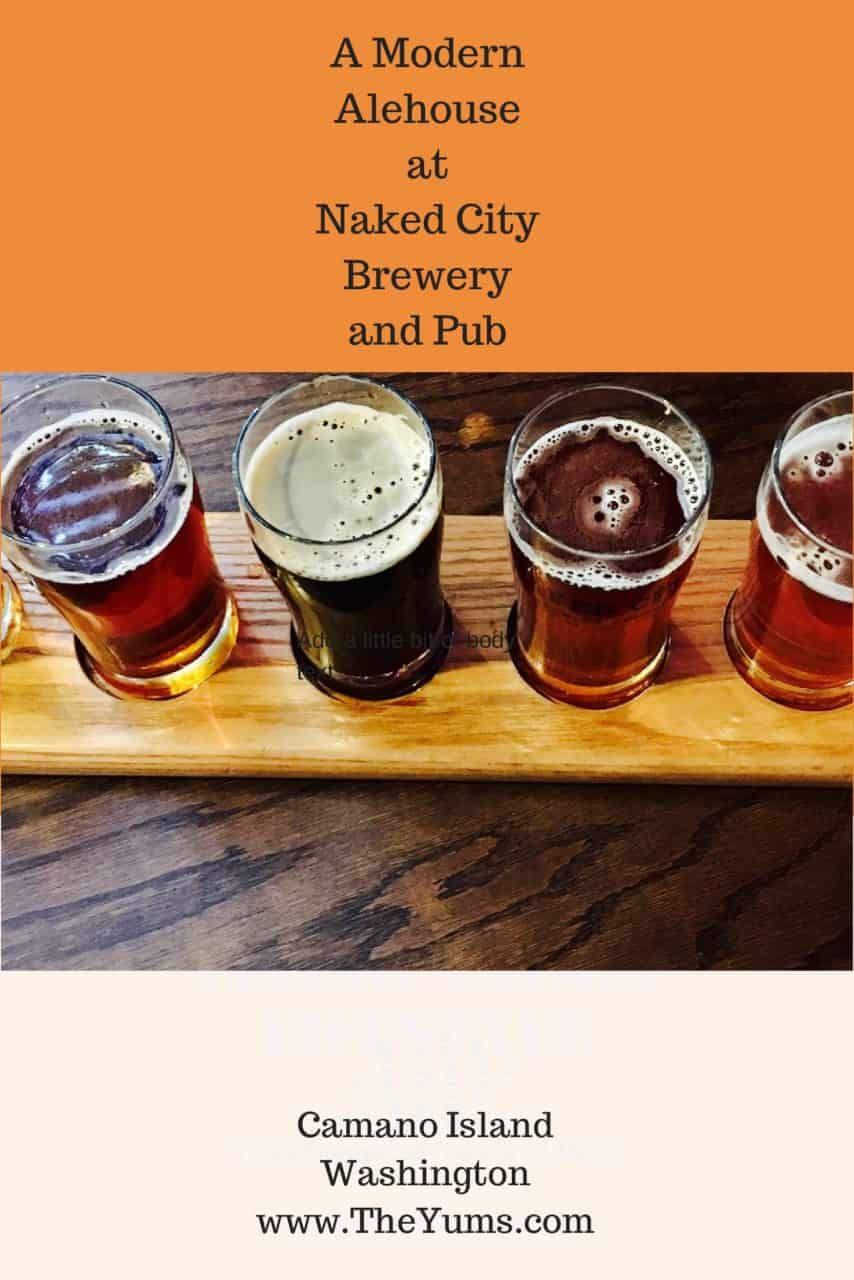 Disclosure: This post contains affiliate links. Clicking through for additional information or to make a purchase may result in a small commission being paid. By doing so, you help support this site and its authors, and we thank you.
Guest author bio: MaryRose Denton is a freelance writer, traveler, licensed massage therapist, educator, yoga teacher, lifelong vegetarian, and most importantly a mother. She enjoys the mash up of these that life brings and writes about them with insight, humor, and wit. She is the creator of Roses and Writing, a forum to share her collage of life experiences, and is currently a member of ITWPA (International Travel Writers and Photographers Alliance). Connect and follow her on Facebook, Instagram, and Twitter.

Latest posts by Guest Contributor
(see all)